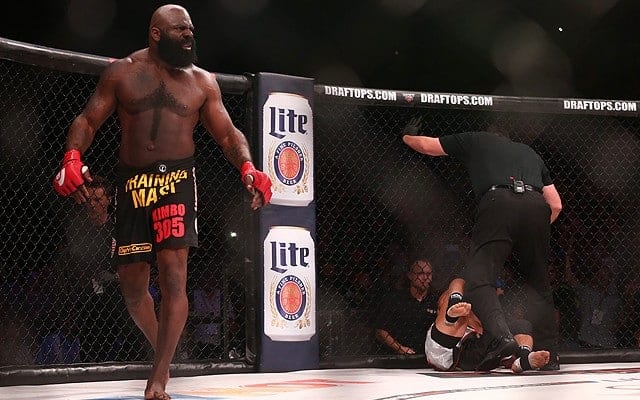 Last Friday night's (June 19, 2015) Bellator 138 from the Scottrade Center in St. Louis, Missouri, may have featured the highly controversial Kimbo Slice vs. Ken Shamrock main event that many believe was fixed including UFC Octagon commentator Joe Rogan, but the show did exactly what it hoped to do and garnered some absolutely huge ratings.
In fact, it did the biggest ever for the scrutinized promotiom. bellator-breaks-record-by-27-percent-for-slice-vs-shamrock">Dave Meltzer reported that Bellator 138 averaged a staggering 1.58 million viewers on the whole, with the highest point coming during a quarter hour of the main event with 2.1 million viewers.
The numbers broke the record of the promotion's previous record of 1.24 million viewers for last November's Bellator 131, which was headlined by the Tito Ortiz vs. Stephen Bonnar 'grudge match.' That main event gained 184 million viewers during its peak quarter hour.
Meltzer also clarified that Bellator 138's record was even more impressive for two reasons, the first being that Friday night combat sports shows traditionally do much worse than the normally seen Saturday night shows, and also that the Slice vs. Shamrock only lasted 2:22 until Slice won by laughable knockout. That will affect the actual fight's viewership because the highest-viewed quarter hour was mainly made up of pre-fight hype and walkouts due to the fight lasting for such a short period of time.
The numbers overall were good enough to outgain all of the UFC shows aired on cable in 2015 except for January 17's UFC Fight Night 59 main event between Conor McGregor and Dennis Siver, which was viewed by 2.75 million people at its highest point.
Still, quite the impressive numbers for Bellator, and even though they may be getting laughed at today, they've not only got people talking, but apparently watching as well. Will this carnival style of MMA continue to pay dividends under new President Scott Coker, or are thetre only so many freak shows they can put on?