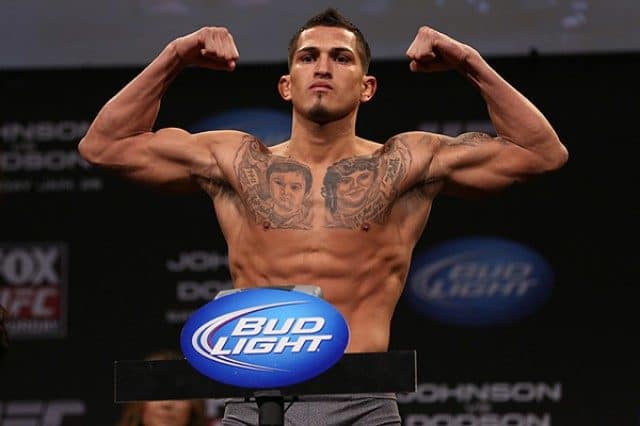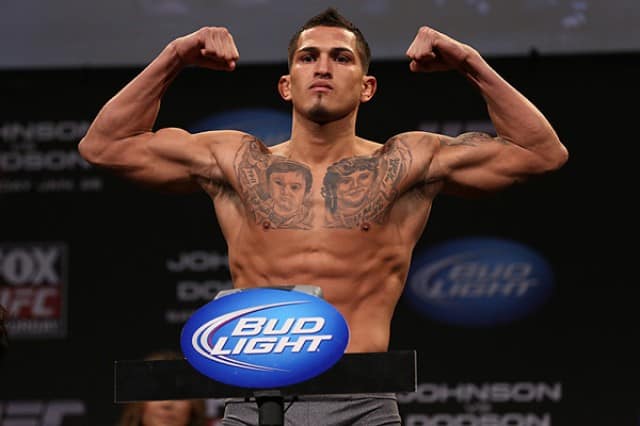 After rattling off eight-straight wins, fan favorite, and red-hot lightweight contender Donald "Cowboy" Cerrone will finally get his long-awaited UFC title shot when he meets current champion Rafael dos Anjos in the main event of UFC on FOX 17 on December 19, 2015 in Orlando, Florida.
This will be dos Anjos' first defense of the title after he dished out a brutal beat down to former champion Anthony "Showtime" Pettis at UFC 185 last March.
"Showtime" actually has a history with "Cowboy" as well, as the two met back in 2013, with the result being a TKO for Pettis. These two men seem to have a cordial relationship, however, unlike Pettis, and dos Anjos who have shared some beef as of late.
Cerrone even recently said that Pettis offered to help him train for the upcoming title bout, but according to UFC Tonight's Ariel Helwani, that isn't the case, as "Showtime" said that he doesn't train with fighters in his division, and that Cerrone misunderstood him.
It seems as if there also may not be any real harsh feelings between Pettis, and RDA either, as the former champion is just focused on getting his title back (Via FOX Sports):
"I need to get my glory back," Pettis said.
Having been out of action due to injury since his bout with dos Anjos, "Showtime" will take the first step towards hopefully fighting for the title again when he meets former Bellator champion Eddie Alvarez in the co-main event of January's UFC Fight Night 81.
Pettis currently sits at No. 1 in the 155-pound rankings, while Alvarez is current ranked at No. 4, meaning that their bout could have major title implications. The former Bellator champ is known for his scrappy, and tough style, and he should provide "Showtime" with a solid test.
Will Pettis climb back up the mountain to another title shot?
If you enjoyed this story, please share it on social media!