'Rumble' has his eyes on a top prospect at 205 pounds, and their name isn't Jon Jones or Daniel Cormier.
Anthony Johnson has sat at the No. 1-ranked position in the UFC's light heavyweight rankings for quite some time now, and will once again challenge for the division's throne when he takes on champion Daniel Cormier in the main event of UFC 210 on April 8th. The pair previously met for the then-vacated title in the main event of UFC 187 in 2015, where 'DC' emerged victorious with a third round rear-naked choke.
The winner of the upcoming title bout in April is expected to welcome former 205-pound kingpin Jon Jones back to the Octagon, who is currently serving a one-year suspension for violating the United States Anti-Doping Agency's (USADA) anti-doping policy.
Johnson recently joined The MMA Hour with Ariel Helwani (quotes via MMA Fighting) and explained that while he believes Jones should be next in line for a crack at the light heavyweight title, he is keeping his eye on a few contenders outside of Jones and Cormier; sounding especially interested in one in particular:
"He should be (next). I think he still should be," Johnson said.

"A lot of guys in the weight class have been putting in good work," Johnson said. "Jimi Manuwa, he just came out of a fight with OSP and knocked him out. That was a clean knockout on his part. Who else is out there? Gus is still out there. I wouldn't be surprised if they tried to make Gus and Jon fight again, just to see if you have a different result. So there's a couple of guys up there who definitely have my attention.

"I think, besides DC, the one guy that has my attention is, what's him name, Misha (Cirkunov). That dude is a beast," Johnson continued. "He's a beast, man. I like his style, and he's built like a brick house. I think his ass is gangster. I don't think he's close, but he's definitely somebody you've got to watch out for."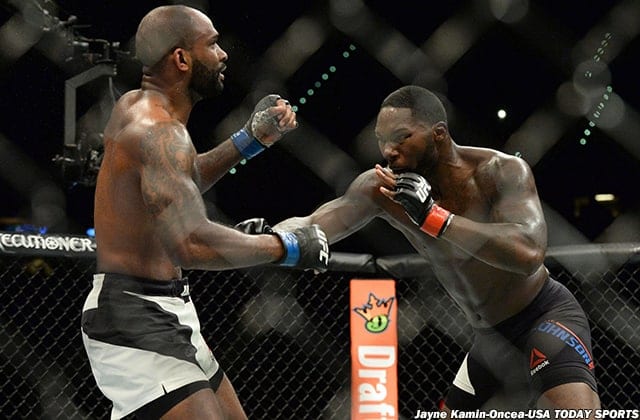 Cirkunov is currently undefeated in his UFC tenure after having won all four of his contests under the promotion's banner via finish. With one knockout win followed by three submission victories, the 29-year-old Russian contender has been raising eyebrows as of late in addition to gaining the attention of one of the baddest men at 205 pounds.
The light heavyweight prospect is only one of a few who have begun to come out of the woodwork after what used to be considered stale competition at 205 pounds for a period of time. Now that some fresh meat is beginning to make its way to the division Johnson is excited to potentially share the Octagon with the young bucks down the road:
"It did (stall out for awhile), but now the competition is getting thick again," Johnson said. "And I'm excited about it."
Since his loss to Cormier, 'Rumble' has wreaked havoc on the 205-pound weight class with his frightening striking power, leaving a trail of bodies in his path who have been left unconscious on the Octagon floor after eating one of his monstrous punches. The rejuvenated Blackzillian product is ready to give it a go at UFC gold once again, with high hopes that he can inflict the same fate upon 'DC' as his previous three opponents.
How do you see the rematch between Cormier and 'Rumble' going down?