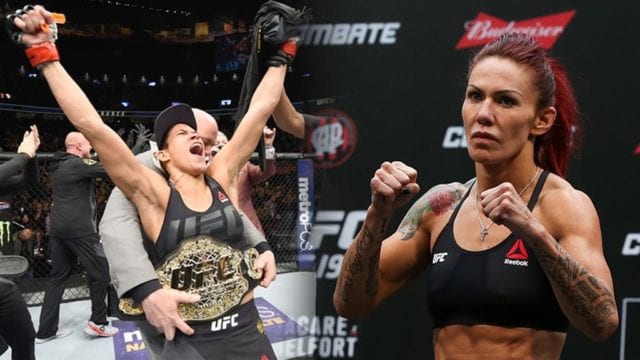 Amanda Nunes says win over Cris Cyborg would make her the goat of women's fighting if she is victorious at the UFC 232 pay-per-view event. This fight is actually going to happen after months of talking about it in interviews and social media.
Nunes (16-4) is fresh off a successful women's bantamweight title defense over Raquel Pennington in May which was her seventh in a row to go along with her list of wins over some of the biggest names in the sport including Ronda Rousey, Miesha Tate, and Valentina Shevchenko.
The UFC women's featherweight champion will take on the UFC women's bantamweight champion with the featherweight strap being on the line. Nunes spoke with MMA Fighting where she noted that she thinks she should be considered the greatest female fighter of all-time with a win over Cyborg. She also shed some light on what made her change her mind about accepting this fight.
"For sure. That's the reason why I made this decision to move up a division. I want fans to remember me like that. Winning on December 29, I won't ever leave fans' heads, that's for sure. Achieving that, being the only Brazilian woman to become two-division champion… The only woman, the only Brazilian, will be a huge achievement. It's a big fight, a fight that will make history, and I will come out victorious one more time."

"The desire to challenge myself. We got a point in my division… I was chatting to my coaches, Nina (Ansaroff) was there as well, and this idea came up. Din Thomas told me, 'You have to do something different, you have to make history,' something like that, and I said he was right. Some time after, Din Thomas said in an interview, 'Amanda will fight Cris.' I was like, 'You know what, man, that conversation happened for a reason.' It's happened at the right time because my division is still moving and still needs some fights to really decide the next top contender for me. Cris' division has nothing happening as well, there's no one in that division, and the UFC kind of has its hands tied with that division. There are no big fights, too. I think it makes sense for the 135-pound champion to fight the 145-pound champion. There's a lot of expectations around this fight. There's no problem — it's not about seeing who's more Brazilian or who's more patriotic, it's about continuing to make history."
The UFC 232 pay-per-view event is set to take place on Saturday, December 29, 2018 at T-Mobile Arena in Las Vegas, Nevada. The main card will air on pay-per-view at 10 p.m. ET. The preliminary card will air on FOX Sports 1 at 8 p.m. ET and the promotion's streaming service, UFC Fight Pass.
If you enjoyed this story, please share it on social media!