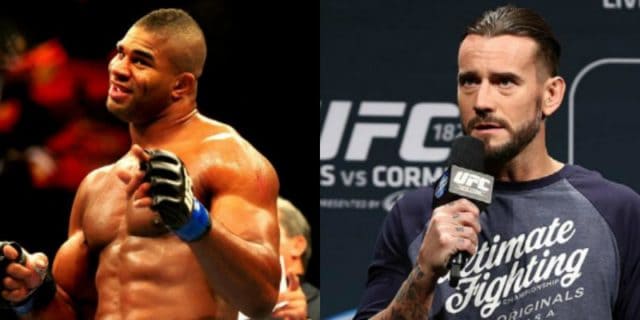 Legendary Dutch kick boxer Alistair "The Reem" Overeem is gearing up to headline UFC 203 on September 10th in a clash with reigning heavyweight champion Stipe Miocic, although fans won't only be tuning in for the intriguing title fight. Former professional wrestler Philip "CM Punk" Brooks is set to make his mixed martial arts debut on the main card as well in a welterweight bout with Mickey Gall. Punk has received a tremendous amount of criticism since signing on with the UFC in 2014, but it's safe to say that thousands and thousands of fans will tune in to see how he does.
Overeem actually happens to be curious in the fight, although he did say that he wouldn't like to be Punk right now given the fact that the former WWE champion may have a 'hard time' ahead of him:
"Yeah, I'm curious as to how he's going to do of course," Overeem said during an appearance on The MMA Hour. "But I think he's in for a hard time. I don't know who he's matched against, but this is definitely different than pro wrestling. Especially in his weight class, he's a welterweight, I believe — those guys are tough man. He's going to experience it firsthand. And you know the thing is too? If he does bad, the whole world's going to be on top of him. If he does good, the next guy will be in line for him, and the next guy is going to just keep on coming. There's so many good guys at welterweight.
"So, that's definitely somebody I wouldn't want to be right now."
As for why he's so interested in Punk's debut, "The Reem" said that he likes when people challenge themselves, adding that he'll have a ton of respect for Punk if he keeps going in the sport win or lose:
"I love the idea that he got into the UFC because I love tests," he said. "And he's about to test himself, and you know, I'm going to have extra respect for him if he keeps on going. If he wins, and even if he loses — if he wins and he keeps on going I'm going to have extra respect for him, but now we're going to see what he is made of. Now we're going to see the true character. Everybody wants to be a fighter, right until they get hit, until they get their face broken.
"So we're going to see what's going to happen. All these guys are going to line up. They all want to break him. They all want to break him mentally, physically, and it's not going to be fun for him. He's a hunted prey. Why? Because he's a big name. Because he's a big money fight. So he's going to be the hunted. And it's going to be a lot of respect, if he's going to be able to hold up and if he can stand his ground and become victorious. I'll be watching that fight definitely. And again, I like people who take challenges."
What are you expecting from Punk's debut?
If you enjoyed this story, please share it on social media!