5 Of The Best Muay Femur In Muay Thai History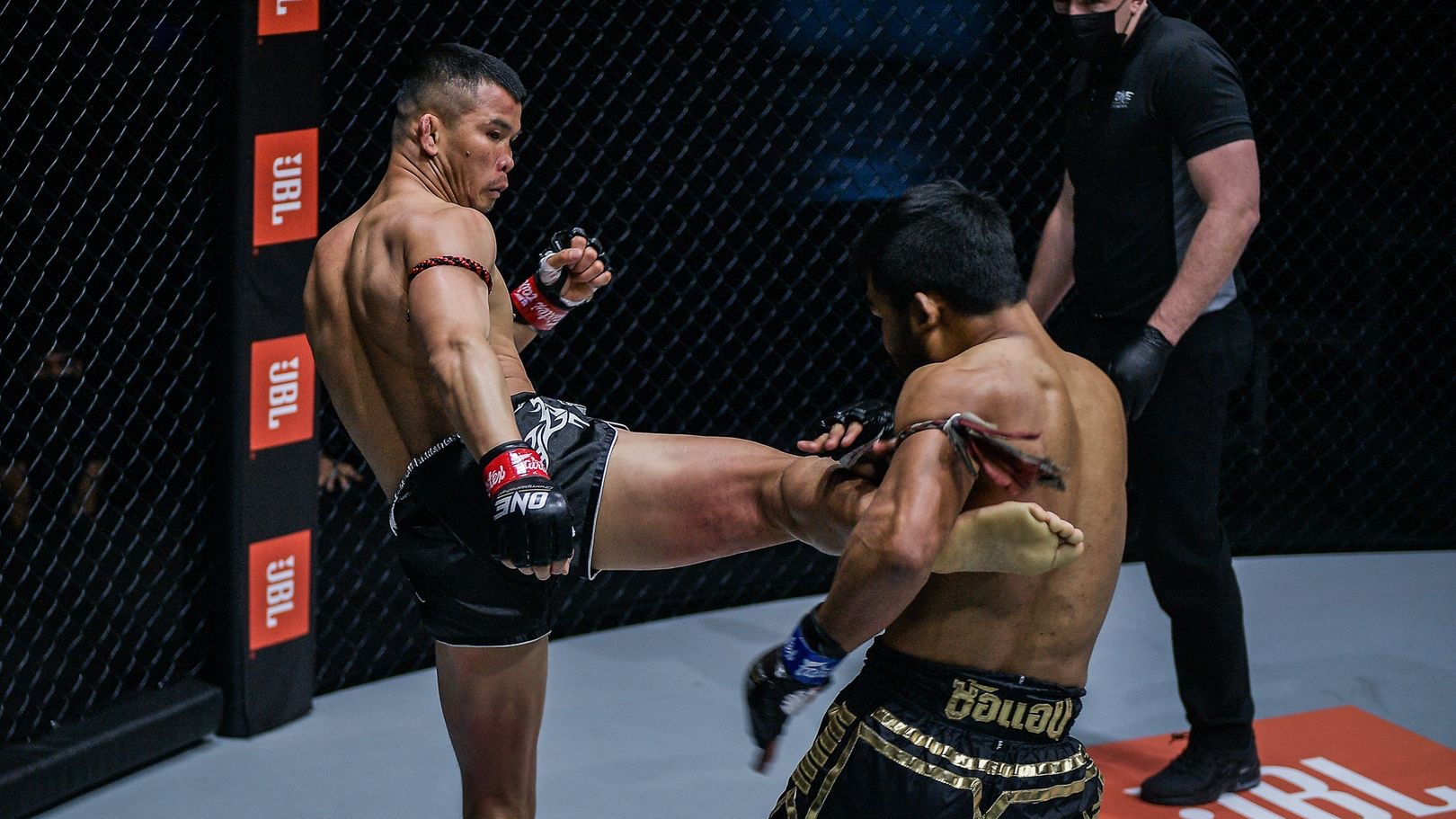 Guest post by Evolve MMA, Asia's premier championship brand for martial arts. It has the most number of World Champions on the planet. Named as the #1 ranked martial arts organization in Asia by CNN, Yahoo! Sports, FOX Sports, Evolve MMA is the top rated Muay Thai gym in Singapore.
Of all the styles of Muay Thai, technical Muay Femur fighters are the purists' choice.
The best Muay Femurs are regarded as the most skillful of all practitioners of the art of eight limbs with a jaw-dropping offense, superb defense, high fight IQ, and the ability to get the fans on their feet. 
Though they are not known for high knockout rates, their point-scoring prowess is held in high regard and has led their style to be dubbed "the King's discipline" in Thailand.
Some of the greatest Muay Thai fighters of all time made this style their own, but ask many Muay Thai aficionados, and these five athletes stand above the rest in the modern era.
Nong-O Gaiyanghadao
As a World Champion at the highest level of Muay Thai, Evolve's own Nong-O Gaiyanghadao may be the top Muay Femur competing today.
He has beaten a who's who of his peers across more than 20 years to rack up more than 260 wins, including 6 against another elite Muay Femur, Singdam Kiatmoo9, which gave him the edge in their 12-fight rivalry.
Nong-O also earned the prestigious Sports Writers Association of Thailand Fighter of the Year award, Lumpinee Stadium belts in four divisions, and a Rajadamnern Stadium title.
He retired in 2015 after one of the all-time great careers, but came back to the ring in 2018 to the world's elite in ONE Super Series.
At 34 years old, he's still going strong as the organization's most dominant Muay Thai champion, thanks to his wins against the best fighters from his homeland and the rest of the world.
His signature technique is his missile of a lead roundhouse, which he can use to control a fight or break down an opponent's body. It lands with incredible force and almost every opponent he faces finds it almost impossible to defend against.
That baseball bat of a right leg is enough to win a lot of fights on its own, but Nong-O excels at so many aspects of his art. Lately, his punching in 4oz gloves has turned him into a formidable boxer with a serious knockout threat.
Saenchai P.K. Saenchai Muaythai Gym
Possibly the most well-known Muay Thai fighter in the world today is the great Saenchai.
He may be over 40, but he is still traveling the world and outclassing top young opposition almost every month. He is riding a mind-blowing winning streak of more than 50 fights dating back to 2014.
Saenchai is a technical master with supreme striking technique, mastery of range and footwork, and the ability to dump or sweep anyone with minimal effort. All of that adds up to an ability to outfox opponents that are much bigger and stronger than him.
Saenchai's harshest critics might suggest he no longer fights the best of the best, but at his peak, he took on all comers and built an almost unmatched record.
If you name a well-known Muay Thai Fighter from Saenchai's era, there's a good chance he beat them, and probably more than once.
He also famously once faced two men in one fight. In 2009, he faced Petchboonchu FA Group for three rounds, then a fresh Sagetdao Petpayathai for two. Both are Muay Khao (clinch fighters), which is a stylistic nightmare for Saenchai, but he still had his hand raised in the end.
Throw in his status as five-time Lumpinee Stadium champion in four divisions and the two Sports Writers of Thailand Fighter of the Year awards he won 9 years apart in 1999 and 2008, and you have one of the best, if not the best of all time.
Namsaknoi Yudthagarngamtorn
He may not have the same international fame as the other fighters on this list, but Namsaknoi Yudthagarngamtorn has a record that means he deserves as much reverence as any other athlete.
Before Muay Thai became a truly global sport, "The Emperor" settled for beating almost everyone that was thrown his way in his homeland. He had 300 fights in his career and won 285 of them to achieve an unparalleled 95% win rate.
Victory after victory earned him three Lumpinee Stadium titles, and he might well have had more, had he ever lost. Namsaknoi was the lightweight champion from 2000 until his retirement in 2006 – a reign that may never be matched.
Namsaknoi was not flashy, and there were plenty of opponents that had a physical edge on him, but his versatility and intelligence meant he could defeat just about anyone.
In one match, he might use his footwork to stay elusive and pick his rival apart with punches and kicks from range. In the next, he could wade into exchanges score knockout blows with knees and elbows.
It's no surprise that Namsaknoi also claimed his nation's most prestigious award as the Sports Writers of Thailand Fighter of the Year in 1996.
Sam-A Gaiyanghadao
Like his Evolve teammate Nong-O, Sam-A Gaiyanghadao would have ranked among the greatest fighters in history had he ended his career before the advent of ONE Super Series.
With more than 350 wins, Lumpinee Stadium titles in three divisions, and a reputation as the fastest kicker who has ever lived, his legacy was secure.
However, at the grand old age of 37, he is still doing the business. He stands as a pioneer on the global stage of martial arts as its first Muay Thai world champion, and the first man to win Muay Thai belts in two weight classes.
What's more, he's also used his skills to cross over to another sport and pick up some kickboxing hardware, too.
Not all Thais have success adapting to this change in discipline, but Sam-A's ability to hit and not be hit has helped him to reign supreme.
Despite his advanced age compared to his rivals, his reflexes are as sharp as ever. He can still glide across the canvas and kick with lightning speed, or slip a strike and return fire with a KO punch in the blink of an eye.
Samart Payakaroon
Despite the talents of all the fighters above, one man stands above them all in the eyes of many fans and fighters.
As well as being arguably the greatest Muay Femur of all time, Samart Payakaroon might just be the greatest Muay Thai fighter in history. When you watch him compete, it's easy to see why.
His boxing was far beyond his contemporaries. The way he slipped and countered was more like a specialized Western boxer. He was so good with his hands, he switched over to the sweet science and won the WBC world title.
His kicking ability was also out of this world, and he augmented his flawless fundamentals in either stance with a range of creative techniques. His trademark side-kick-teep hybrid was like a battering ram and had the power to blast athletes across the ring.
Samart's brilliance him to titles in four of the most competitive divisions at Lumpinee Stadium and three Sports Writers Fighter of the Year awards.
Ask almost any fighter who grew up watching Samart, and he's their number one.