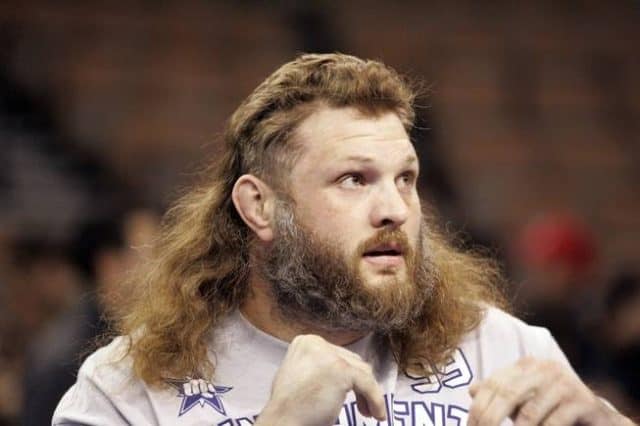 Heavyweights Roy Nelson and Jared Rosholt came into their fight in the co-main event of tonight's (Sat., February 6, 2016) UFC Fight Night 82 from MGM Grand Garden Arena in Las Vegas at different points of their mixed martial arts (MMA) careers.
No. 11-ranked 'Big Country' was looking to prove he still belonged in the UFC after losing five of his last six bouts, while No. 12 Rosholt was seeking to show he deserved a spot in the Top 10.
The fight predicted to play out in Rosholt's favor if it hit the mat, and obviously is 'Big Country's' if it unfolded in the stand-up. Nelson began stalking Rosholt early, holding his trademark overhand right cocked. Not much was thrown in the opening moments, but 'Big Country' controlled the Octagon.
Nelson rushed forward with a combo that narrowly whiffed, but Rosholt landed two strong punches. A few seconds later, tagged Nelson with the fight's most significant strikes after he caught him rushing in. Rosholt used a stick-and-move gameplan to avoid Nelson's big power by staying out of his way in an uneventful first round.
In the second, Rosholt went for a takedown but missed, eating a counter left from Nelson. 'Big Country' landed a massive leg kick that appeared to hurt Rosholt, but Nelson didn't take advantage. Rosholt continued to stay far from Rosholt, snapping a body kick while earning boos from the crowd. Finally, Nelson found a home for some big punches, unleashing two strong combos before a scramble resulted in the end of the second frame.
The third and final frame saw Nelson start with a second huge low kick, and he surprisingly went for a takedown that had little chance. Nelson swung wildly, landing intermittent shots and keeping his pressure of Rosholt high. Rosholt then went for a deep takedown but was stuffed, and the low-on-action bout came to an end with more wild swings from Nelson that failed to land.
It wasn't pretty, but ultimately Nelson took home the fight by unanimous decision.
Final Result: Roy Nelson def. Jared Rosholt via unanimous decision (30-27, 30-27, 29-28)
If you enjoyed this story, please share it on social media!