The notion that a smaller man could take down a giant has always been an appealing one, tapping into our inherent desire to see the apparent underdog come out on top against the odds.
It's a concept that everyone is familiar with, thanks to the classic bible tale of David and Goliath, and that symbolism has been revisited many times over the years.
In the early 1970's, the legendary Bruce Lee explored the idea in a martial arts concept via his movie 'Game Of Death,' writing a script that would require him to battle a 7′ 2" giant, portrayed by Kareem Abdul-Jabbar.
It's not just a spectacle that's consigned to books and movies though, as there have been many real-life instances of courageous martial artists testing themselves against gigantic opponents dating back to the earliest days of mixed martial arts competition.
Better yet, on many occasions it's the smaller man who has emerged victorious thanks to superior technique, stamina and fighting spirit, and in this article we'll pick out 12 of the most memorable examples of David defeating Goliath in MMA history.

Fedor Emelianenko vs. Zuluzinho
After successfully defending his PRIDE heavyweight title against Mirko 'Cro Cop' Filipovic in the summer of 2005, Fedor Emeliananko's next assignment saw a complete change of pace, finding himself paired up with the enormous Brazilian Wágner da Conceição Martins, better known as 'Zuluzinho'.
As always, Fedor stepped into the ring at PRIDE: Shockwave 2005 in December of December 31st of 2005 looking completely unfazed, despite being dwarved by the hulk of a man standing opposite him, who measured 6′ 7" tall and outweighed him by well over 100 lbs.
Zuluzinho was undefeated in eight pro fights at the time, but he proved to be no match for 'The Last Emperor' who sent him crashing to the canvas with a swift one-two combination just seconds into the fight.
Fedor immediately began drilling him with ground and pound punches and kicks as Zuluzinho struggled back to his feet, only to be sent straight back down to the mat with a hard right hook.
More ground and pound followed for the TKO finish, bringing Zuluzinho's unbeaten run to an end in just 26 seconds.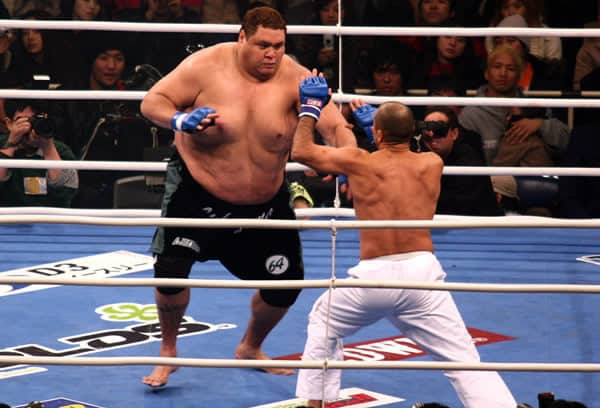 Royce Gracie vs. Akebono
BJJ ace Royce Gracie never had any qualms about going up against bigger men in his career, and at the extreme end of that scale was Hawaiian man-mountain Akebono, who he fought at K-1 Premium 2004 Dynamite!!
At 6′ 8" and a whopping 484 lbs., Akebono had been a successful sumo wrestler in Japan earlier in his career, reaching the highest rank of 'Yokozuna', but then turned his attention to other combat sports, which led to his MMA debut against the famed submission expert.
In the early stages of the fight, Gracie was twice caught underneath this behemoth, who outweighed the Brazilian by well over 300 lbs., but this was all part of his gameplan.
The second time he was taken down he patiently worked to find room on his back, using a foot on his opponent's hip to create the space neccessary to throw up his right leg and lock in an omaplata on Akebono's beefy left arm.
Not exercising some control over his opponent, Gracie landed a few punches to his head, then cranked on the shoulder lock and forced Akebono to tap, demonstrating yet again the power of Brazilian jiu-jitsu, regardless of an opponent's size.

Antonio Rodrigo Nogueira vs. Bob Sapp
Bob Sapp may have become a laughing stock later in his career, but when he met Antonio Rodrigo Nogueira at PRIDE Shockwave in 2002, he was still worthy of his nickname, 'The Beast'.
Standing 6′ 5" tall, Sapp weighed a staggering 375 lbs. at the time, yet the most freakish aspect was that he was unnaturally athletic for his size, with a chiseled, thickly-muscled physique. He had also proven he could fight by having compiled two wins in the PRIDE organization, with both coming by way of KO.
At the time, Nogueira was the PRIDE heavyweight champion and was far more experienced, with an impressive 16-1-1 record, but he'd never gone up against anyone like Sapp before, and was going to be giving up almost 150 lbs. in weight.
71,000 people were in attendance that night to watch the spectacle, and they were put on notice that this was going to be a wild one when 'Big Nog' immediately swooped for a takedown, only to be effortlessly scooped up and power-bombed into the mat by Sapp.
For the next 10 minutes Nogueira was put through the ringer underneath this mass of humanity, getting bloodied up by Sapp's giant fists hammering down on him, while having his submission attempts swatted aside by bone-crunching slams.
'Big Nog's' legendary toughness was on full display though, and when Sapp tired in the second round, his perseverance finally paid off, with a nice reversal putting him on top in side control.
He then patiently worked for an armbar, battling hard to unlock Sapp's grip, and then dropped back with the limb extended to force 'The Beast' the tapout and record one of his most memorable victories.

Ikuhisa Minowa vs. Giant Silva
Standing just 5′ 9" tall and weighing less than 200 lbs., Ikuhisa Minowa had a reputation for testing himself against huge foes, and they don't come any bigger than Giant Silva.
A former member of Brazil's basketball team who'd moved on to become a professional wrestler, Silva was a freak specimen who stood a neck-straining 7′ 2" tall and tipped the scales at 385 lbs.
At face value 'Minowaman' had no business being in the ring with a man who was a foot and a half taller than him, but that was just the kind of situation he thrived on.
After a cautious opening, Minowa closed the distance by rolling into his opponent and then drove 'Giant' to the mat with a single-leg.
From there he worked to side control and started to land elbows and knees to the big man's midsection.
However, it was when he started landing hard knees to the head that Silva quickly decided he'd had enough and Minowaman emerged the winner by TKO just 2:33 into the fight.

Yuki Kondo vs. Semmy Schilt
While there have been a number of living giants who've fought in combat sports, few would go on to be as successful as Semmy Schilt.
Standing 6′ 11" and weighing 290 lbs., the super-heavyweight would become a decorated kickboxing champion who compiled an impressive 42-6-1 record, but he actually started out as a professional in MMA in the formative years of the sport.
Schilt was lined up to fight Japanese MMA pioneer Yuki Kondo in the first round of the Pancrase Neo-Blood Tournament in 1996, despite there being an absurd size difference between them, with the Dutchman towering over him by a full 12 inches and and more than 100lbs.
Impressively, Kondo was able to use his wrestling to take the much larger Schilt down multiple times during the fight, and though he too was mounted a couple on a couple of different occasions, he survived and earned himself a split decision victory.
That was just the beginning of the story for these two though, and Kondo would go on to prove that his first win was no fluke as he defeated him a further two times by decision over the course of the next few years, before finally losing in their fourth fight in 1999.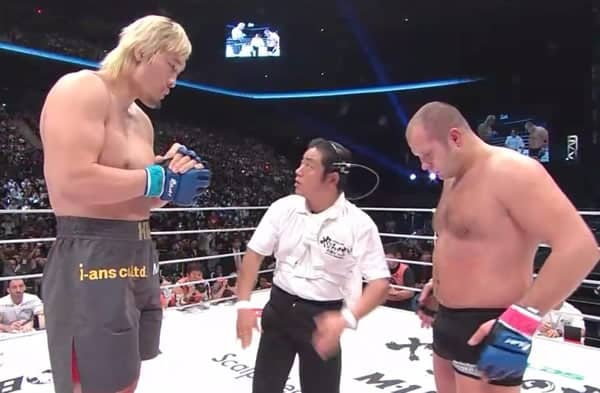 Fedor Emelianenko vs. Hong-Man Choi
The 7′ 2″, 300 lb. South Korean super heavyweight Hong Man-Choi initially started out as a kickboxer, and had compiled a very respectable 12-4 record by the time an opportunity came to fight Russian great Fedor Emelianenko in an MMA fight at the Yaranoka! Event on December 31, 2007.
Fedor was on an unparalleled 24-fight winning streak at the time, and was considered by many to be the best heavyweight in the world, but he faced a daunting physical challenge going up against 'The Techno Goliath' as he was giving up a staggering 14.5 inches in height, 100 lbs. in weight and 10.5 inches in reach to his opponent.
That size differential posed 'The Last Emperor' a problem early in the fight as on two separate occasions he found himself being taken down rather easily by Choi.
On the first occasion Fedor was able to attempt an armbar from his back, literally hanging off his foe's enormous limb as he did so, but then slipped off and ate a few punches for his troubles, which left his face marked up.
However, the second time they went to ground the Russian star was again able to lock in the submission, and this time he forced Choi to tap out, less than two minutes after the fight began.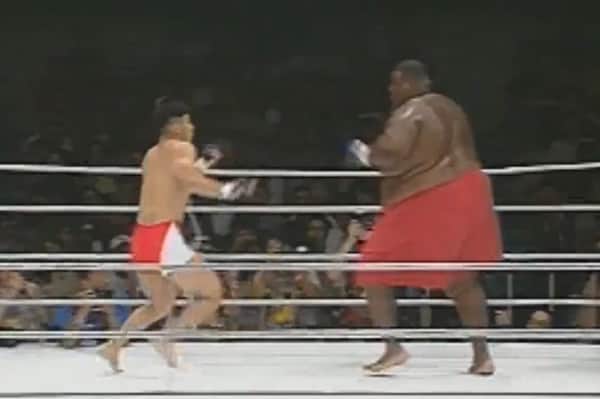 Daiju Takase vs. Manny Yarborough
When it comes to size differentials, it doesn't get much greater than when Japan's Daiju Takase fought former sumo wrestler Manny Yarborough all the way back at PRIDE 3 in June of 1998.
Standing 6′ 8" tall and weighing an earth-shaking 600 lbs., the late Yarborough held the distinction of officially being the heaviest athlete in the world, and he'd won his previous bout in the Shooto promotion by simply smothering his opponent.
Outweighed by an unbelievable 400+lbs. and giving up eight inches in height, his next opponent, Takase adopted a sensible, though exceptionally dull strategy of running circles around Yarborough for the entire fight, stopping every so often long enough to throw a leg kick.
After receiving a yellow card mid-way though the second round due to a lack of action, Takase decided to change things up and dove in for a single-leg on the 600 lb. superfreak.
Needless to say that failed miserably, and Yarborough flopped down on top of him. Luckily for Takase, the exhausted 'Manny' had only landed on his legs and was struggling to slowly slither his way further up his body.
Takase was able to free his legs, get on top and start thumping down repeated blows to Yarborough's head, which quickly resulted in him tapping out.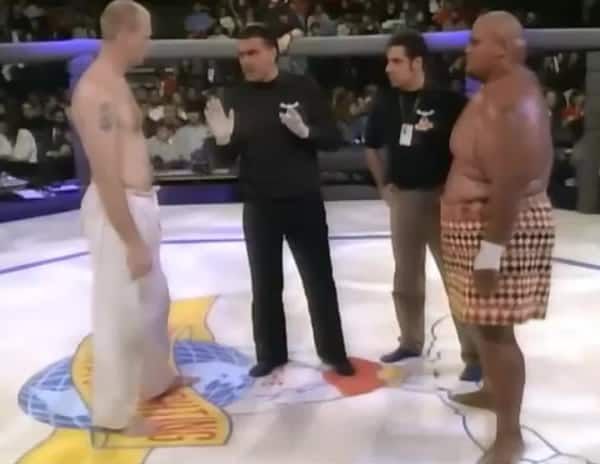 Gerard Gordeau vs. Teila Tuli
The original 'David Vs Goliath' battle occurred all the way back at UFC 1, when Dutch Savate practitioner Gerard Gordeau squared up to former sumo wrestler Teila Tuli in the first bout of the evening to be aired live on pay-per-view.
Gordeau had the height advantage, standing 6′ 5", some four inches taller than Tuli, but when it came to the weight differential there was no contest, with the Hawaiian essentially coming in at twice his size at 410 lbs.
However, he showed no fear going into the fight, and when Tuli charges across the Octagon at him and stumbled to the mat in the opening stages of the fight, Gordeau greeted him with a ruthless kick to the face that sent one the sumo wrestler's teeth flying into the crowd, while another was left embedded in his foot.
Gordeau landed a punch for good measure, breaking his own hand in the process, and that was that.
Just 26 seconds into the fight the referee intervened to save Tuli from further damage, even though the rules, or lack thereof, meant that he wasn't actually supposed to get involved.

Randy Couture vs. Tim Sylvia
In the modern era of the UFC, weight classes had been established that all but stamped out the 'David vs. Goliath' matches of old, but occasionally a match-up would come along that brought back memories of those days.
A shining example of that was when Randy Couture announced he was coming back out of retirement to take on the reigning heavyweight champion at the time, Tim Sylvia at UFC 68 in March of 2007.
There was a lot stacked against 'The Natural' heading into this fight before you even consider the size difference, including the fact that he was 43 years old by this stage and had been viciously KO'd by Chuck Liddell the last time he'd appeared in the Octagon.
After over a year out he was now going to be facing off against 'The Maine-iac' who towered over him at 6′ 8" tall, had a large reach advantage, and was cutting weight just to reach the 265 lb. limit, while Couture barely qualified for the weight class at just 222.5 lbs.
Couture always loved a challenge though, and he'd quickly silence any doubters when he floored Sylvia with a right hand less than 10 seconds into the first round.
Sylvia recovered, but Couture never left him back into the fight for the five rounds that followed, controlling him with his superior wrestling in the clinch and on the mat to record one of his most inspirational victories and win the title.

Jason 'Mayhem Miller vs. Stefan Gamlin
Jason 'Mayhem' Miller has always been known to have a wild side, but even he had second thoughts when Icon Sports asked him to fight the 6′ 7", 370lb former NFL Europe player Stefan Gamlin in May of 2006.
"When they first came to me about this fight, I was like 'Are you kidding me?'" Miller told The Honolulu Advertiser at the time. "But the more I thought about it, and the challenge it presented, the more excited I got."
Gamlin had lost his first two pro fights, but they were against men that were closer to his size like Bob Sapp, so he was coming in brimming with confidence that he could put away the 185 lb. 'Mayhem,' despite the large skill-gap between them.
"I envision a knockout in the first two minutes," Gamlin boldly predicted beforehand, but in fact it took 'Mayhem' just 46 seconds to tap him out with an arm triangle choke.
Miller had initially looked to be in a little trouble as he failed on a takedown attempt and Gamlin got on top, but he was quickly able to scramble on top himself.
He then landed some solid knees to the body from side control, easily slid into full mount, and found the fight-ending choke shortly afterwards.

Igor Vovchanchyn vs. Dan Bobish
The opportunity to fight the 6′ 1", 350 lb. former NCAA wrestler Dan Bobish came at an interesting time in Igor Vovchanchyn's career as the 5′ 8", 220 lb. striker had suffered a brutal 69-second head kick KO loss to Mirko 'Cro Cop' Filipovic last time out.
However, with well over 60 fights under his belt at that time, Vovchanchyn feared no man, and accepted the bout, which was scheduled for PRIDE 27 in February of 2004.
The fight didn't start well for Vovchanchyn as he found himself being taken down by the wrestler early in the opening round, where that 130 lb. weight difference resulted in the 'Ukranian Freight Train' being unable to even wrap his legs around his waist to close his guard.
At one stage Bobish simply scooped his opponent off the mat by one leg and thumped him back down again, but worse still, he was able to land some hard knees toe the head from side control and then successfully moved to full mount.
Vovchanchyn would spend much of the round stuck underneath Bobish, but he was able to survive, and as the minutes ticked on it was clear that 'The Bull' was starting to run out of steam.
By the second round Bobish's empty gas tank allowed Vovchanchyn to start stuffing his takedown attempts and land some heavy artillery of his own.
A stuffed takedown then allowed the Ukranian to get on top and start blasting Bobish with nasty ground and pound, and that took the remaining fight out of the big man, leading to a TKO stoppage.

Don Frye vs. Thomas Ramirez
Don Frye was recently inducted into the UFC's Hall Of Fame, and his first ever fight in the Octagon was at the appropriately named UFC 8: David Vs Goliath event in Puerto Rica in February of 1996.
Frye was paired up with local hero Thomas Ramirez, who was the same height as him at 6′ 1" tall, but at 410 lbs., was no less than 204 lbs. heavier than 'The Predator' that night.
Frye proved that size doesn't matter in remarkably swift fashion, landing a nice jab and then found Ramirez's chin with a sharp right hook that sent him crashing to the canvas, completely unconscious, in just 8 seconds.
Frye would go on to win a further two fights against Sam Adkins and Gary Goodrige that same evening to win the tournament and put himself firmly on the MMA map.