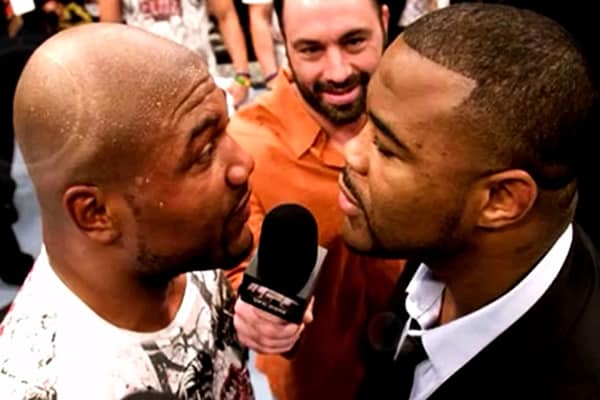 In the majority of cases, interviews in the immediate aftermath of a fight are rather predictable, run-of-the-mill affairs.
However, every now and again a fighter will steer away from the standard clichés we've come to expect and deliver a rant that's every bit as entertaining as the fight itself.
In this article we'll celebrate those fighters who dare to be different on the mic, whether it be by passionately protesting an unjust decision, calling out a rival in memorable fashion, throwing a tantrum at the crowd's reaction to their fight, or just stinking up a live TV broadcast to millions of viewers with a good old-fashioned expletive-ridden rant!
James Thompson
Just a few months after defeating Polish celebrity Mariusz Pudzianowski in 2011, UK heavyweight James Thompson was again booked by the KSW promotion to fight the home-town hero and former five-time 'World's Strongest Man' winner for a second time.
Thompson utterly dominated the first round of the rematch on the mat, but the second round was much more competitive.
Still, with the fight only being scheduled for two rounds, Thompson rightly believed that at the very least he'd be getting a draw, which would have resulted in the two going to a third 'overtime' round.
However, he was left gobsmacked when the Polish announcer revealed that Pudzianowski had been awarded a majority decision verdict.
Thompson wasn't going to let sleeping dogs lie though, instead wrenching the mic out of the hands of the presenter and launched into a blistering, foul-mouthed rant that aired uncensored to millions of fans watching on national Polish TV.
"F**king joke!" Thompson yelled at the crowd, before sarcastically adding, "Give Mariusz a big round of applause.
"Come on. What a f***ing joke!
"I thought KSW was really trying to be serious. If you can watch that back and call that serious, then you're f***ed, and KSW is going down the f***ing toilet!"
It was an embarrassing situation for the promotion and just a couple of days later they did their best to make amends, declaring the match a 'no-contest' due to what they claimed was a judging error.
Al Iaquinta
Al Iaquinta lived up to his 'Raging' nickname after his win over Jorge Masvidal at UFC Fight Night 63 in Virginia last year.
The judges awarded Iaquinta a split decision victory, but it was a controversial ruling that was met by boo's from the crowd, which didn't go down too well with 'Raging' Al.
"Are you guys booing me?!" Iaquinta yelled at the crowd during his post-fight interview in the Octagon. "You better not boo me! I f*cking fought my ass off! Fuck you! I fought my ass off tonight!"
Interviewer Jon Anik tried to bring Iaquinta's attention back to the fight, but he refused to answer any more questions and walked out of the cage, and by the sounds of things neither fighter was best pleased as they headed back to their respective dressing rooms.
"Masvidal going past press row, taking his shirt off, "F*** THESE JUDGES!" Bleacher Report writer Hunter Homistek noted on Twitter. "Al is not liking the boos either. Looks at crowd. "F*** YOU!"

Cooler heads prevailed backstage, as Iaquinta explained why he'd got so hot under the collar.
"It just ripped my heart out," Iaquinta said. "I train everyday so hard. It just hurt when I heard everyone booing. I do this for the cheers. That's the reason why I do this."

Brock Lesnar
Brock Lesnar was all kinds of fired up after gaining revenge over his bitter rival Frank Mir in the main event of UFC 100 in 2009, and it led to a memorable post-fight rant that almost landed him in trouble with the UFC brass.
"Keep booing, keep booing – I love it!" Lesnar told the crowd, who were voicing their displeasure at the fact he'd showed poor sportsmanship after the fight by verbally confronting his still dazed opponent.
"Frank Mir had a horseshoe up his ass!  I told him that a year ago. I pulled that sumbitch out, and I beat him over the head with it!  Woooooo!"
Joe Rogan then asked Lesnar what he was going to do next, and the answer wasn't quite what he expected.
"I'm gonna go home tonight. I'm gonna drink a Coors Light. That's a Coors Light because Bud Light won't pay me nothing. I'm gonna sit down with my friends and family, and, hell, I might even get on top of my wife tonight!"
Lesnar was later seen at the post-fight presser sheepishly drinking from a bottle of Bud Light, while admitting that he might have got a little carried away publicly dissing one of the UFC's biggest sponsors!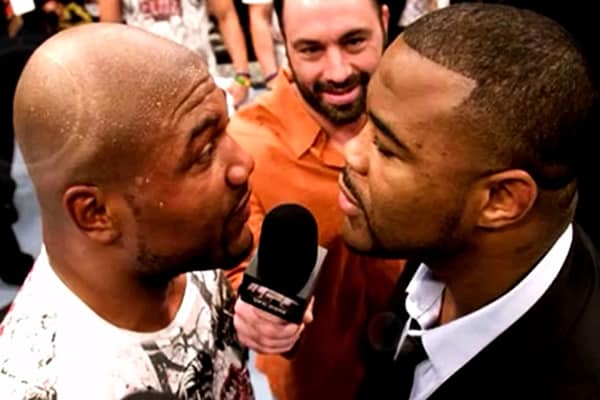 Quinton 'Rampage' Jackson
"I want my belt baaaaaackkkkk!" an amped-up Quinton 'Rampage' Jackson hollered into the mic following his UFC 96 victory over Keith Jardine in 2009.
To do so he'd have to defeat the champion at the time, Rashad Evans, who just so happened to have walked into the cage to square-up to his next title challenger.
"I'm getting that belt back, Rashad," 'Rampage' informed his rival as they stood practically nose-to-nose in the center of the Octagon. "I'm not getting knocked out. I'm getting that belt back, baby!
"Think about it. Know it. See it. 'Rampage' getting his belt back!"
As the two continued to jaw at each other, commentator Joe Rogan attempted to wrap things up, but 'Rampage' wasn't quite finished yet, grabbing the mic back from him for one final thunderous declaration.

"All I gotta say…there's gonna be some more black on black crime!" 'Rampage' shouted, then threw down the mic and walked out of the Octagon.
Nate Diaz
'If you don't ask, you don't get,' is a saying that Nate Diaz decided to put into action in his own unique way after his impressive win against Michael Johnson at UFC On FOX 17 in December of last year.
Seeing all the attention that McGregor was getting, the Stockton native decided to take the opportunity to call him out live on-air in front of millions of viewers.
"F*ck that," Diaz began in typically uncensored fashion as he completely sidestepped the question Joe Rogan had just asked him. ""Conor McGregor, you're taking everything I worked for, mother f*cker. I'm gonna fight your f*cking ass. You know what's the real fight, what's the real money fight — me. Not these clowns that you already punked at the press conference. Ain't nobody wants to see that. You know you can beat them already. It's an easy fight. You want the real sh*t. Right here."
Diaz had more to say, but FOX officials were yelling in Joe Rogan's ear to cut him off due to all the f-bombs, so we never did get to hear the rest of this all-time classic call-out.
Nevertheless, Diaz's rant caught everyone's attention, and it proved to be an ingenious move on his part as just a few months later he was drafted in as a late notice replacement to fight McGregor when lightweight champion Rafael dos Anjos pulled out injured.
Diaz seized the opportunity without hesitation and would go on to hand the superstar his first loss in the UFC by submission.
Though he'd lose to McGregor in a rematch just a few months later, Diaz still laughed all the way to the bank, with the two blockbuster fights with the Irishman having both broken the UFC's pay-per-view record, earning him millions of dollars.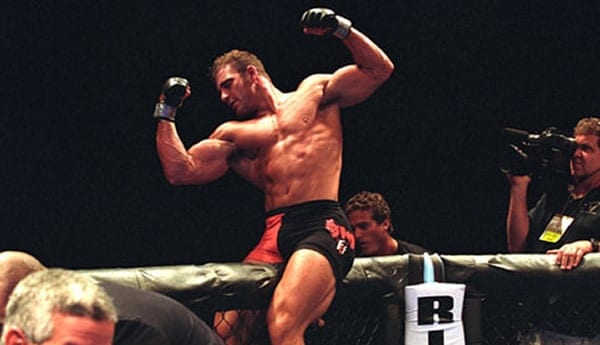 Phil Baroni
It's fair to say that 'The New York Badass' Phil Baroni is not afraid to speak his mind, and after demolishing former UFC middleweight champion Dave Menne at UFC 39 in 2002, he wanted to make sure everyone knew that they had just witnessed the greatest fighter in the history of mankind.
"I'm the best!" Baroni yelled at the top of his lungs as he straddled the top of the cage and beat his chest. "I'm the best eva! I'm the f*ckin' best! I'm the man! I'm the man! I'm the man! [????] you're next! I'm the man! I'm the best eva! Eva! I'm the man! Yeaaaaahhh! Yeaaaahhhh! I'm the best! I told you."
Baroni's comical, self-aggrandizing rant helped him become a cult-figure in the sport, though in the end he'd fail to live up to his own hype.
Baroni, who was 5-1 as a professional at the time, lost his next four fights in a row in the UFC, and eventually went on to compile a career record of just 15-18.
Yoel Romero
Yoel Romero's nickname is 'The Soldier Of God', and so after his KO win over Lyoto Machida at UFC Fight Night 70 he took it upon himself to get on the mic and implore the American public to get back in touch with religion.
"I'm trying English…I'm sorry if people can't understand me, but I'm trying," the thickly accented Romero told the crowd and the fans watching on FOX Sports 1. "Hey, UFC! Hey, Miami! Hey, Florida! Listen, people, listen!
"What happened to you USA? What happened to you? What's going on? You forgot the best of the best in the world. The name is Jesus Christ. God. What happened to you? Wake up USA!
"Go! Go back for you. Go for Jesus. Not forget Jesus, people!"
Unfortunately for the Cuban-born Romero, his bizarre speech would end up being lost in translation, with many fans misinterpreting his last sentence as, "Not for gay Jesus, people!" which was taken to mean that Romero was condemning a court ruling earlier that week allowing gay marriage.
If that had been the case Romero would have been in trouble with the UFC, but thankfully he was able to clarify that his message was only intended to encourage people not to forget about Jesus, and was in no way intended to be homophobic!
Chael Sonnen
The first fight between the charismatic Chael Sonnen and all-time great Anderson Silva at UFC 117 in August of 2010 was an instant classic that left fans wanting more.
With that in mind, the crowd at UFC 136 over a year could scarcely contain their excitement when Sonnen took to the mic after submitting Brian Stann, and called out the middleweight champion, who was sitting at cage-side, in typically uncompromising fashion.
"Anderson Silva, you absolutely suck!" Sonnen declared on the pay-per-view broadcast.
"Superbowl weekend, the biggest rematch in the history of the business! I'm calling you out Silva, but we're upping the stakes.
"I beat you, you leave the division. If you beat me, I'll leave the UFC, forever!"
It was a memorable speech, though the actual circumstances surrounding the rematch didn't quite play out the way he'd described.
For one thing, the fight took far longer than Sonnen had anticipated to come together, and by the time it did nearly a year later, he'd removed his previous 'loser leaves town' offer, claiming that it had been time-limited.
That was probably just as well, as Silva ended up TKO'ing him in the second round of the eagerly awaited second clash between the two stars at UFC 148 in 2012.
https://www.youtube.com/watch?v=pO4VNlkbPBs
Krazy Horse
No fighter does a post-fight celebration quite like Charles 'Krazy Horse' Bennett, but he managed to outdo himself after his seven second KO win over Minoru Kimura at Rizin FF 2 in Japan this past September.
After doing his traditional acrobatic flips around the ring, Bennett was declared the winner, received his trophy and then proceeded to mimic masterbating to a climax, then collapsed onto the mat for a quick nap with a smile on his face.
'Krazy Horse' then remained in his reclined position on the mat as he took the mic, thanked the Japanese fans and noted that, "the celebration was more work than the fight!"
Bennett then turned his attention to his bitter rival, Wanderlei Silva who was sitting ring-side.
The two have a long standing beef going back to the PRIDE days, where the featherweight fighter infamously claimed to have KO'd Silva backstage.
" Where's Candy lay?" Bennett asked. "Candy lay. Candy lay, for the record. You know what happened in 2005. That's why you're still salty!  That's why you wanna still try to get some with this. But, you can't get none with this unless we put it on contract! We put it on contract, then you can get some.
"And other than that, every time your big steroid-head ass see me ­— I'm a n**er and I run fast!"
'The Axe Murderer' headed backstage afterwards to confront Bennett, and true to his word, Bennett was spotted fleeing from the furious Brazilian as fast as his legs would carry him!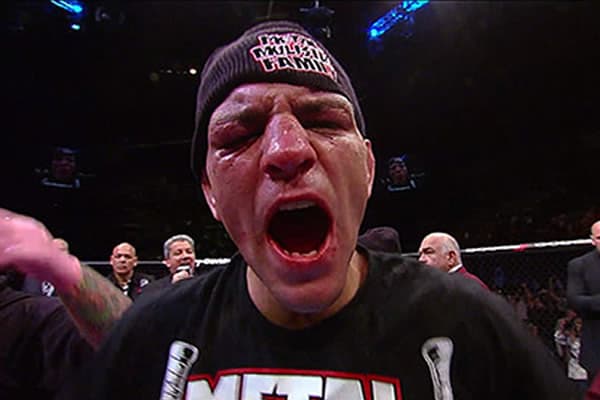 Nick Diaz
Following his decisive decision win over BJ Penn at UFC 137 in 2011, Nick Diaz was clearly fired up about something, stalking around the Octagon yelling at the top of his lungs.
As the decision was being read out the mic finally picked up exactly what was getting him so hot under the collar.
"Where you at Georges? Where you at motherf*cker!" Diaz yelled at the camera, knowing that welterweight champion Georges St-Pierre was in the building that night.
During his post-fight interview moments later, Diaz claimed that GSP was trying to avoid fighting him.
"I don't think Georges is hurt. I think he's scared. I think he's scared to fight everybody right now.
"What's up?! Where you at Georges?!"
Given Diaz's reputation for brawling inside and outside the cage it was probably for the best that GSP stayed in his seat that night, but the two did eventually settle their differences in the Octagon 18 months later at at UFC 158, with St-Pierre emerging victorious by unanimous decision.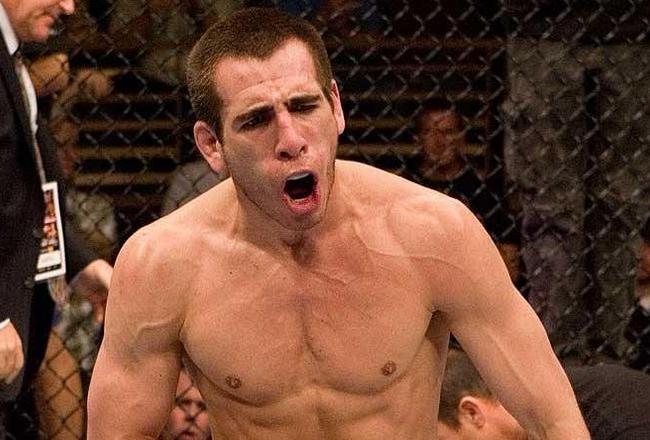 Kenny Florian
After defeating Din Thomas by submission at UFC Fight Night 11 in 2007, lightweight contender Kenny Florian decided to let the whole division know that it was time to step up their game.
"Who wants to see fights finished in the 155 pound division?" a fired-up Florian asked the crowd.  "I FINISH FIGHTS!
"When I come to fight, I'm going to submit you or try to knock you out. I'm going to do everything possible to win. Finish the fight, that's what I'm about!"
Keeping to that promise, Florian would finish 10 of his 12 UFC victories inside the distance, while his skill on the mic led to him securing a job  as a color commentator for the promotion.
Robbie Lawler
As 'Ruthless' a fighter as he is, Robbie Lawler is actually a fairly reserved character on the mic, but after a first round TKO win over Tiki Ghosn at UFC 40 in 2002 he was more amped up than usual.
Much of that was down to Ghosn, who was interviewed alongside the winner in the cage afterwards and seemed to be playing down Lawler's win by claiming it was due to a cut, even though the replay appeared to show him being knocked out.
Lawler did his best just to laugh off Ghosn's claim, but when it was his turn to speak he didn't hold back.
"I just took my time, and when it came, it came HARD!
"I was just trying to loop my right over the top," Lawler said as he watched his handiwork back on the big screen.  "I knew when I hit him with it it was going to be over.
"This is my house!  What's up now!  What is up now! [Crowd roars]
"He actually kicked me in the head right there, but you can't hurt me!  You can't hurt me!!"