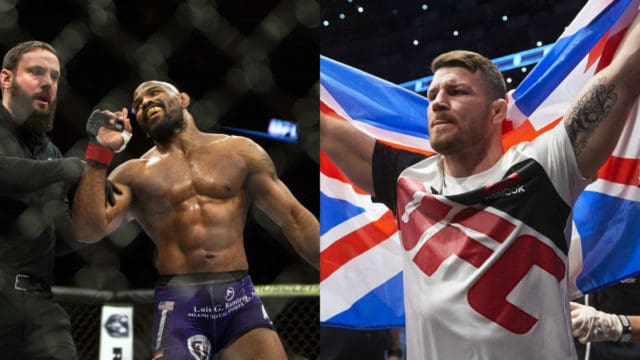 The feud between middleweight contender Yoel "Soldier of God" Romero and champion Michael "The Count" Bisping has spilled out of the Octagon and into social media. The Cuban and British citizens have now involved their national flags as means to insult each other.
The first offense came at the hands of Bisping, who tore up the Cuban flag and threw it at Romero after the Cuban's UFC 213 loss against Robert Whittaker. Check it out via Twitter:
https://twitter.com/mikedyce/status/883911833832136704
Needless to say, Romero did not take the disrespect lightly, and was swift to make a video burning a picture of Bisping with the UK flag. Check it out via Instagram:
Although the message of hostility was clear, Bisping laughed off on an Instagram post of his own, where he posted screenshots of the video with nothing but emojis as the caption via Instagram:
The beef between the UK and Cuba seemed to be over after a lackluster response of three laughing face emojis, but "Sodier of God" was not done with Bisping or the Union Jack. In a profanity-filled, high-production value Instagram video, Romero called out Bisping and challenged him to fight in London or Manchester. See the video here (Via Instagram):
It seems that Romero is campaigning for a fight against Bisping, an unlikely reality since he just lost the interim belt to Whittaker. For Romero, a lot of things need to happen for him to ever see "The Count" in the Octagon, including Bisping accepting a fight with him, something that has never happened.

The middleweights have become the division to watch, even with Bisping out for the entirety of 2017 so far. The feud between Romero and Bisping, the new exciting, young interim champion and a roster full of killers promises great match-ups. Romero took his first loss but expressed that he is not done in the UFC, and Bisping's future is uncertain.