What's Next For 'The Natural Born Killer'?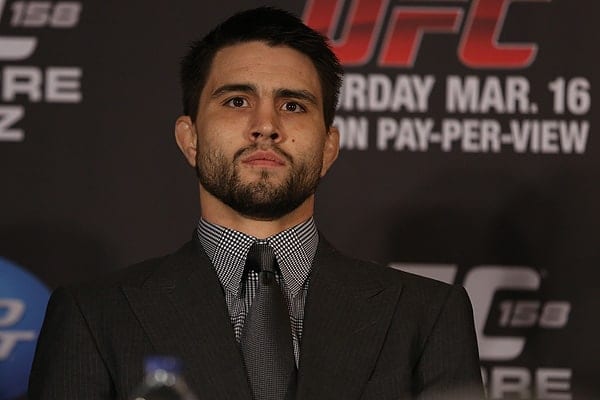 Carlos Condit may have had some troubles in the first round of his comeback fight against Thiago Alves, but the Greg Jackson's MMA product came back in beast mode in the second round. The doctors halted Alves on his stool, against 'The Pitbull's' protests, for the TKO win for a jubilant 'Natural Born Killer'. After a 14-month lay off following a torn ACL against Tyron Woodley at UFC 171, the win in Brazil last night (Saturday May 30th, 2015) was a long time coming for Condit.
So what's next for 'NBK'? Well as he is still ranked at number four in the division, there are a couple of potentially interesting and rankings-worthy fights to be had, perhaps at the top of the stack is fellow 170-pound slugger Matt Brown. 'The Immortal' recently proclaimed that he wants the winner of Condit vs. Alves, but that fight will likely depend on whether or not Brown is able to get through 'Dirty Bird' Tim Means at UFC 189. Still, it's a fight fans have wanted to see for years.
The two blood thirsty strikers were originally slated to square off at UFC On FOX 9 in December 2013, but an injury forced Brown off the card and Condit too. All eyes on Brown vs. Means, but what other options are available? There's always a rematch with Tyron Woodley to consider, as 'The Chosen One' doesn't have a booking right now, and is one spot ahead of 'NBK' in the deep division.
Their first fight was perhaps a little too unsatisfactory in it's result, and not characteristic of a Carlos Condit fight whatsoever. Dong Hyun Kim recently won very impressively at UFC 187, bouncing back from his own TKO loss against 'T-Wood' with a submission win over Josh Burkman. Condit defeated 'Stun Gun' with a highlight reel flying knee KO at UFC 132, and perhaps the Korean 'Maemi' wants his chance at redemption. With the top end of the division rather tied up at the moment, Kim and Brown might be the only logical fights for 'NBK' to take right now.
Having seen form during his days in the UFC that took him to the championship level, Condit will probably want to get in the octagon as soon as possible after scoring such a dominant win against Alves. We saw 'The Natural Born Killer' put in a great performance against Georges St-Pierre, who now sits dormant as champion Robbie Lawler runs the division. Maybe a rematch with Johny Hendricks could be fun, as it's probable the UFC won't want to make a trilogy fight for 'Bigg Rigg' right now anyway.
So who do you think Carlos Condit should get for his next fight?