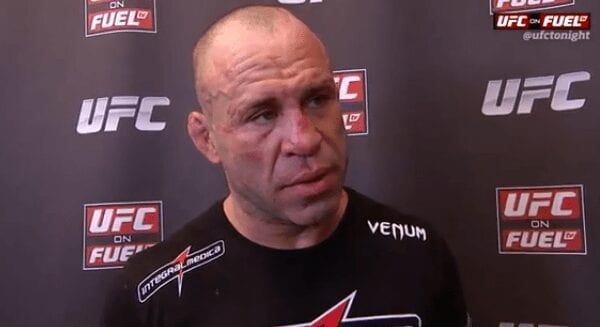 Former Pride FC and UFC wrecking machine Wanderlei Silva is on the warpath again. This time the intended target of his rants is the NSAC (Nevada State Athletic Commission) as is usually the case. After a crazy news week, mainly due to the Jon Jones Fails Drug Test For Cocaine, Enters Drug Treatment Facility" href="https://www.lowkickmma.com/UFC/jon-jones-fails-drug-test-cocaine-enters-drug-treatment-facility/">Jon Jones drug test fail, "THe Axe Murderer" also voices his support for "Bones"".
He also spends a good chunk of time criticizing the NSAC for allowing CM Punk to compete as a professional fighter in the UFC. The promotion snatched up the former WWE star in late 2014, and has come under fire from multiple sources since. Check out the Wanderlei Silva video below, and the quotes from MMAJunkie.com:
"Did this guy (CM Punk) ever compete? Did he ever get punched in the head? Did he ever compete in anything? No? Then it's dangerous to put him inside the cage against a professional fighter," Silva said. "If he takes a blow to the head and dies, what will the commission then say? Sorry? "Instead of regulating it, you are damaging the sport," said Silva, who this past year was issued a lifetime ban for evading a drug test. "You should protect the equality and the safety of the fighters. But you don't know what you're doing."
To Jon Jones
"You will step out of this and use this as a lesson for many people who have the same problem," Silva said. "Keep being the great champion that you are.  Are there laws or are there no laws? Sometimes there are laws and sometimes there are none? There are no protocols to be followed?"
"You are lost – you don't know what you are doing," he added. "This sport has to be regulated. The way that it's going can't continue. This commission is a mess. They put on fights to make money, and in those regards they're not wrong," he said. "But the entity that implements the laws for the athletes, the entity that punishes athletes and controls their lives yet doesn't know what they're doing, just can't be. It's a commission that doesn't follow protocols or laws."
Do you agree with Wanderlei Silva on the latest issues he raises? Certainly the commission is no friend of Silva's, as he currently serves his lifetime ban for ducking their drug test….