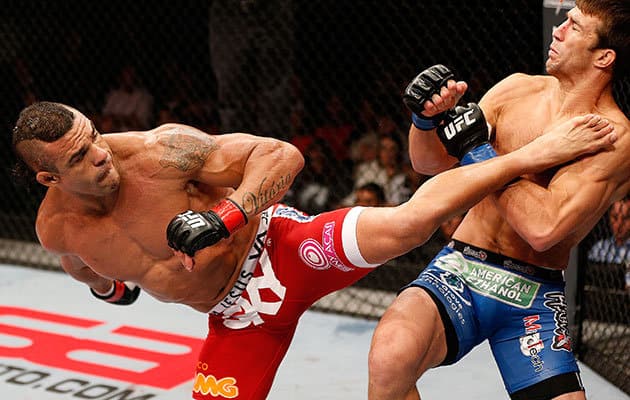 UFC 184 title challenger Vitor Belfort has certainly undergone a physical transformation in the recent months. After the TRT ban meant he had to go clean and miss out on fighting Chris Weidman this year, "The Phenom" was the subject of some serious trolling by the middleweight champion.
Victories over Dan Henderson, Luke Rockhold and Michael Bisping during the TRT era were impressive, but his next fight will be the telling one. Currently training with The Blackzilians, Vitor Belfort's physique is looking trimmed down, to say the least. Check out the photo via Eddie Alvarez's twitter:
Great morning session with all my Big Homies!!! pic.twitter.com/GzNugjNBCN

— Edward Alvarez (@Ealvarezfight) December 20, 2014
One huge question surrounding Belfort is how will he perform without the TRT. The very same question has hovered around "The Phenom" since his knockout win over Dan Henderson, who coincidentally got annihilated in his first post-TRT fight. One point also worth considering is that Belfort would have been out of action for 15 months by the time he faces Weidman in February.
Vitor Belfort's physique may have undergone massive change, but are we forgetting that he is a very crafty, 34-fight veteran with some of the fastest hands in the game? Perhaps "The Phenom" will go out on top, or will "The All-American" make mincemeat of the controversial MMA legend?