UFC Sao Paulo Weigh-In Results: Main Event Set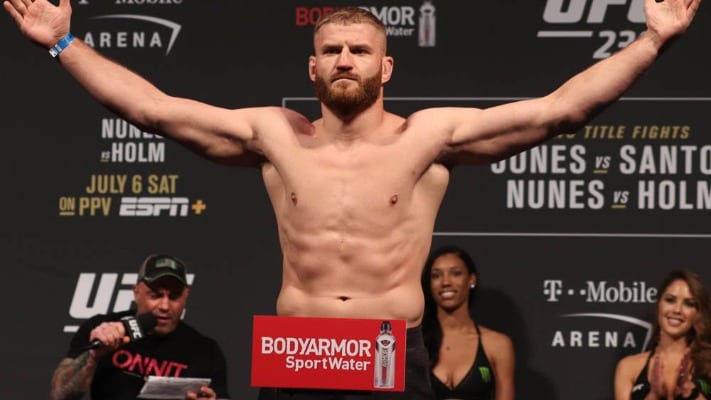 Updated (11/15/19 at 3:37 p.m. CT):
The CABMMA has issued a correction on the weights of fighters Tracy Cortez and Vanessa Malo. The scale was not calibrated properly, and it has been determined that both women did, in fact, make weight at 136 pounds.
Original:
Tomorrow (Sat. November 16, 2019) the UFC returns to Brazil. UFC Sao Paulo will go down from the Ginásio do Ibirapuera in Sao Paulo, Brazil.
In the main event of the night, Ronaldo "Jacare" Souza will jump up to light heavyweight to take on Jan Blachowicz. Co-main eventing the night is another 205-pound matchup between Mauricio "Shogun" Rua and Paul Craig. The UFC has compiled a tremendous card for fight fans to enjoy.
Earlier today, the Las Vegas-based mixed martial arts (MMA) promotion held the UFC Sao Paulo official weigh-ins. Both fighters involved in the main event made weight. However, three others missed their marks.
Check out the full UFC Sao Paulo weigh-in results below. (H/T MMA Fighting)
UFC Sao Paulo Weigh-In Results
Main card (ESPN+, 8 p.m. ET)
Jan Blachowicz (205) vs. Ronaldo Souza (205)
Mauricio Rua (206) vs. Paul Craig (205)
Charles Oliveira (155) vs. Jared Gordon (156)
Antonio Arroyo (185) vs. Andre Muniz (186)
Markus Perez (186) vs. Wellington Turman (186)
Preliminary Card (ESPN+, 5 p.m. ET)
James Krause (170.5) vs. Sergio Moraes (171)
Ricardo Ramos (146) vs. Luiz Eduardo Garagorri (145.5)
Francisco Trinaldo (155) vs. Bobby Green (156)
Warlley Alves (171) vs. Randy Brown (171)
Douglas Silva de Andrade (145.5) vs. Renan Barao (146)
Ariane Lipski (125.5) vs. Isabela de Padua (130.5)**
Vanessa Melo (136) vs. Tracy Cortez (136)
Will you be tuning into UFC Sao Paulo tomorrow? Who are you picking in the main event?