UFC Fight Night 60 LowKick MMA Staff Predictions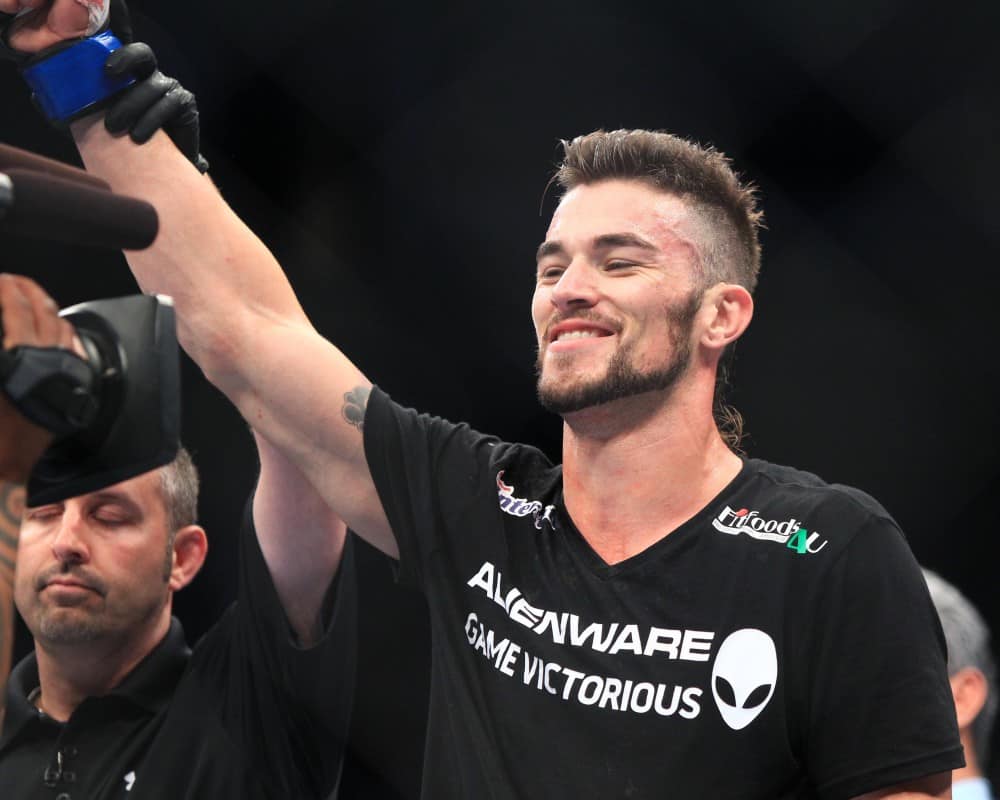 Brandon Thatch vs. Benson Henderson:
Mike Drahota:
This could be an under-the-radar main event in Broomfield, and it could also be an unpredictable one. Former lightweight champion Henderson will make his welterweight debut, and he'll do it against a bulldozing force in Thatch, who hails from nearby Denver. However, Thatch is coming off a long layoff, meaning that both fighters have some extreme question marks to atone for. Still, I think Henderson has bitten off more than he can chew here, as Thatch should be more than motivated to put on a show for his home fans. Current lightweight title challenger Rafael dos Anjos recently knocked out "Smooth," so if "Rukus" can keep the fight standing, this should be his bout to lose. He's finished all of his wins inside the opening frame, and I expect this one to play out in similar fashion. Thatch via first round TKO.
Rory Kernaghan:
Benson Henderson vs. Brandon Thatch showcases a legitimate and proven ex-champion against a potential future boss and rising star. For me this fight is all about who implements their gameplan overall, unless of course Thatch can get an early finish. "Rukus" is unknown in victory past round one, and "Smooth" is very experienced at making fights gritty and point-based. My wallet says Henderson for the win, but my gut is telling me Thatch will put on an early clinic…to hell with it, Thatch by TKO in the first round.
Mike Henken:
Coming off of two straight losses, moving up in weight, and taking a short notice fight is no easy task. On top of all of this, Benson Henderson will be standing across the cage from a young, hungry killer in Brandon Thatch. Thatch is the owner of 10 first round finishes, and possesses absolutely lethal Muay Thai skills. He is also very tall and lanky, and will have the size advantage over the former champion. Although Henderson has looked rather awful as of late, he's still the biggest test of "Rukus'" young UFC career. Thatch's takedown defense may be a question, but it will be hard for Henderson to get such a lanky fighter down. I wouldn't be too surprised if Henderson got him down and rode out a decision win, but I don't see that happening. If Thatch is in normal form coming off a long layoff, expect another vicious victory in his hometown; Thatch by first round knockout.
Max Holloway vs. Cole Miller:
Mike Drahota:
Holloway has begun to realize his solid potential in recent months, while Miller has simply been on the sidelines nursing injuries. While the American Top Team product is a polished Brazilian Jiu-jitsu practitioner, I think this might be "Blessed's" time to shine. He's simply the more well rounded, younger, and more athletic fighter. He's only been submitted once in his 14-fight career, and I feel like that's the only way Miller can pick up a win here. Holloway by decision.
Rory Kernaghan:
Cole Miller returns from his long layoff to face a resurgent "Blessed" in an intriguing featherweight pairing. Max Holloway emerged from last year on a four-fight tear, 3 T/KO and one sub. "Magrinho" only fought once in 2014, opting out of a fight against Conor McGregor with a bad thumb. Where does this fight take place? On the feet I'd imagine, and I also say that Holloway has the advantage there. Look for "Blessed" to put a sound beating on the ATT wrestler, winning a one-sided decision in the process.
Mike Henken:
At only 23 years old, Max Holloway is a very experienced fighter. Since dropping a decision to Conor McGregor in 2013, Holloway has scored four straight wins, with three being T/KO's and one being a submission. He has looked to improve his already solid striking, and rounded out his ground game. Cole Miller hasn't fought in over a year, and is just 3-3 in his last 6 bouts. He's a solid fighter, but due to the layoff I don't see him getting the job done here. Look for the young and athletic Holloway to grab a unanimous decision win.
Photo Credit: Pat Lovell-USA TODAY Sports