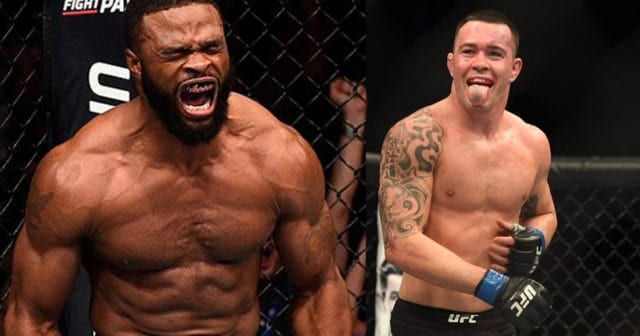 UFC welterweight champion Tyron Woodley continues to go on the attack towards Colby Covington.
Woodley suffered a partial labrum tear early in his recent title defense over Demian Maia, which he won by decision. Woodley has been a fighting champion as he has defended it twice in 2017 with winning decisions over Stephen Thompson and Maia.
This tied with three other fighters for the most active 2017 schedule by a UFC champion.
Woodley kept a close eye on the co-main event of the main card for Saturday's (June 9, 2018) UFC 225 pay-per-view event at the United Center in Chicago, Illinois.
As seen in the fight, Covington was able to score a decision win over former UFC lightweight champion Rafael dos Anjos to win the interim welterweight title.
Following the fight, both Covington and Woodley went on the attack against each other by taking some major shots.
This leads us to Woodley taking to social media and putting up a live chat where he put the newly crowned interim welterweight champion on blast.
At one point, he stated that he was going to go real life Ivan Drago on Covington.
For those of you who may not be aware of who Ivan Drago is. Here's a quick lesson. This was Rocky Balboa's main rival in the 1985 film Rocky IV. Woodley retweeted this from a post about his statement on his official Twitter account:
Big bro @TWooodley say he feeling real life Drago out here. It's a greenlight pic.twitter.com/76hP8M303f

— T-Dubb-O (@T_DUBB_O) June 10, 2018
Woodley has made it perfectly clear by stating in previous interviews that he wants to return to the Octagon under the UFC banner at the upcoming UFC 227 pay-per-view event on Saturday, August 4, 2018, at the Staples Center in Los Angeles, California.
This show will be headlined by a bantamweight title fight pitting champion TJ Dillashaw against Cody Garbrandt in a rematch. It will be interesting to see when the UFC books this fight.