Cris Cyborg is finally a UFC champion.
This past weekend (Sat. July 29, 2017) the Brazilian knockout artist added yet another finish to her record when she stopped Invicta FC bantamweight champion Tonya Evinger in the third round of their UFC featherweight title fight at the UFC 214 pay-per-view (PPV). After landing a slew of hard shots throughout the first and second round, Cyborg was finally able to finish Evinger off in just under two minutes.
Cyborg is considered one of the greatest female mixed martial arts (MMA) practitioners of all time, alongside former UFC women's bantamweight champion Ronda Rousey. ""The Rowdy One's" reign over the 135-pound division came to an end in 2015 when she was knocked out by Holly Holm in the second round of their title meeting. She attempted to return last December against current champion Amanda Nunes, but was made quick work of after being put away in just 48 seconds.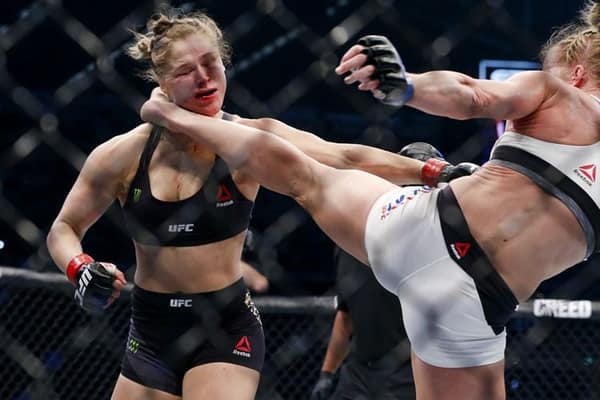 Prior to her loss, Rousey had amassed a 12 fight undefeated streak since the beginning of her MMA career, winning each fight via stoppage and only making it out of the first round once. Former UFC light heavyweight champion Tito Ortiz recently joined Submission Radio following his longtime friend Cris Cyborg's UFC title win, and claimed that the Brazilian is a far better champion than Rousey who was 'hand-fed opponents' (quotes via MMA Mania):
"Ronda was a flash in the pan. And nothing against her, she was a great champ at the time, but when you're getting hand-fed opponents, it is what it is. But Cris is not a person to submit people and give them an opportunity to do it again, she's a person to knock people out. As you heard tonight at the press conference, people comparing her to a Mike Tyson.

"But now she's a confident person, is keeping her hips low and yeah, she swings like Mike Tyson. All of her sparring partners, they're all men. We don't have any women sparring partners with her, and when they do it's just a confidence booster for her, and I've got to thank all of them for coming in and working with her. Cris is finally the UFC world champ."