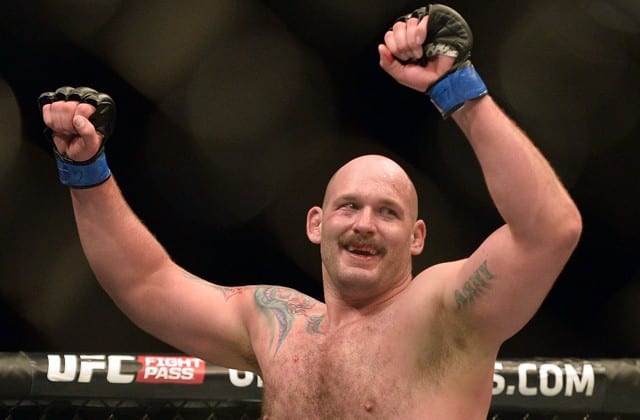 Marcelo Golm's inexperience led to a loss against Timothy Johnson.
Heavyweight action was featured on the main card of UFC Belem. Johnson and Golm went one-on-one. This was Golm's second UFC bout.
Golm went with a leg kick early in the fight. They tied up and Johnson went for a knee to the body. Golm and Johnson battled for position. They separated and returned to the center of the Octagon. Blood formed over the eye of Johnson from an accidental headbutt. The round ended with both fighters tied up.
Johnson threw some winging punches, but they were blocked. Golm landed a punch and Johnson returned fire. Johnson went for a takedown, but Golm rained down elbows. They separated and were back to the stand-up. Johnson couldn't get a takedown. The crowd became restless as there was virtually no action going on. The two kept clashing heads accidentally.
Golm landed a body kick early in the final frame. He connected with a jab. Golm connected with an inside kick. We were right back to the clinch. This time, they separated quickly. Johnson threw out a combination. He moved forward and landed a couple of clean shots through Golm's guard.The action was broken up for a lack of activity. A knee was there for Golm. Johnson was back to the pressure that lead to the clinch yet again.
The final horn sounded and Johnson was awarded the unanimous decision win.
Final Result: Timothy Johnson def. Marcelo Golm via unanimous decision (30-27, 29-28, 29-28)