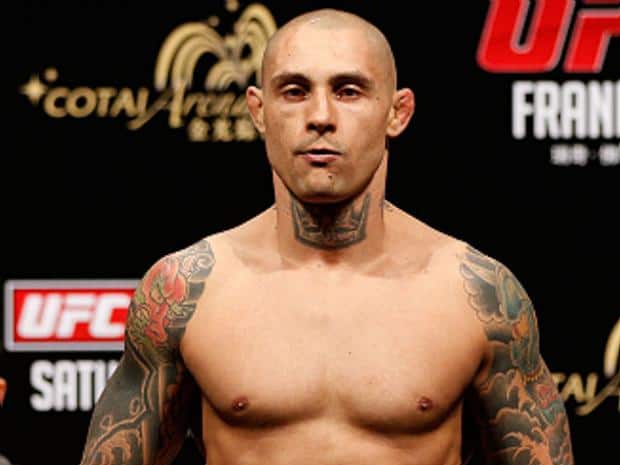 Newly re-signed UFC light-heavyweight Thiago Silva has had quite the year of mixed fortunes. Not inside the UFC octagon, but outside was where Silva came under fire. The controversial accusations made by his ex-wife meant that Silva was charged with attempted murder, along with a litany of other heinous charges. As it turned out, his wife left the country and Silav's charges were dropped.
For the first time since being arrested for the crimes back in February, Silva speaks out about the accusations aimed at him by his ex-wife. Check out these snippets from the Brazilian's segment on The MMA Hour:
"I never pointed any gun at my ex-wife, I never tried to hurt (her). Everything she said was a lie. So that's the truth. The state, they couldn't prove another thing, so that's the truth. I'm just glad the truth came out," Silva added. "[The UFC] trust me, they knew I didn't do nothing, so they gave me my job back. So I'm very glad for this."
Silva's hiring after such a media storm was met with some criticism, but on the surface you have to say that the UFC did right by Silva. After such a torrid time, it appears that Silva just wants to get back to work, and put the whole ordeal behind him:
"Here the thing," Silva continued. "I didn't do nothing. She said I pointed a gun at her, I tried to hurt her. I didn't point any gun, I didn't try to hurt her, you know? I wanted divorce, she wanted money, I didn't want to give the money, she set me up, that's the truth. I just wanted the divorce. I didn't want to stay with the girl anymore. She wanted a lot, she asked for a lot of money to sign the divorce. I said no, she set me up. That's it."
"I'm here to talk about my professional fights, my comeback to the UFC. I really don't want to talk about my [personal] life. I think that's not good for me. I don't want to work with this anymore. I'm done with that."
Marital problems are never an easy thing to deal with, but they can be even more troubling when thrust in to the public eye. Moving forward, Silva will look to improve on a two-fight promotional win streak, including 2013 wins over Matt Hamill and Rafael Cavalcante. He continued:
"I don't care what people think," Silva said. "I'm going to do my job. I'm going to keep focusing on my training, and that's it. They will forget. They always do. I just can control what I do, not other people. So they can say whatever they want, but I'll be ready next year healthy, stronger, and fighting hard I always do."
Can Silva put the demons of his past behind him, or has the year off with all the media troubles and legal tribulations added up to an insurmountable task?