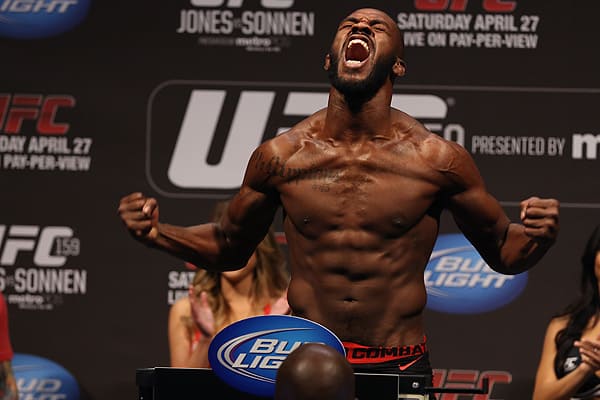 When former long-time UFC light heavyweight champion Jon "Bones" Jones was arrested on felony hit-and-run charges last April, he was suspended indefinitely, stripped of his title, and ultimately pulled from his scheduled UFC 187 title defense against Anthony "Rumble" Johnson.
Although the situation was obviously detrimental to Jones, the incident also seriously hurt the UFC. Not only did they lose a pay-per-view (PPV) headliner, and their pound-for-pound king, but they also lost one of their biggest stars, and biggest draws.
The 205-pound division has seemed to be in a decline recently, and although Jones had almost cleared it out, people still tuned in to see him fight. He was the face of the division, and one of the faces of the UFC.
With "Bones'" fighting future being unclear for the last few months, it was evident that the UFC was missing a key part to their puzzle.
However, we received some answers today when Jones finally went before a judge. The outcome? The former champion was handed 18-months of probation, with no jail sentence. The UFC has announced that they will go through a thorough evaluation before reinstating Jones, but ultimately, the Jackson-Winklejohn product is free to fight, barring the promotion allows him to.
While the decision is obviously a positive for Jones, I also see it is a huge win for the UFC, as everything seemed to not only workout in the perfect way (given the circumstances), but at the perfect time.
When "Bones" was pulled from UFC 187, former title challenger Daniel "DC" Cormier stepped in to take on Johnson. Cormier, and Jones squared off at last January's UFC 182 in one of the biggest grudge matches the sport has ever seen, with Jones earning a unanimous decision victory.
Against Johnson, however, "DC" got the job done and became the undisputed light heavyweight champion. He will now put his title on the line for the very first time against another one of Jones' past foes in Alexander "The Mauler" Gustafsson in the main event of next Saturday's (October 3, 2015) UFC 192.
So why is this a win for the UFC? Well, Jones has been "freed" so to say in the week leading up to a defense of his previously held title, and no matter who wins at UFC 192, the UFC could set up a massive rematch for "Bones'" return.
Although Jones' comeback fight will be huge nonetheless, a rematch with Cormier would be monstrous. The rivalry is still intact, as "DC" has repeatedly told Jones to "get his sh-t" together, as well as often saying that it's Jones who he wants to fight.
Also, the roles would be reversed this time, as Cormier would be the champion, setting up for an amazing story.
And if "The Mauler" were to upset Cormier this weekend? No problem. Although the rivalry isn't as in depth, fans have been patiently waiting for a rematch between Jones, and Gustafsson ever since the Swedish star brought "Bones" to his limit in a five-round 2013 war, in which the former champion edged out a close fought decision victory.
Although the interest may not be at the all-time high it was when they were supposed to meet at UFC 178, it could be reinvigorated if Gus takes out Cormier.
These situations of course all depend on whether or not the UFC reinstates Jones right away, which many are expecting them to do, and "Bones" would obviously have to be awarded an immediate title fight, which also wouldn't be too surprising.
If the stars align for either of these situations, who would you rather see Jones attempt to get his title back from?