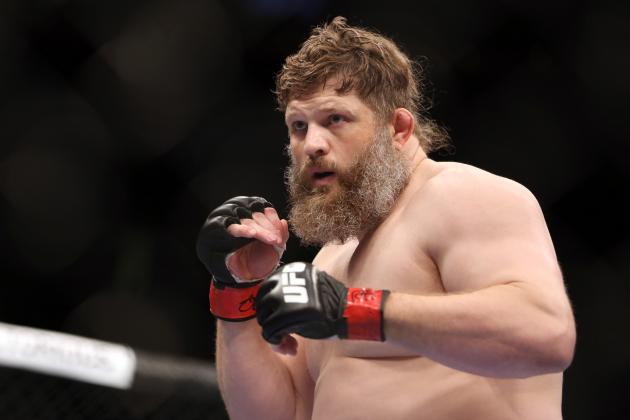 The struggles have continued for 39-year-old knockout artist Roy "Big Country" Nelson, as he dropped his third-straight loss to Josh "The Warmaster" Barnett in the main event of last night's (September 26, 2015) UFC Fight Night 75 from the Saitama Super Arena in Saitama, Japan.
As two of the most prolific finishers in the heavyweight division, many were expecting a finish from either Nelson, or Barnett, but the bout ended up being a grueling five-round contest in which Barnett ultimately took a unanimous decision victory.
"Big Country" was unsurprisingly disappointed, and frustrated after the loss, mainly because he was outworked:
"I think the biggest thing for me that was disappointing was today I just got outworked," Nelson told MMAjunkie. "Frustration with myself. Looked at a lot of good stuff that I did where if I compare to my last fight, today was better than my last fight. As I fighter, I'm just always improving, but I'm disappointed because it's a loss."
With his recent record, and his age, the talks of retirement have begun to surface around the former The Ultimate Fighter winner, but Nelson doesn't seem ready to hang up the gloves just yet. In fact, "Big Country" has a plan for the future, as he is seeking revenge against those who have gotten the better of him inside of the Octagon:
"For myself, I said after this I was going on a revenge tour," Nelson said. "I guess now Josh is also back on the list."
Unfortunately for Nelson, the heavyweight division seems to have been reinvigorated with contenders, and being the oldest in the division probably means that any hopes of a title run have been put to bed. However, there still could be some interesting fights for the slugger if he indeed decides to stick around.

Who you like to see Nelson scrap with next?