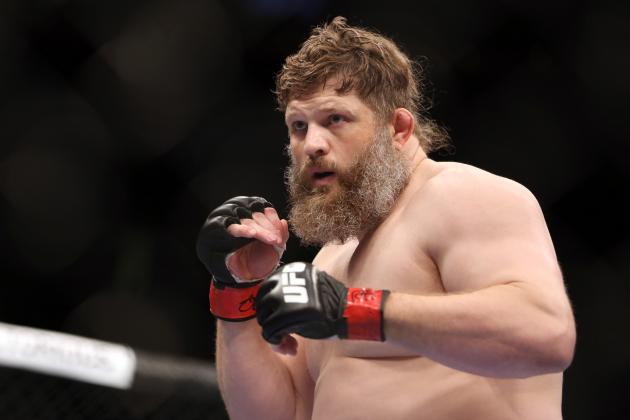 Former UFC heavyweight champion Roy Nelson has made the jump to Bellator MMA just like several other UFC stars have done over the last few years.
Nelson, who has signed an exclusive multi-fight contract with Bellator MMA earlier this year, is excited for his first fight under the promotion's banner. So much so that he asked the promotion to book him for action in June. However, Bellator President Scott Coker held off on Nelson's first fight until Bellator 183 where he is slated to fight Javy Ayala in his promotional debut.
"As soon as I signed with Bellator, that very day, there was definitely an excitement and a relief where you're just like, 'I can't wait to get out there and do this,'" Nelson told MMAjunkie.
Nelson's (22-14) contract with the UFC expired following his latest bout, which was a unanimous decision loss to Alexander Volkov in April. Nelson made his debut with the UFC nearly a decade ago by winning the tenth season of "The Ultimate Fighter." While under the UFC banner, he held a 9-9 record. His most notable wins in the UFC came against Stefan Struve, Mirko Cro Cop, Matt Mitrione, Antonio Rodrigo Nogueira, Antonio Silva, and Kimbo Slice.
Nelson, who is 40 years old, had an up-and-down relationship with the UFC and Dana White. He remained a fan favorite and was always featured in big fights. While he never won the UFC heavyweight title, Bellator is need of a heavyweight champ as the title is vacant, so it's possible that he could fight for it in the not-so-distant future.
"The one thing I've learned is I've gotten beat damn pretty hard with the UFC, where I learned that the belt – I used to love that belt," Nelson said. "The belts actually meant something. But what I learned about the UFC is that UFC belts don't mean (expletive). And I mean it doesn't mean (expletive).

"The reason why is you can come off losses, you can move up four weights, you can be whatever. 'Oh, we've got super fights' and (expletive) like that. Or, 'I'm a three-time champion.' I'm a lightweight and heavyweight, and whatever you want to call it and be like, they can make up titles and do whatever."
Nelson made it known that he loves the tournament format, which Bellator used to do in the past.
"It takes the politics out," Nelson said. "I'm just not really good with politics. Politics is really not one of my strong points, and I'll be the first to admit that. But when it comes to fighting, I know how to fight. And that's one thing I'm really good at: It's a straight fight."

"I can't wait to actually fight for the Bellator belt," Nelson said. "First, I've got to get through Javy. And if I can fight for the belt on the 24th, I'll fight for the belt on the 24th. I'm ready to go. Training with Randy (Couture), you know, he won the (UFC heavyweight) belt at 43. So I've still got time."
Bellator 183 is set to take place at SAP Center in San Jose, California on Saturday, September 23rd. The main card airs on Spike TV at 9 PM EST while the preliminary card will air online 7 PM EST.

"I think you guys still have Josh Barnett in there," Nelson said. "And isn't Josh Barnett like on steroids or something like that? Suspended? So it all really depends on what you guys consider rankings. If you use MMA math: Javy knocked out Sergei (Kharitonov). Sergei's knocked out (Alistair) Overeem, (Fabricio) Werdum. And then he got to the age thing. So if you put the pen and paper, you're like, 'Hey, he's like the No. 3 guy in the world.'"

"All I care about is, I'm going to go out there and be Roy Nelson, and I'm going to get me a win," Nelson said. "That's all we're going to do for the fans. We're going to get fans excited; I'm going to rub my belly. They'll see me get up on the cage. Everybody's going to go (hashtag) belly rub. It's going to trend on Twitter and Instagram and Facebook."