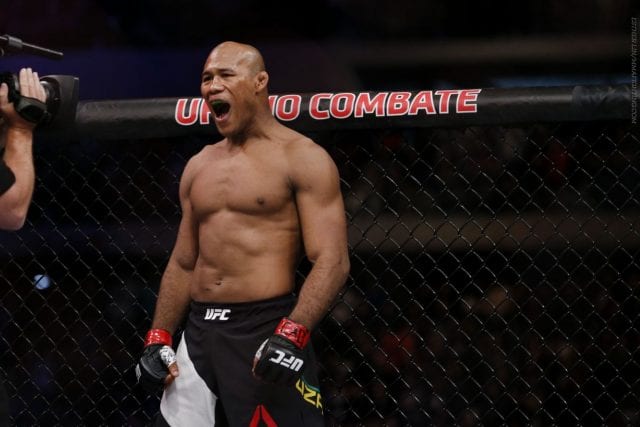 Ronaldo Souza is willing to retirement from the sport of MMA if he doesn't get a title shot with a win in his next fight.
"Jacare" is slated to meet Yoel Romero in the main event of UFC on ESPN 3 (also known as UFC Miami). In his mind of the longtime MMA star, he thinks that he has to win this fight and then wait for the UFC decide what they will do.
If he doesn't get what he wants, then he's more than happy to retire from fighting in order to open a jiu-jitsu school. Souza elaborated on his mindset during an appearance on 'Ariel Helwani's MMA Show' (via MMA Mania):
"I wanna sit and wait for my shot, for my chance," Souza said. "If UFC doesn't give me the chance, I'm going to open a jiu-jitsu school for me. I don't have a problem with retiring.
"Right now my body is good, my hormone is great, everything is good. I don't have a problem with this. I'd be retiring to my jiu-jitsu on top. So I have to win this fight and wait on the UFC."
Souza is coming off a third-round knockout victory over former middleweight champion Chris Weidman at UFC 230 at Madison Square Garden. Before that, he suffered a split decision loss to Kelvin Gastelum in May 2018 and is 3-2 in his last five bouts.
UFC on ESPN 3 is set to take place on Saturday, April 27, 2019, at American Airlines Arena in Miami, Florida. The main card will air on ESPN. The preliminary card will be split-broadcasted on ESPN and the TV network's streaming service, ESPN +.
If you enjoyed this story, please share it on social media!