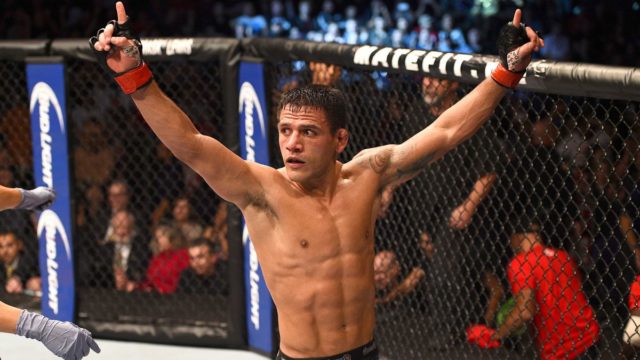 Rafael dos Anjos is all set to make his welterweight debut, and he may already have a fight lined up after his upcoming bout with Tarec Saffiedine passes.
'RDA's' last Octagon appearance saw him suffer a first round knockout loss to Eddie Alvarez in which he dropped his then-lightweight title. The Brazilian later revealed that he planned to move up to the 170-pound weight class, as the cut to 155 pounds lately has been too strenuous.
UFC welterweight Colby Covington had campaigned for some time to welcome dos Anjos to the welterweight division, but he was instead granted a bout with No. 7-ranked Dong Hyun Kim while 'RDA' was booked against Saffiedine. Dos Anjos and Covington may not be competing against each other this time around, but they will be on the same card from the Singapore Indoor Stadium in Kallang, Singapore on June 17th.
During a recent press conference to promote the event in Singapore, Covington spoke on his attempts to welcome dos Anjos to welterweight and noted that he is happy with the fight he wound up getting as it brings him one step closer to the UFC title (quotes via MMA Fighting):
"I got a bigger fight, a better fight," Covington said. "So, he's scared. He knows he's scared, so this is the next best option. A tougher opponent, a guy that's going to get me closer to the title. I'm the most feared guy in the game right now. I scare the ink out of pens."
The former lightweight champ got the opportunity to respond to Covington's claims, and said that he believed 'Chaos' was a Bellator fighter when he saw him throwing shots at him on social media, and had no idea who he was:
"I have nothing to say," dos Anjos said. "I'm a former lightweight champion. I thought this gentleman was a Bellator fighter when he was attacking me on social media. I didn't know who he was. And I think this kind of new generation of MMA fighters, they're trying to get attention by talking."
Covington would interrupt dos Anjos and claim that the Brazilian is just mad because the United States Anti Doping Agency (USADA) changed the game for him:
"USADA changed the game for him," Covington said.  "So he's just mad."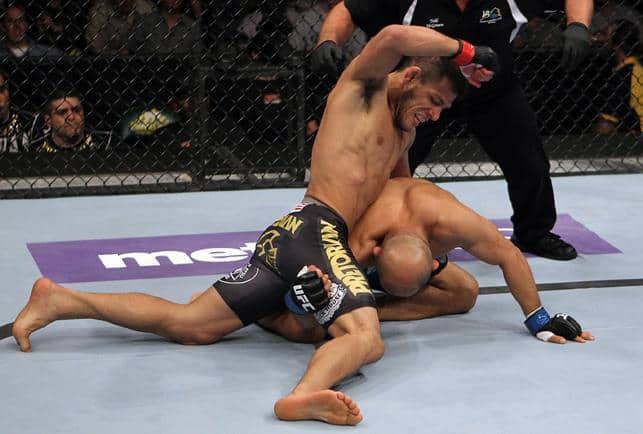 Dos Anjos then called out the 'new generation' for trying to be too much like Conor McGregor and get recognition off of their ability to smack talk on the mic. He prefers to be known for his work inside of the Octagon:
"This new generation is trying," dos Anjos continued. "I think there's only one Conor McGregor. You've got to be yourself. You can't try to copy somebody else. Just be yourself."

"I didn't even know who this guy (Covington) was before he [started talking trash]," dos Anjos said. "People know who he is because he's talking trash, and I don't think that's the way to get people to know you. I prefer to show my skills in Octagon."
If you enjoyed this story, please share it on social media!