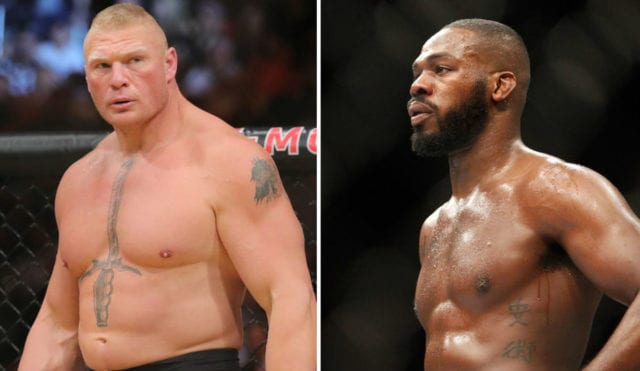 Despite the fact that both fighters are not even eligible to fight right now, the opening odds for Brock Lesnar vs. Jon Jones are available.
These odds being released comes right off the heels of UFC President Dana White going on record by stating to TMZ Sports last week that both Jones and Lesnar are interested in fighting each other inside of the Octagon.
Lesnar's fight under the UFC banner came back at UFC 200 in July of 2016 against Mark Hunt. This marked Lesnar's return to MMA after an almost five-year retirement.

As seen in the fight, Lesnar won a unanimous decision that night which was subsequently overturned when it was revealed he failed two USADA issued drug tests before the bout. This led to Hunt filing a civil suit against Lesnar and the UFC to settle his grievances.
Lesnar is still under contract with the WWE until August and has yet to enter into the USADA testing pool, which would force him to be tested for six months before fighting again.
Jones is waiting for a hearing about the decision made by USADA regarding his punishment. It all started once failed an in-competition drug test at UFC 214 after he beat Daniel Cormier by third-round TKO in the main event on July 29 in Anaheim, California on PPV (pay-per-view) to regain the title.
Jones tested positive for Turinabol, which led to the promotion stripping him of the light heavyweight title and making DC the champion once again. He was also pulled from the official UFC rankings.
The CSAC revoked Jones' MMA license and fined him $205,000 at the hearing that would determine Jones' fate as a result of this drug test.
The early betting odds list Jones as the -350 favorite to beat Lesnar, who is favored at +260.
To break this down for those who plan on betting, these odds would mean that a winning $100 bet on the former UFC light heavyweight champ would result in a profit of $28.57. On the flip side, a winning $100 bet on Lesnar would get you a profit of $260.