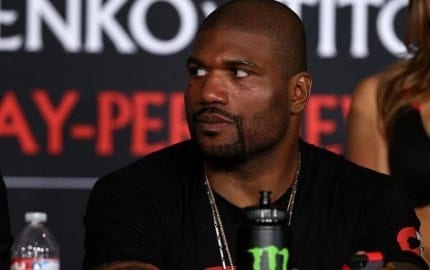 It looks like Quinton 'Rampage' Jackson's return to the Octagon will come down to a judge's decision next Tuesday, April 7, 2015.
The former light heavyweight champion, who left Bellator earlier this year after originally defecting in 2013, quickly signed on to face Brazilian slugger Fabio Maldonado on the main card of April 25's UFC 186 pay-per-view (PPV) event from the Bell Centre in Montreal, Quebec.
But new Bellator head Scott Coker said Rampage should pump his brakes a bit, as he perceived the polarizing star to still be under his strange and incentive-laden contract with the promotion.
Not surprisingly, Jackson believes he has an opt-out clause that will enable him to effectively return to the UFC without much legal resistance. Jackson cited, among other things, Bellator's inability to release pay-per-view (PPV) numbers for his Bellator 120 win over Mohammed Lawal as a reason for leaving.
A judge in New Jersey reportedly told MMAFighting.com that she would decide whether or not to grant Bellator a preliminary injunction that would prevent Jackson from fighting at UFC 186 on Tuesday.
That decision will allegedly be released at 10 a.m. ET according to the report.