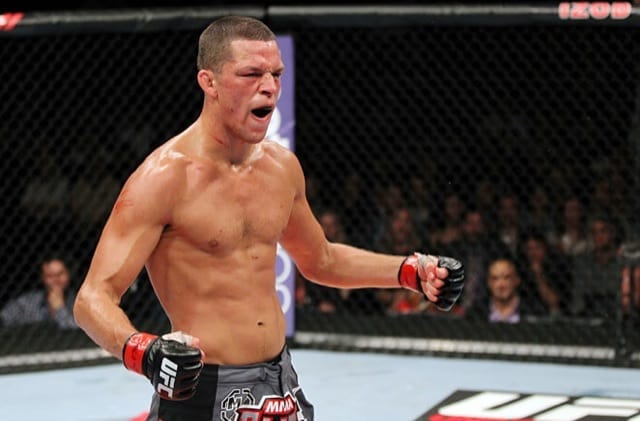 The second bout on the UFC on FOX 17 main card saw lightweights Michael Johnson (16-10) and fan favorite Nate Diaz (18-10) do battle in Orlando.
It was a stellar showing for Diaz.
The two wasted little time meeting at the center of the Octagon. Johnson connected with a few leg kicks early. "The Menace" kept finding a home for his jab to the body of Diaz. A left hand landed for Diaz. The reach of Diaz began to pose a problem for Johnson. Diaz did a solid job ducking punches and connecting with stiff jabs. Johnson kept finding a home for his leg kicks. The round came to an end with Diaz and Johnson talking trash.
A nice right hand landed for "The Menace" early in round two. Diaz landed some solid jabs. A left hand connected for Johnson followed by a straight right. Johnson began finding his rhythm. A jab found the mark for Diaz. The two traded shots. Diaz mocked Johnson saying he hurt him. "The Menace" landed a left hand. Diaz began peppering his opponent with punches and round two was over.
Round three started and Diaz continued using his reach to connect with his jab. Diaz went high with a kick. Diaz looked extremely loose and confident as he connected with one-two combinations. Johnson landed a right hand and an inside leg kick, but was popped with a jab. Johnson kept trying, but continued to get lit up on the feet. "The Menace" had a burst of energy and tried desperately to get something going, but the final horn sounded.
Unsurprisingly, Diaz earned a unanimous decision victory. After the fight, Diaz called out current featherweight champion Conor McGregor in a expletive filled rant. He claimed to be a real fighter and that McGregor's past opponents weren't the real deal.
Final Result: Nick Diaz def. Michael Johnson via unanimous decision (29-28, 29-28, 29-28)