Mondays Suck, So Here's Arianny Celeste in Various States of Undress [VIDEO]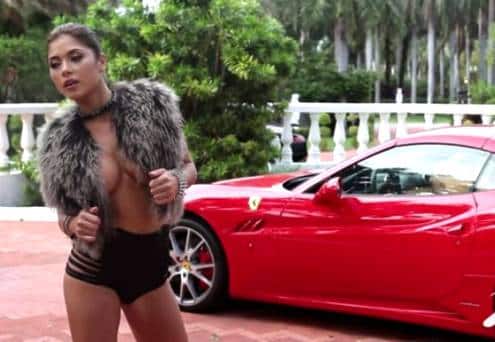 ("OK, Ms. Celeste, we want this calendar to reflect both your future and your past, which is why I'm going to need you to kick in the window of that Ferrari for this next shot.")
Allow me to take you through my thought process whilst attempting to determine a worthy enough post this morning:
OK, Jared, another weekend, another dead hooker in the trunk, but that's not important, you must focus on an MMA-related topic for the time being…let's see here, Nick Ring has his next fight booked against Constantinos Philippou at UFC 154, but no one cares about that………dammit, Latisha, you just had to threaten to call Big Ron again, didn't you?! Focus, focus…uh…Marloes Coenen said Ronda Rousey has "no balls"…I suppose that is true, but not really newsworthy, because bitches be crazy, right Latisha? *attempts high five, receives no response*….think Jared, what would the Potato Nation like to start their Monday off with? *looks over to Latisha once again*…TITS. Of course, it's so obvious! Time to break out the lime, I mean computer, and get started!
So while it may not be all that significant that a behind-the-scenes video of Arianny Celeste's 2013 Calendar shoot was recently released online, please trust that this is probably the most captivating bit of news you could come across this morning given the options at hand. So just shut up and enjoy Ms. Celeste rocking no shirt like only she can.
YOU'RE WELCOME.
Related: Behind-the-scenes of Brittney Palmer's 2013 calendar shoot, which contains way more badonkadonk by all accounts.
-J. Jone