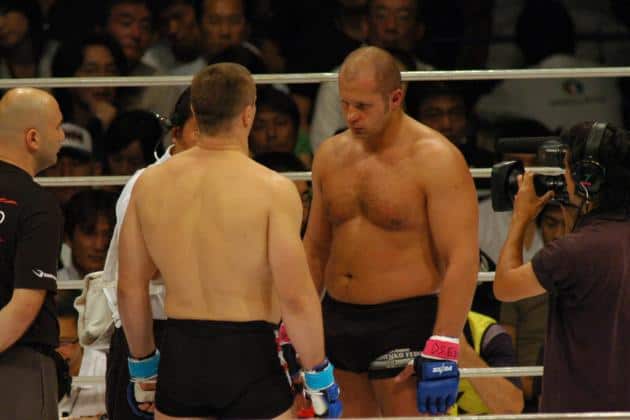 About a week ago, Mirko "Cro Cop" Filipovic shared a poster for Rizin's Fall World Grand Prix on his Facebook page suggesting he'll be fighting Fedor Emelianenko. Cro Cop and Emelianenko met back in August of 2005 at Pride Conflict 2005, which saw Emelianenko successfully defend the Pride Heavyweight Championship by decision after a thrilling and historically great fight.
During a recent appearance on The MMA Hour, Filipovic stated that he doesn't think Emelianenko will participate at the Rizin Fighting Federation open-weight tournament.
"They mentioned a few names, but I have no sense for anyone in particular," Cro Cop told Ariel Helwani on Monday's edition of The MMA Hour. "But if you think Fedor, it wont be Fedor. There was a poster made with Fedor and my face, and it said, 'Rizin opening round September 25′, but it's just kinda commercial, you know. I don't think Fedor will actually participate in the tournament."
Filipovic explained that he would like to have a rematch with the MMA Legend but still has his doubts about fighting Emelianenko.
"Of course I would like [the opportunity to fight Fedor], but I don't think he will participate," Cro Cop said. "That's my opinion. I didn't ask nobody and nobody has told me anything, but I don't think he'll participate in the tournament."
"It was so nostalgic," Cro Cop said. "I stayed in the same hotel that I stayed during my Pride FC career. It was really amazing, it was not so much about Sakakibara [Rizin CEO and former Pride FC president], it's about other people saying stuff from Pride days, it's like I returned 10 years in the past."
The first round of the tournament takes place at the end of September with the finals taking place on December 31st.