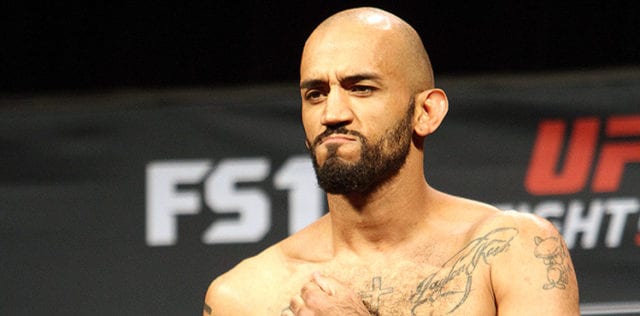 This past weekend (Sat. June 9, 2018) marked the second mixed martial arts (MMA) fight of former WWE Champion CM Punk inside the UFC Octagon.
Punk took on Mike "The Truth" Jackson in the opening bout of the UFC 225 pay-per-view (PPV) main card. The pair went the distance and Jackson took home a lopsided unanimous decision over the former professional wrestler.
It seemed throughout the fight that Jackson could've finished the fight whenever he wanted, but instead showboated and dragged the affair out. This upset UFC President Dana White, who called Jackson a "complete fucking idiot" and said his time in the UFC was done (quotes via MMA Fighting):
"Michael Jackson, I'm not happy with," White said. "This guy was acting like a goofball tonight. You get this opportunity to fight CM Punk and you're doing like bolo punches to the body on top? Never looked like he was trying to finish the fight ever, right?

"Looked like he could have finished the fight a few times. Never tried. I don't know what that guy did for a living before we gave him this shot, but whatever it was he needs to go back and do that again. He's 0-2 as far as I'm concerned.

"That's it for his UFC career. I wouldn't put that kid in the Contender Series. I got the sense that he's a complete fucking idiot and I couldn't wait for that fight to end and I regretted not putting it on Fight Pass," White said. "That's how I felt about it."
Jackson recently did an interview with Bloody Elbow, and compared White to a "little school girl" who gets too into his feelings:
"It's his opinion," Jackson said. "That's all I got to say about that. If that's what he chooses to think and feel, it's on him. Dana White is like a little school girl. He's emotional. Sometimes, he's feeling his feelings and he likes to make these little outbursts like a little kid. It doesn't hurt my feelings."
White isn't the only person upset with Jackson for his antics at UFC 225. A lot of fans have taken to social media to express there displeasure with Jackson seemingly dragging the fight against Punk out. Jackson says those people are "beneath" him at this point in his life, and he doesn't put much thought into it:
"I'm in a different space in my life. I don't even really engage with these guys anymore," Jackson said. "They're beneath me. They can have their opinions, too; it really doesn't matter. They're followers.

"They listen to Uncle Dana. Dana gets mad, they get mad. Dana's happy, they're happy. Or sometimes, it's like the polar opposite; Dana gets mad, they're happy, and vice versa. You never know what's gonna happen with fight fans. Fight fans are just as emotional as Dana. I know how to handle it. … I'm cool with it."
If you enjoyed this story, please share it on social media!