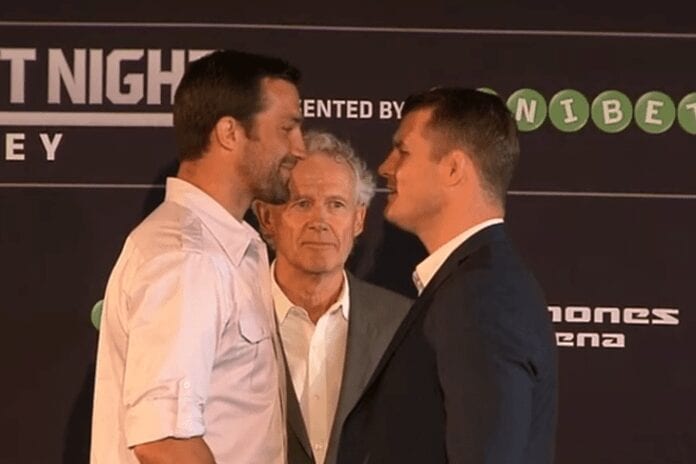 UFC middleweights Luke Rockhold and Michael Bisping will finally put their long-standing war of words to an end in the main event of UFC Fight Night 55 this Friday night (November 7, 2014) from the AllPhones Arena in Sydney, Australia.
Both fighters come into the bout with decent momentum, as Rockhold rebounded this year with first round finishes of Costa Philippou and Tim Boetsch after losing his 2013 octagon debut to a now-infamous spinning heel kick from Vitor Belfort.
Bisping was last seen securing a fourth round finish over Cung Le in a must-win bout in the main event of August's UFC Fight Night 48 from Macau, China. The victory proved Bisping still had stopping power in a crowded 185-pound division full of power strikers. He promptly ramped up the smack talk right after the fight, which Rockhold not surprisingly attended.
It has the makings of a great fight fueled by what appears to be at least a somewhat legitimate beef, the perfect foes for a Fight Pass-aired headliner. However, with the No. 5-ranked Rockhold arguably one or two good wins away from a coveted UFC title shot, facing "The Count" could be just a bridge to bigger things.
After all, this fight isn't all that close on paper. Bisping has been a stalwart UFC competitor for many years now, and he's earned his place among the sport's top moneymakers. But he's failed against the truly elite challenges of his octagon career, and Rockhold qualifies for a spot on that list.
His striking has looked diverse and lethal, his submission game controlling and dominant. He looks like a fully well rounded fighter who brings incredible power and athleticism to the cage. "Rocky" also stands tall over Bisping in the (many) pre-fight staredowns as a huge middleweight.
He did suffer a setback in his UFC debut against Belfort, but Bisping suffered the same fate just three months earlier. We're going to see how much of an effect testosterone-replacement therapy (TRT) really had on Belfort's amazing 2013; perhaps everyone he faced was getting knocked out with a vicious head kick (they did).
Otherwise, Rockhold has an 11-1 record that includes a Strikeforce middleweight championship win over current No. 2 UFC middleweight Ronaldo "Jacare" Souza. He also defended that belt against No. 7 Tim Kennedy, the last man to defeat Bisping.
"The Sniper" smothered Bisping to a one-sided decision at April's The Ultimate Fighter (TUF) Nations Finale from Quebec City.
We all know that MMA math often fails to make sense, but the odds are against Bisping in Sydney.
He's been especially inconsistent as of late; failing to win two straight UFC fights since a four-fight run from May 2010-December 2011. During that stretch Bisping beat Dan Miller, Yoshihiro Akiyama, Jorge Rivera, and Jason "Mayhem" Miller.
By comparison, Bisping's last three losses came to Kennedy, Belfort, and Chael Sonnen. Rockhold could be ahead of all three of those names right now; he would definitely give them a run for their money in the cage.
That's not to say that Bisping couldn't show up and pick Rockhold apart with his footwork and technical striking to score the upset. That's the one area that "The Count" will arguably have an edge, however, because Rockhold's wrestling is presumably at a much higher level thanks to many hours spent training with world-class grinders Cain Velasquez and Daniel Cormier at California's American Kickboxing Academy (AKA).
Bisping's never been a submission artist, and he certainly won't turn into one against Brazilian jiu-jitsu black belt Rockhold. Nearly all of the aspects of MMA are against Bisping, and Rockhold's stand-up won't be far behind.
"The Count" comes in as a slightly more than 3-to-1 underdog, and I'd say that's about fair, if not generous for the veteran. Bisping has simply failed in big-name fights too many times before, and he'd have to score his biggest-ever win to beat Rockhold.

Do you believe that Bisping can end Rockhold's hype train in Sydney? What will be the outcome of this heavily hyped grudge match?
customer survey