Mark Hunt has the unfortunate distinction of having fought at least three UFC fighters who tested positive for performance enhancing drugs.
Frank Mir, Brock Lesnar, and "Bigfoot" Silva all tested positive for various kinds of steroids after fighting Hunt, and the Australian has been on a warpath against cheaters ever since.
Regardless, Hunt has become one of the most recognizable faces in the UFC, with a knockout-or-be-knocked-out mentality that has earned him fans all over the world.
Hunt wrote an impassioned statement to Players Voice about his fighting career, the cheaters he's encountered, and the damage done:
"I've been fighting since I was a child, fighting to get out of my circumstances. I used to make $300 a week, struggling to put food on the table but I have become one of the highest-paid fighters in the world. I feel that's destiny. This is what I'm supposed to be doing and if I die fighting, that's fine. I just hope that if it does happen, it will be in an honest and fair competition.

"My body is f**ked but my mind is still here. I've still got my senses about me and I know what's right and wrong, which is the main thing. Sometimes I don't sleep well. You can hear me starting to stutter and slur my words. My memory is not that good anymore. I'll forget something I did yesterday but I can remember the s**t I did years and years ago. That's just the price I've paid – the price of being a fighter. But I've fought a lot of drug cheats and copped a lot of punishment from guys who were cheating and that's not right."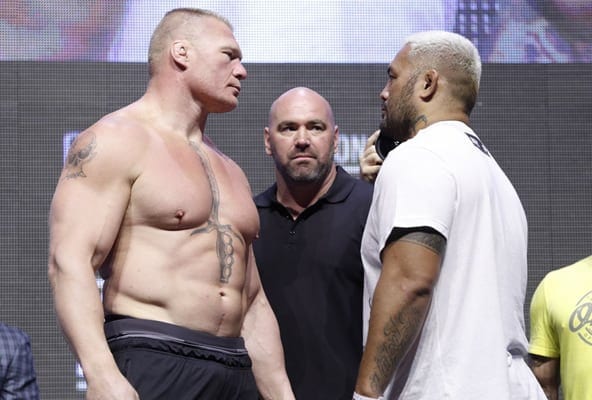 While Hunt did knock out Mir, he took some serious punishment in a loss to Lesnar and his draw with "Bigfoot" in a fight many consider to be one of the best (and most violent) heavyweight fight in UFC history.
Yet Hunt himself doesn't feel that way, especially considering Silva popped for steroids after their draw, only to be knocked out cold by Hunt in their rematch at UFC 193.
"Everyone says the first Bigfoot fight is one of the greatest heavyweight bouts of all time, but not for me. It's stained. That guy ruined everything. You take away his juice and he's nothing. The first fight we had, we nearly killed each other. The second fight, when he was clean, he didn't even last a round. He wasn't the same person as the one that almost frigging killed me."
Hunt placed the blame on the UFC as well, linking low fighter pay with the incentive to cheat for a bigger payday:
"Even the champion, Stipe Miocic, is asking for more money. How the hell can the champion of the world be asking for a pay rise? Gegard Mousasi is another one. He moved to Bellator and it's because these guys aren't getting what they're worth and they don't know what the company is making off them.

"I'm just speaking the truth; a lot of fighters are scared to."