Lyoto Machida Focused On Stopping Derek Brunson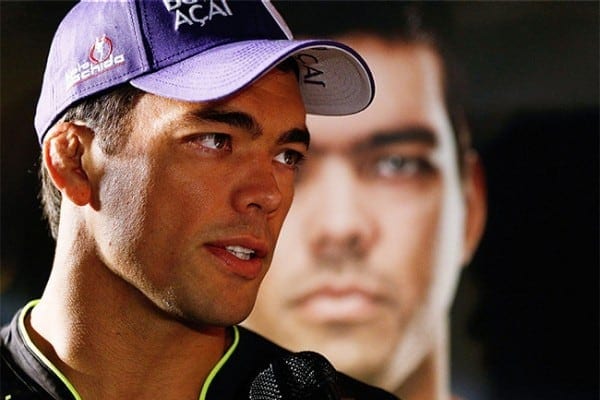 Former UFC light heavyweight champion Lyoto Machida is preparing to return to the Octagon in the main event of UFC Fight Night 119 on Oct. 28, 2017 in Brazil after spending the last 18 months serving out a suspension for a failed drug test.
"The Dragon" will take on Derek Brunson, and he recently said that he's spoken with longtime friend and former champion Anderson Silva, who scored a decision victory over Brunson this past February, about the fight:
"I talked to Anderson last week," Machida told MMA Fighting. "He obviously said a few little things, he said 'Lyoto, do this and do that,' showed some paths to go, but I won't talk too much about it (laughs)."

"We had a pretty informal chat," he said. "We discussed strategies, he gave his opinion, said 'you'll have big chances if you do this,' It was a pretty open, informal chat."

"We didn't get to train together because he's busy right now, but I want to talk more, set up a few things," he added. "Sometimes when you chat about something a few ideas come up, you go this way or that way in training."
Given the long layoff and the fact that he's currently 39 years old, it's unclear how Machida will look in his comeback fight next month.
The Brazilian, training under Rafael Cordeiro at King's MMA, appears to be nothing but confident, however, and he said that he's 'focused on finishing' Brunson:
"I see this as a great challenge because he is a great fighter. He has defeated some names and has done great fights. He's aggressive and well ranked. I know what a win means for me, so that's all I'm thinking right now."

"I don't want to make any predictions and put it in my mind, but I'm focused on finishing the fight,. It doesn't matter if the fight goes to the ground or if we stay standing, I'm sure I will connect a blow or advance to a position and finish this fight."
How do you expect the fight to play out?