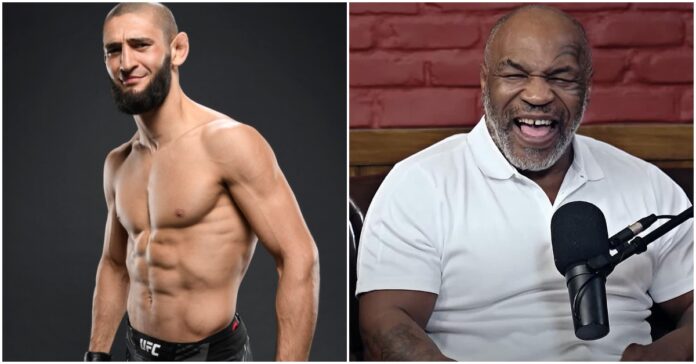 Khamzat Chimaev has revealed that he was invited to make an appearance on Mike Tyson's Hotboxin podcast and explained why he decided to turn it down.
'The Wolf' says that he respects what Tyson has achieved as a fighter but has been less than impressed by the heavyweight boxing legends' behaviour outside of the ring.
"Ali said Mike Tyson also wants something, but I didn't go. I didn't have much desire to do that," Chimaev said on The  Hustle MMA podcast. "As a fighter, an athlete, I really like him. But I don't like what all happened with him – The violence, the pills, the marijuana, then Muslims, it's strange. But I still respect him – Both as a fighter and as a person. He went through a lot of things and because of this, he broke down, did a lot of bad things. And no one knows what will happen to me. It can happen to anyone. A good, normal person, but something happens and you end up in a mental hospital. I don't judge anyone, but I just didn't want to go." (Transcribed by Sportskeeda)
Khabib Nurmagomedov & Khamzat Chimaev Share Similar Views On Mike Tyson
In August, Khabib Nurmagomedov made an appearance on Tyson's podcast. After sharing what appeared to be a nice chat with the boxing icon, Nurmagomedov spoke publicly about not particularly enjoying his appearance on the Hotboxin Podcast, comparing Tyson unfavourably to football star Cristiano Ronaldo.
"I didn't like his look," Nurmagomedov said. "I told him right away to get rid of all the things like smoke on the table. I didn't like being there. I liked more the way Cristiano Ronaldo looked. He looks like an athlete."
Do you think Khamzat Chimaev made the right call by rejecting an offer to appear on Mike Tyson's podcast?