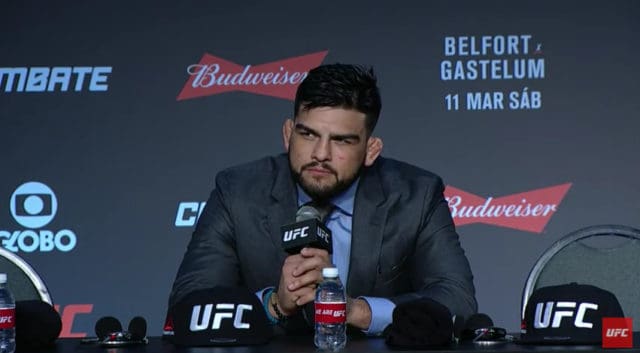 Kelvin Gastelum made a statement last night (Sat. March 11, 2017) in the main event of UFC Fight Night 106.
Gastelum added another win to his record with a first round knockout victory of former UFC light heavyweight champion Vitor Belfort in his home country of Brazil. The victory marked Gastelum's third straight win since suffering a controversial split decision loss to Neil Magny in November of 2015.
Following his victory over 'The Phenom' Gastelum proceeded to call out yet another Brazilian mixed martial arts (MMA) legend to continue his 'Legend Ass Whipping Tour'; former middleweight king Anderson Silva:
"I said I want to get a fight that interests me at middleweight, and if I get a fight that interests me at middleweight then I'll stay," Gastelum said in his post-fight press conference interview. "Anderson is definitely a fight that interests me."
When asked what made him want to call out Silva next Gastelum noted a number of reasons for wanting to challenge 'The Spider', but at the end of the day it gets him one step closer to realizing his ultimate goal in the sport:
"It's a combination of a lot of things, he's a big name, he's another legend, and he's a rank above me," Gastelum explained. "I want to keep moving up in the rankings and I want the fight that will eventually lead me to the title shot."

"It's something that I talked about with my management team. I'm 100% free, I got nothing booked. So if we want to go and make it happen on June 3rd in Rio, let's make it happen."
Gastelum's last two opponents are nearly 40-years-old, and with the call out of Silva he'd be stepping into the cage against a 41-year-old opponent. When asked if he would prefer fighting someone closer to his own age, Gastelum stated that he simply wants to compete against the best fighters that will help him get closer to a title opportunity:
"Sure. I don't care who I fight, I want the big fights," Gastelum said. "I want the fights that will keep me moving up the rankings. I don't care who I fight. Anderson is someone I respect a lot, he's a big name, he's a legend, one of the greatest of all time. Those are the kind of fighters I want to fight. I don't want to keep moving back, I want to keep moving forward."
Before making the decision to return to middleweight against Belfort, Gastelum had a tough time making weight at his regular home of 170 pounds. While he remains adamant that his best chances of winning a title lie in the welterweight division, he said that he would only go back if it is for a No. 1-contenders spot:
"It would have to be against a No. 1-contender," said Gastelum. "I believe I'm one of the best welterweights and if I go back down it could have to be for a No. 1-contender fight."
Leading up to his fight against Belfort, Gastelum admitted that he was a lot happier than his past camps because he was able to keep his belly full. Despite being happier competing at middleweight, he reiterated that he strongly believes his capabilities allow him a better chance of being champion at 170 pounds:
"Absolutely," Gastelum admitted. "I felt great this whole week. I ate this whole week, I ate all the way up to weigh-ins so I was happy the whole week. I know my capabilities and my chances at winning gold are really good at welterweight."
You can check out Gastelum's post-fight press conference here:
If you enjoyed this story, please share it on social media!