Although it may have come with a ton of controversy after some complications involving the validity of authorized NSAC random drug tester Ben Mosier's work visa, featherweight champion Jose Aldo's second random out-of-competition drug test has come back clean of banned substances.
Brazilian media outlet Combate was first to report that Aldo's second test, which came the day after Mosier was forced to leave Brazil, was without issue, at least in terms of the technical purpose of the test. They also posted a photo of the results sheet: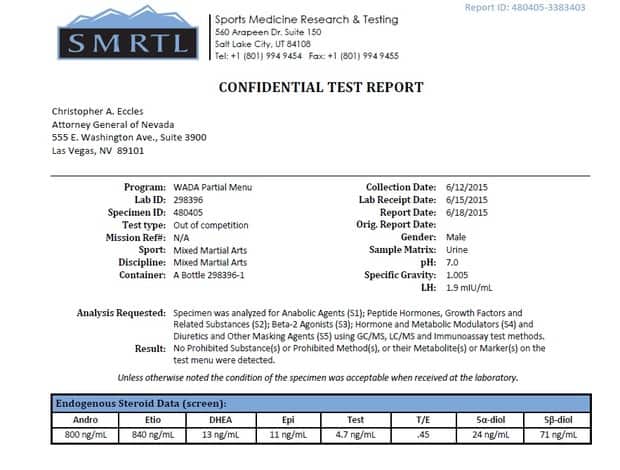 Some controversy arose concerning the timing and strange situation surrounding Aldo's first out-of-competition drug test, as the longtime champion pulled out of the fight with a highly publicized rib injury shortly thereafter. His detractors may believe that the extra day he had in between tests could have given him enough time to test clean.
Regardless, Aldo has proven his innocence in a laboratory for now, and the decorated champion has never failed a pre- or post-fight test for performance–enhancing drugs (PEDs) or any other substance. It ended up being all for naught as Chad Mendes will now face Conor McGregor instead of Aldo, but it's safe to say 'Junior' should be healed up in the near future and will face the winner of UFC 189's interim featherweight title fight this weekend.
The blockbuster card will mark the beginning of the UFC's new and enhanced random drug testing program, and with supposedly respectable fighters getting busted left and right these days, it couldn't come at a better time for the embattled sport of MMA.
Jose Aldo, however, isn't one of them according to his recent test.