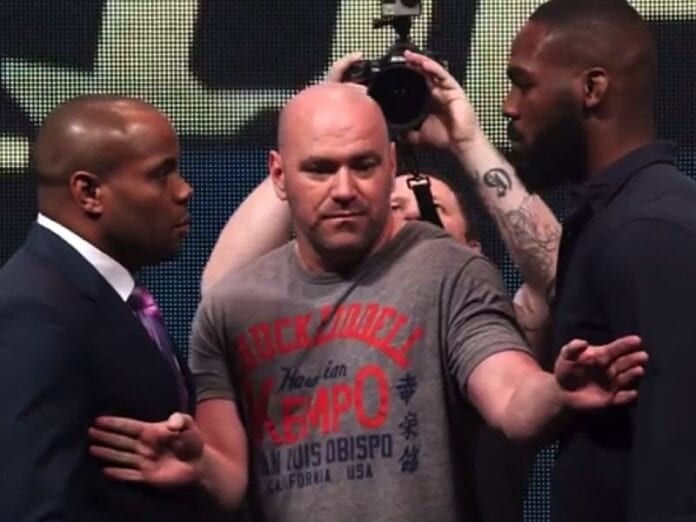 Some alarming news arose earlier today when word came that former UFC light heavyweight champion Jon Jones had been arrested and jailed for violating probation due to five traffic citations including drag racing in Albuquerque last Thursday night.
Jones had actually unveiled the news on Monday's (March 28, 2016) The MMA Hour, telling host Ariel Helwani that he was not guilty of any wrongdoing and had just said some words to the police officer that he probably should not have in the heat of heightened emotion:
A video soon surfaced of the altercation, and indeed Jones' repeated name calling of the police officer didn't help the situation. Many were quick to jump to Jones' side, however, believing the police officer to have been rude and out to get Jones after he was arrested on felony hit-and-run charges for hitting a 25-year-old pregnant woman and breaking her arm last year.
Jones was still on probation for the crime, and his probation officer apparently considered the traffic tickets a violation of that probation. Jones turned himself in earlier this morning and expects to be released and still fight rival Daniel Cormier for the title in the feature bout of UFC 197 from Las Vegas, Nevada on April 23, 2016.
His team issued a statement to MMA Fighting proclaiming their view that Jones would be absolved of any crime when given the chance to explain himself in front of a judge:
"Jon and his team are taking this very seriously, and we will let the legal process play out.
"We are confident he will be released once he has an opportunity to explain to the judge the facts in this case."
It was short and sweet from Jones' team, but it could be hard to rely on a judge trusting a troubled MMA fighter who has done nothing but show he cannot — or doesn't want to — stay out of the way of law enforcement, namely on the roads of New Mexico.

Meanwhile, the UFC is collecting facts and will render a decision on Jones sometime soon, but for now, it seems as if fans can rest easy fairly reassured that Jones will be fighting at UFC 197. With his court date set for April 5, that could al change in an instant if he required to go to jail, however. Stay tuned.