Jon Jones Reveals Why Daniel Cormier Will Destroy Brock Lesnar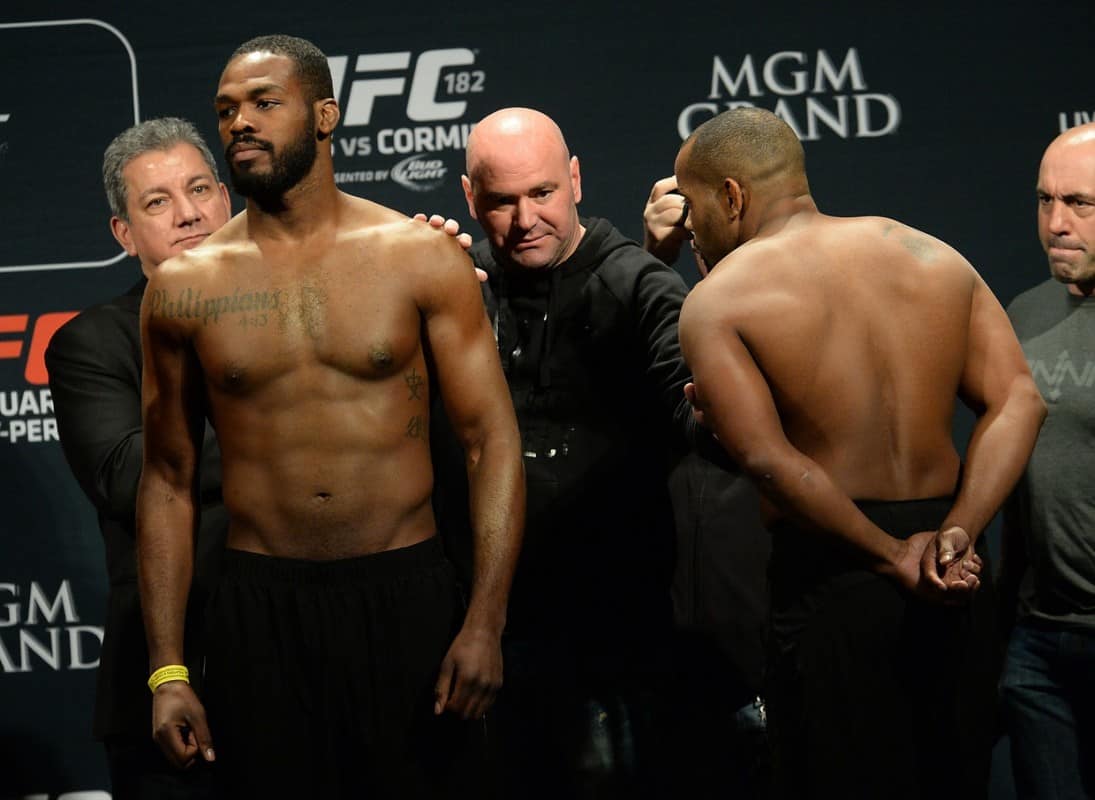 UFC heavyweight champ Daniel Cormier is set to face former champion Brock Lesnar in the coming months. It's time Jon Jones reveals his prediction due to the upcoming match-up.
Jones is currently awaiting punishment for his latest failed USADA drug test. He tested positive for anabolic steroid Turinabol prior to his UFC 214 win over Cormier last year. The troubled all-time legend has two victories over the current UFC double champ. ""Bones" is the only man to defeat "DC" in the octagon.
But drug-related troubles both inside and out of the cage have sidelined Jones far too often. He's been forced to speak from the sidelines due to his repeated infractions. It's a role he feels just fine playing, however. "Bones" recently told a Russian news outlet (via MMAjunkie) that he's looking forward to Cormier vs. Lesnar.
Jones believes Cormier will demolish Lesnar because he's just too fast for the hulking beast:
"I'm definitely very excited to see Cormier fight Brock Lesnar. I think Daniel Cormier wins the fight. He's just too fast. I feel like when I fought him he was quicker than me with certain combinations. I can only imagine he's going to be a lot quicker than Brock Lesnar."
Long-Rumored Move To Heavyweight
The most decorated (and troubled) UFC light heavyweight champion in history's return is highly unknown at this point. Jones has been linked to a possible return fight with his other rival Alexander Gustafsson at November's UFC 230. He'll have to be cleared first. 'Bones' will also be aiming to be the next man to take on Cormier if and when he can return.
The controversial fighter is willing to face "DC" at heavyweight. He believes Cormier is an even tougher challenge up a class because he won't have to cut weight:
"I think fighting Daniel Cormier at heavyweight would be a bigger challenge," Jones said. "He's more comfortable there. His body type, that's where he wants to be. He wants to be big. I think he would be a tougher fight at heavyweight, but I still believe I would win. I believe I have his number, I know how to beat him."
Jones' potential move up to heavyweight has been rumored for years. His outside-the-cage troubles have been the main thing preventing it from happening.
There's no better time than now to move up with Cormier the champion. A third fight between the two bitter rivals would be an obvious megafight. It's going to rest on Jones' ability to get cleared and stay clean as always.
Cormier will get his payday against Lesnar, meanwhile. The double champ has repeatedly said he only has two fights left in his storied career. Will Jones really be one of them?