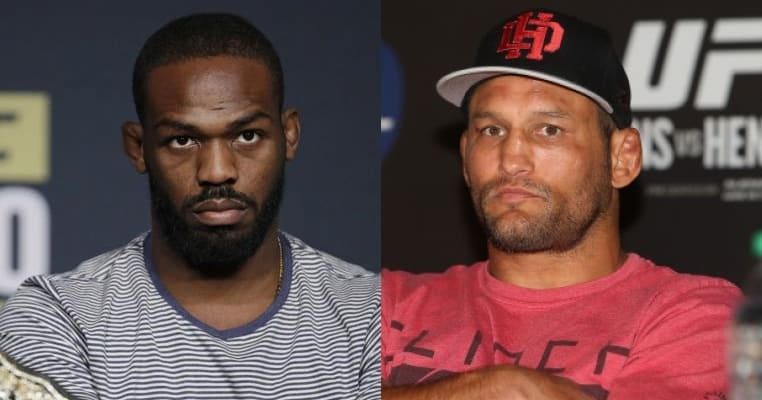 Interim UFC light heavyweight champion Jon Jones may have been suspended for a full year until next July today, but apparently that isn't going to stop him from fighting an opponent that he was once scheduled to face before one of the most controversy-laden scenes led to the UFC's first event cancellation.
Speaking on today's (Mon., November 7, 2016) edition of The MMA Hour, former UFC title challenger and current Bellator competitor Chael Sonnen revealed that Jones will take on longtime UFC legend Dan Henderson in the main event of his grappling tournament Submission Underground 2 in December.
It's a way to stay active for 'Bones,' who was perceived to be suspended for six months for a tainted supplement like Yoel Romero and Tim Means were, only to be informed he was suspended for a full year dating back to July for a degree a fault that 'verged on reckless' according to the arbitrators presiding over the case. He's only fought once since he defeated Cormier in early 2015, outlasting late replacement Ovince St. Preux in the main event of April's UFC 197 after Cormier was forced out of their first rematch with a leg injury.
Henderson, meanwhile, was last seen losing a hard-fought decision to current UFC middleweight champion Michael Bisping in the main event of October 4's UFC 204 from Manchester, England, a fight where he rocked "The Count" on multiple occasions and badly bloodied his British rival before judges gave the outspoken Brit the nod due to his pressure and volume. Hendo has since expressed desire to fight Bisping again, so he'll now have an opportunity to face an opponent who got away from him – in a sense – after he was injured before his scheduled UFC 151 main event against Jones back in 2012.
The card was canceled when Jones refused to fight Sonnen, of all people, on eight days' notice, sparking a huge backlash from fans and prompting the UFC to cancel their first card. It has happened twice since, with 2014's UFC 176 from Los Angeles and October's UFC Fight Night event from the Philippines.
A competitor for the United States Olympic Greco-Roman wrestling team, Henderson largely went away from his grappling and wrestling towards the end of his MMA career, preferring to let his thunderous right hand do the talking. He's won two 47 total mixed martial arts by submission, but Jones has won 6 of his 23 fights by submission. He also owns a large size advantage on the 46-year-old Henderson, prompting the early eye test to reveal quite the mismatch at Submission Underground 2.
Either way, it's a great way for Sonnen's fledging series to get some notoriety, and it's obviously the only way we'll see Jones compete in a similar capacity as his fans endure yet another long wait for his latest 'comeback.' Hopefully it actually happens.
Submission Underground debuted this summer in Sonnen's native Portland, Oregon.