Former UFC women's bantamweight champion Ronda Rousey is back in the game. After being crushed by Holly Holm's iconic head kick at UFC 193, 'Rowdy' will attempt to win back the belt she once held with conviction. Facing Amanda Nunes at UFC 207, Rousey will have a very hard road to redemption. Whether or not she'll get that UFC gold again remains to be seen, but there's plenty of time for reflection before December 30. Particularly interesting in regards to her last fight-Ronda Rousey's striking game.
Taking on a world champion boxer and kickboxer was never going to be easy for Ronda Rousey. Expecting o come in and bull rush such a seasoned striker was clearly not a good idea, though. Taking her time and capitalizing on the frequent mistakes made by Rousey in Melbourne, Holm put on a striking clinic. Rousey's performance that night led to many questions about her training. Perhaps it was just an off-night, or maybe there was more to it. Inevitably Edmond Tarverdyan, Rousey's coach, was put under the spotlight.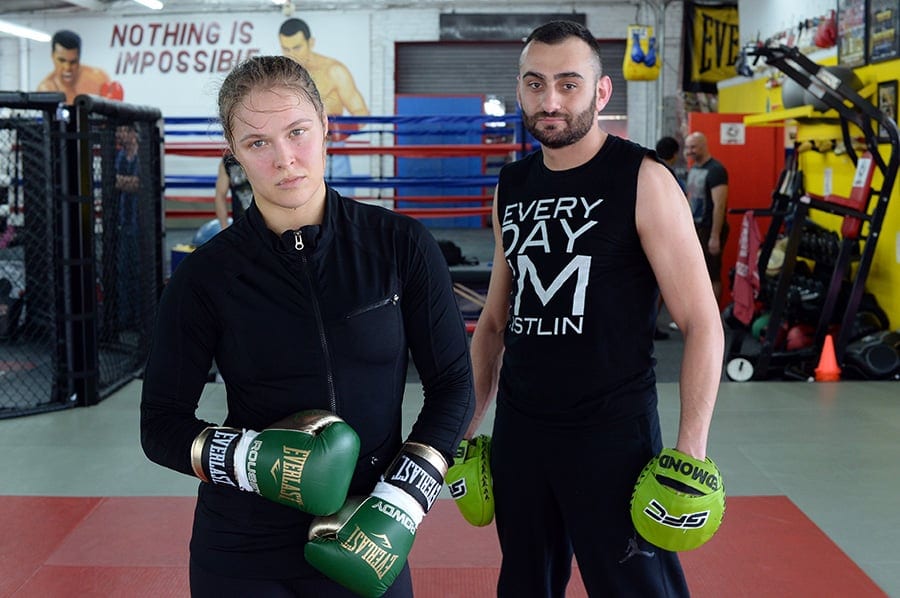 Coach Edmond
We've all seen the videos of Ronda Rousey's shadow boxing, and the fruits of her labour at UFC 193. Continuing her training with Edmond Tarverdyan for her return, Rousey's loyalty to the somewhat controversial coach will either pay dividends or end in disaster, again. Without dwelling too much on what either did right or wrong, it pays to remember the former Olympic Judoka came to MMA with no stand up striking whatsoever.
Following the announcement of Ronda Rousey's long-awaited return to the octagon, UFC commentator Joe Rogan discusses the influence of Edmond Tarverdyan on her striking game. Here's what Rogan had to say during his most recent podcast episode: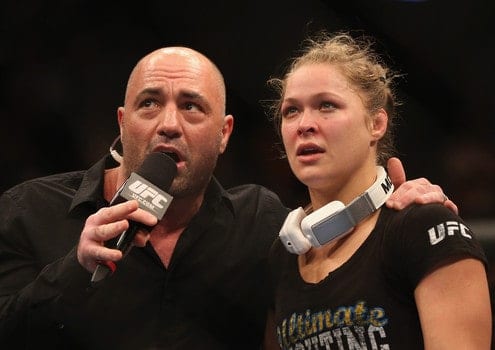 Joe Rogan on Coach Edmond
"Ronda can do whatever she wants to do. I don't know what was going on in her head that night, but for her to take a year off to recover is fine. She also had a bunch of injuries too. Whether or not that guy Edmond has had success with his students, you can't deny that he has worked wonders with her hands. When they were warming up for that Bethe Correia fight, and they were doing pad drills, she looked fantastic."
"There's no denying there's some merit to what he does, unquestionably. You'd have to examine the whole camp. You have a world-class championship race horse in Ronda Rousey. You have to ask yourself, what is the best course for a girl like this. Technically, what are we trying to achieve? Everyone does it differently, some people say you don't spar and you only do drills-that's what Donald Cerrone has been doing. Eddie Alvarez does hundreds of rounds sparring in preparation for Rafael dos Anjos.""
"Before Holly knocked out Ronda, I said I thought Holly needed some more fights. I said I thought Amanda (Nunes) was the more dangerous fight, she's scary. Everybody is talking about Cyborg (fighting Rousey). The thing is she just drains herself even to make 140 pounds. They should just give her a 145-pound division, give her the featherweight belt. She's a destroyer, she's so terrifying. That's the 145-pound champion. I wonder if there's a 155-pound division to be had? I think she walks around at 170-something."
Here's the full episode, skip to 1:09:00 for Joe Rogan's full discussion on Ronda Rousey, Cris Cyborg, Amanda Nunes and more.