Jacare Souza Won't Talk Like Luke Rockhold Ahead Of Light Heavyweight Debut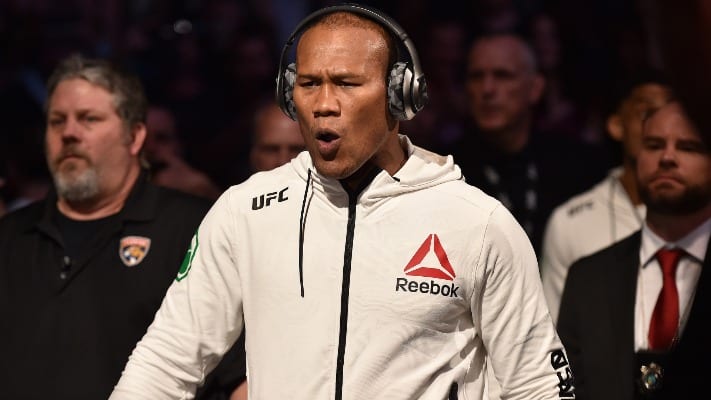 Ronaldo "Jacare" Souza knows he must perform before opening his mouth ahead of his light heavyweight debut.
Souza meets Jan Blachowicz in the UFC Sao Paulo headliner on Saturday. He will be the latest middleweight to make the move up to 205 in the process.
And while names like Thiago Santos and Anthony Smith have excelled in the new weight class, bigger names like former champions Luke Rockhold and Chris Weidman both had rude awakenings in their light heavyweight debuts.
Rockhold, in particular, spoke a big game as he was looking past Blachowicz. In the end, he was knocked out by the Pole in their UFC 239 matchup. Souza does not plan on making the same mistake:
"That fight showed me that I have to go there and do a good job instead of talking too much," Souza told MMA Fighting. "You can't talk too much before things actually happen.
"(Rockhold) was talking about (Thiago) 'Marreta' (Santos) – 'Marreta' has done an excellent job at light heavyweight – and he was talking like (Santos) was nothing. He talked too much, and then that happened."
If Souza can get the win against Blachowicz, he could potentially fast-track himself into a title shot against Jon Jones. It won't be easy, though, as his foe is bigger than him and a natural light heavyweight.
However, the Brazilian feels he has always fared better against bigger opponents and can surprise spectators:
"I always did great against heavier opponents when I competed in jiu-jitsu," Souza added. "I have no problem fighting heavier guys, and it won't be different this time. I'm in great shape, and I will surprise a lot of people. I'll go there and do a good job.
"… I'll definitely use more strength. He will be heavier than me, but I believe I'll be able to surprise everyone in spectacular fashion."
How do you think Souza does in his 205 debut?