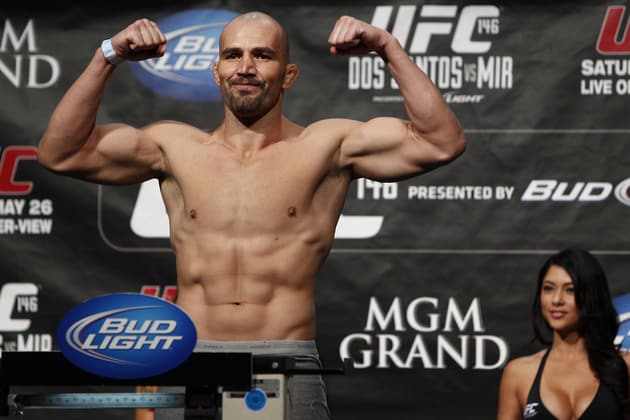 After injuries ruined many high profile fights for the UFC in 2014, the start to 2015 has been highly anticipated due to the large amount of returning superstars and the many big fights coming up. However, it seems as if the injury bug has not gone away completely, as it was announced recently that Glover Teixeira injured his knee and was out of his UFC Fight Night 61 main event bout against Rashad Evans.
Teixeira is coming off back to back decision losses to champion Jon Jones last April and also Phil Davis back in October. The Brazilian is still able to train some aspects of his game, but his nagging knee injury is preventing him in some areas which is why he was forced to pull out of his upcoming bout:
"I'm training, but my knee isn't 100 percent," Teixeira told MMAFighting.com. ""I feel a lot of pain when I try to train jiu-jitsu and wrestling. I can do boxing or kickboxing, but I can't grapple or wrestle. My knee is still weak, so the doctor said I might get another serious injury if I kept training for the fight."
The Brazilian slugger also noted that his doctor has said that his knee should be 100 percent to train everything in four to six weeks. That being said, Teixeira is targeting a return to action sometime next April, and he is still hopeful that his next bout will be against Evans:
"April would be perfect," he said. "I like this fight. I think it would be a great fight for us and for the fans. Rashad is a wrestler, but not a wrestler like those who just hugs you and do nothing. He comes to fight. He doesn't to a boring fight, so I would like to fight him when I return."
Evans is coming off of two straight wins over Dan Henderson back at UFC 161, and Chael Sonnen at UFC 167, but he has since been on the shelf nursing injuries and has not competed since November 2013. Although they have both gone through some rough times recently, Evans and Teixeira are both still top contenders at light heavyweight, and this is a fight makes sense.
The 205 pound division is also quite booked up at the moment, and it wouldn't be unlikely to see Evans wait until April and meet Teixeira. Do you still want to see this light heavyweight showdown despite Teixeira's injury?