Gary Goodridge Finally Gets (Mostly) Paid for K-1 Dynamite!! 2009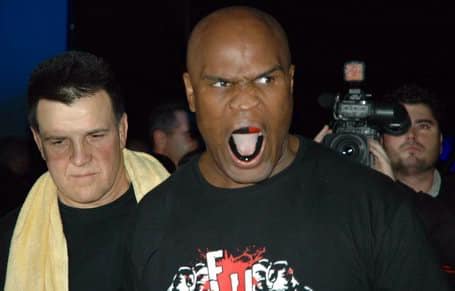 (Somehow, screwing this guy over in a business deal would never cross our minds. PicProps: Top MMA News)

A couple years ago I interviewed UFC and Pride vet and all-around good guy Gary Goodridge as part of a project I was working on for another publication. At the beginning of our conversation I think I asked something innocuous like, "Hey Gary, how you doing?" to which Goodridge responded with an audible sigh and said: "Man, I'm broke as a joke and looking for a job." I laughed. Nervously. During the course of our talk it became clear that "Big Daddy" wasn't kidding. After nearly 50 MMA fights and 40 kickboxing bouts, the 15-year fight vet was pretty much at loose ends. He'd morphed into a cautionary tale – and a particularly heartbreaking one because he is such a nice dude – for all the young fighters out there who are living like they think those paychecks are just going to keep coming forever.
For obvious reasons, it was not at all surprising when Goodridge agreed to take on Gegard Mousasi at K-1's New Year's Eve Dynamite!! 2009 show on kind of ridiculously short notice, was further depressingly predictable that he lost that fight by ugly TKO inside of two minutes and unbelievably ridiculous that FEG took more than a year to send Gary his paycheck. Since this was so clearly an example of an aging fighter taking a fight he had no business taking simply because he needed a payday, the whole "getting paid" stage was a pretty important part of the equation. So, it warms even the blackest heart to report that Goodridge finally got his bread this week. Well, most of it.
"They gave me $9,000 short," Goodridge told Old Dad at MMA Fighting. "They came up with some kind of Japanese tax, I don't know what they did. They sent me a breakdown of it, but it's just tax. I've never paid these taxes before in my life. But they're having problems, the company is having problems, so I'm glad to get paid, absolutely. Should I keep my mouth shut? No. But thank you very much, it took you a year and then you're $9,000 short. I'm happy, but in the same breath, they cheated me."
Yeah, welcome to freelancing, Goodridge. I can't count the number of times my check from Break has turned up $9,000 short and when I email Goldstein about it he sends me a two word reply that just says, "Japanese tax." Because our man Ben Fowlkes has gone all legitimate reporter on us, you know he contacted the people at FEG to get to the bottom of it. For their part, they say it was just an income tax and that if Goodridge didn't want to pay it, he should've paid more attention to the drafting of his contract.
"There was a deduction of Japanese consumption tax," FEG representative Mike Kogan wrote in an email. "It's (the) same as we have in US, known as income tax. Unless fighter's contract stipulates that FEG will pay such tax on his behalf, fighter is responsible for all taxes same as here. If you fight for a US promotion and you are not a US citizen, Green Card Holder, or don't have (a social security number), an income tax of 30% (for US) is automatically withheld from your fight money. So that's what happened to Gary."
So that's settled. I guess. After losing his last eight consecutive MMA bouts and 12 of his last 13 kickboxing fights, Goodridge says he's finally called it a career. He still finds a way to turn nearly every conversation back to the fact that he needs work, though, which is legitimately just tragic.
"I'm done," he says. "I'm just looking for a job. I'm going over some legal stuff right now and then just trying to get a job and relax. I'm 44. I'm done."
Can somebody please give Gary Goodridge a halfway decent job? Please?
(CD)