Last week, absent UFC lightweight champ Conor McGregor 'confirmed' his MMA return with the mere flick of an Instagram post before taking it a step further and claiming he even offered to fill in for featherweight champ Max Holloway against Frankie Edgar at this weekend's (Sat., March 3, 2018) UFC 222 from Las Vegas.
Even though the potentially monstrous comeback fight never came close to materializing due to the UFC saying they didn't have enough time to capitalize, the claim understandably set a big news-starved MMA world (with much of it due to 'The Notorious" hiatus) afire for at least one night.
Both Edgar's manager Ali Abdel-Aziz and boxing coach Mark Henry were quick to fire back at McGregor with seething responses to the outlandish news, but "The Answer" stayed relatively mum on the dream match-up. Until now, that is, as the former lightweight champ spoke up about the never-to-be fight to Ariel Helwani on today's episode of The MMA Hour. The New Jersey ironman said he awoke to see rumors of it online, but that was the fist he had heard of it:
"I woke up from a nap and I saw it on Twitter. That's the first I heard of it."
Apparently, word later arrived that McGregor did offer to fight at UFC 222, but wanted it to be for a never-before-contested 165-pound belt, something Edgar called ridiculous considering McGregor was yet to defend either his lightweight or featherweight belt:
"I mean, come on, there is no 165-pound belt. You know what I'm saying? I want to fight on the moon. You know what I mean? Come on.

"He doesn't want to defend his own belt. What, he wants to fight me? I mean, hey, that'd be great. That'd be great for me. Let's be real. I'm not scared to fight anybody. Come on, I've been doing this too long to be scared to fight anybody. I mean, if anything, that would be very good for me, to fight Conor McGregor.""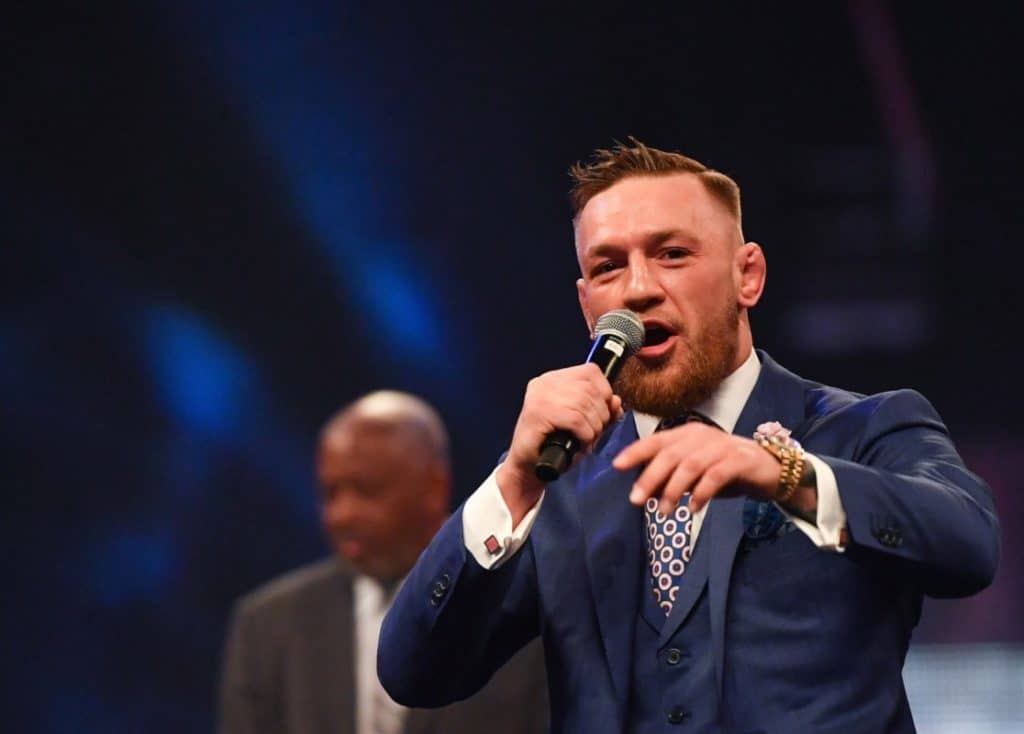 And while Edgar would love to face McGregor and the payday he brings in the Octagon, he didn't believe it was close to true because Dana White didn't call him – even if he would fight McGregor at any weight:
"I would've fought him in any weight class, to be honest with you.

"I think if it was real, Dana would've called me personally. He's done it before. With something like that, Dana would've called me personally, and he didn't, so I have to think that it wasn't real."
To "The Answer" – and many others – McGregor was simply keeping his name in the news, something he does perhaps better than any fighter other than his forever-rival Floyd Mayweather.
With that taken into consideration, Edgar said he wouldn't let the Irishman get him sidetracked. He has his hands full with Ortega – a hungry, rising contender who is active in the UFC unlike 'The Notorious':
"I don't know, I think Conor's just being Conor, man. He's the best at it, right? He's the best at making news and staying relevant. I don't mean relevant, he's the most popular guy in our sport, this and that, but staying in the news cycle. He does it better than anybody, except maybe Floyd Mayweather.

"I'm not surprised by it, and I'm not getting sidetracked by it because it doesn't matter," Edgar added. "It's non-news to me. Because the news is I'm fighting a guy who fights in the UFC right now, Brian Ortega."
Despite the drama, Edgar doesn't believe he and McGregor will ever fight because of the opportunities they've had to do so when McGregor was actually at featherweight and it didn't happen.
So 'The Answer' put the talk about the unlikely payday with McGregor aside because he's aware of the dangerous challenge he has waiting in only five days:
"If we're going to fight, we'll fight. But I doubt it," Edgar said. "I really don't think we'll ever cross paths. I really don't. … We've had many times it could've been real, and it just never materialized. And if it didn't materialize then, I just don't see why would it happen now.

"I'm putting it totally aside, because it's easy with this whole Conor news and Max, it's easy to get sidetracked and think about Max, think about Conor," Edgar said. "I've got to focus on Ortega, man. It's a dangerous fight. Everyone says, 'Oh, it's a risky fight,' and they're right. I'm putting a lot of the line and that's my focus."