Frank Mir Tells Crazy Story Of Naked Fighter Beating Up BJJ Blue Belt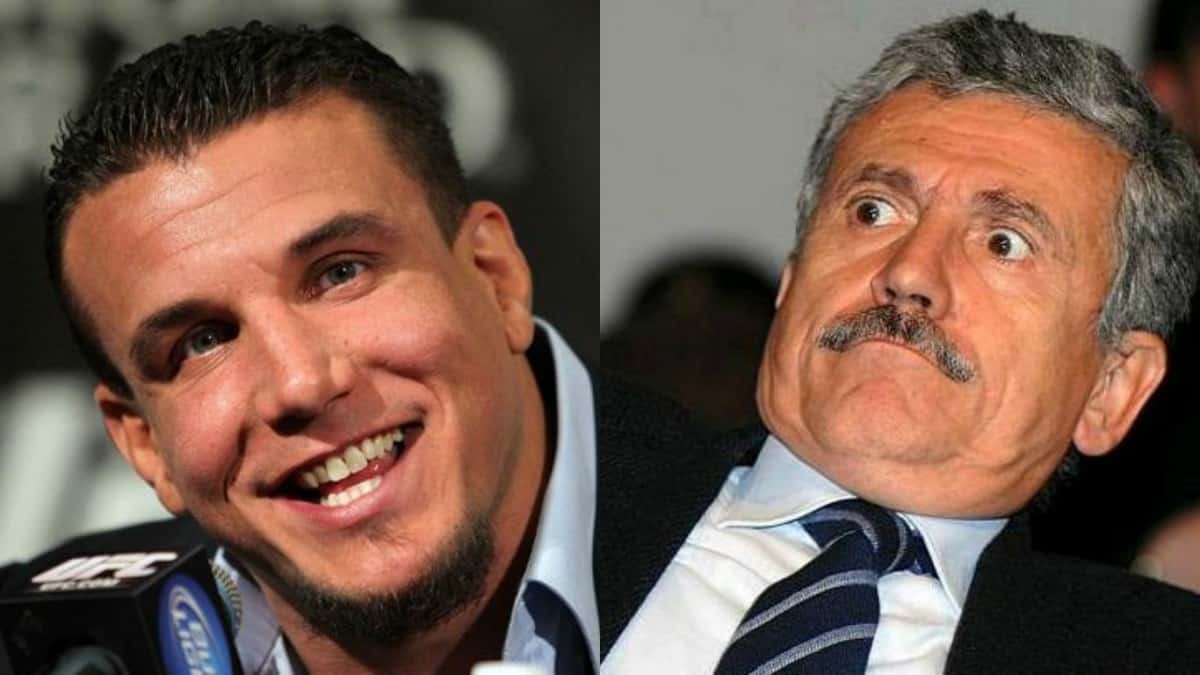 We've heard some crazy stories, but a naked dude beating on a BJJ blue belt? Yeah, and the naked guy has come forward to reveal himself as….
Veteran Frank Mir has been there and done it. A former UFC heavyweight champion, the 36 year old Las Vegas native was fighting back in 2001, when the sport was relatively unknown.
We've heard Mir tell some pretty cool stories over the years, but this one certainly takes the cake. Recalling the time a Pride and UFC veteran got in to it at his gym while completely naked, Mir relives the story in graphic detail. Thanks to BloodyElbow:
"I'm not going to name names," Mir started as he shared a story about his former teammate. "But in a gym that I have trained at in the past, there's other top level professional fighters training there. One professional fighter in particular, happened to be taking a shower after practice."
"Somebody, who was a blue belt-level guy, never fought in his life, was outside on the mats critiquing said fighter's performance and giving his own two cents," he said. "It wasn't taken very well, from what I heard later on from several people. Because obviously when I show up at the gym, I'm like 'what happened??'"
"Said professional fighter, who has had experiences in PRIDE and in UFC, so he's a legitimate guy at the top of his game at that time. He overheard the discussion on his 'lack of ability'. So when he stepped out of the shower, he didn't take the time to get dressed, 'cause he was angry."
"So he came out in a rage, attacked said critic, who was basically balled up, defenseless on the ground," Mir said. "So said professional fighter, stark naked, grinding up a guy on the ground, and no one wanted to break up the fight. I asked why they didn't do anything, 'Bro, he was naked'.
"He really wasn't getting in good shots on the guy," he said. "The guy was balled up pretty good, even to the point that they were able to distract him enough that the guy was able to run out to his car."
"The fact that he ran outside, still didn't stop this particular professional. He actually chased after him," Mir stated. "He walked down the street attacking on the guy's car, and again this all happened while he was in his birthday suit."
So, the speculation doesn't even need to begin as to who the naked fighter was, as he has come forward and revealed himself (pun intended).
Skip to page 2 to find out who the birthday suit scrapper was, and check ut the full podcast video with Frank Mir…
@antontabuena @thefrankmir yeah I was crazy when I was a kid haha

— phil baroni (@philbaroni) December 5, 2015
@antontabuena @thefrankmir yeah at Marc Laimons gym. Outdoor shower hose set up. — phil baroni (@philbaroni) December 5, 2015