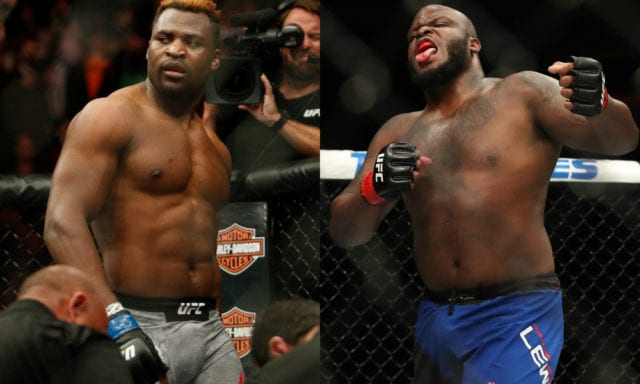 Francis Ngannou is set to clash with Derrick Lewis at the UFC 226 pay-per-view (PPV) next weekend (Sat. July 7, 2018).
The pair of heavy sluggers will meet on the main card. Lewis has been lobbying for a shot at "The Predator" for quite some time now. He'll finally get his shot in Las Vegas next week. Ngannou is hoping for a big win over "The Black Beast" coming off a disappointing title opportunity loss to Stipe Miocic in January.
If Ngannou truly wants to dominate Lewis one would think he'd have done some film study on his opposition by now. It turns out the Frenchman doesn't even know his opponent's fighting style on the heels of fight week.
Speaking to media recently, Ngannou was asked for his opinion on Lewis' fighting style. He needed to ask members of the media what Lewis' style was like because he couldn't seem to remember:
"Okay, Derrick Lewis and his style," Ngannous repeated with a confused look on his face. "So, can you remind me his style first because I (laughs) – what is his style?"
One media member described Lewis as a big guy that likes to come forward aggressively. Ngannou teased a very conservative approach against Lewis inside the Octagon:
"Okay, I'm another big guy. Instead of going forward we will be smarter and go back to the fence before the last fight. Watch my opponent, let him come to me and as soon as he gives me the opportunity I take it."