Forbes Top 100 Highest Paid Athletes 2015: Any UFC Fighters?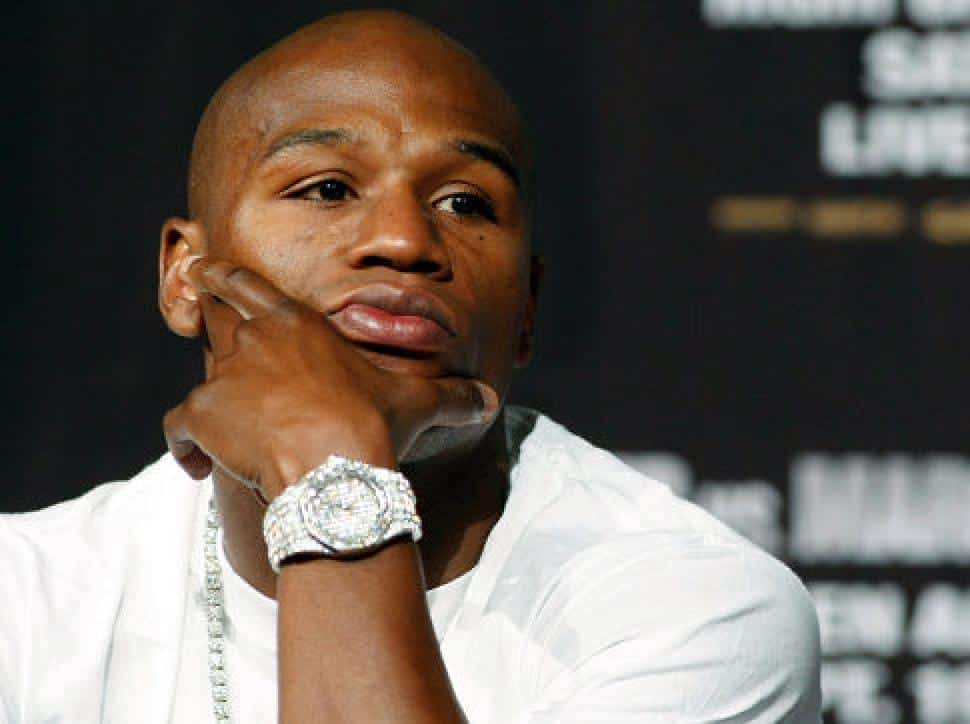 The Forbes Top 100 Highest Paid Athletes list has been released, giving us sports fans an insight in to how much cash the world's greatest sports men and women have raked in. There's no prizes for guessing who dominates the top of the list, but there's an interesting question at hand. Are there any UFC fighters on the list, or even MMA fighters in general?
With the Dana White-led MMA organization reaching new heights by the year, you'd expect well promoted stars like Ronda Rousey and Conor McGregor to at least hold up the bottom of the list.
With the UFC-Reebok deal now in place, it's highly unlikely that endorsements for UFC stars will rank very high in the list of earnings any more. With most active stars only competing two or maybe three times a year, even a $500,000 pay cheque per fight makes it very hard to compete with the rest of the most well paid athletes. Think there is at least one UFC fighter in the top 100?
Check out the entire Forbes Top 100 Highest Paid Athletes 2015:
1-10
Rank Name-Pay Salary/Winnings -Endorsements Sport
#1 Floyd Mayweather 0 M 5 M M Boxing
#2 Manny Pacquiao 0 M 8 M M Boxing
#3 Cristiano Ronaldo $79.6 M $52.6 M $27 M Soccer
#4 Lionel Messi $73.8 M $51.8 M $22 M Soccer
#5 Roger Federer $67 M $9 M $58 M Tennis
#6 LeBron James $64.8 M $20.8 M $44 M Basketball
#7 Kevin Durant $54.2 M $19.1 M $35 M Basketball
#8 Phil Mickelson $50.8 M $2.8 M $48 M Golf
#9 Tiger Woods $50.6 M $0.6 M $50 M Golf
#10 Kobe Bryant $49.5 M $23.5 M $26 M Basketball

11-20
Rank Name-Pay Salary/Winnings -Endorsements Sport
#11 Ben Roethlisberger $48.9 M $46.4 M $2.5 M Football
#12 Rory McIlroy $48.3 M $16.3 M $32 M Golf
#13 Novak Djokovic $48.2 M $17.2 M $31 M Tennis
#14 Zlatan Ibrahimovic $39.1 M $33.1 M $6 M Soccer
#15 Lewis Hamilton $39 M $36 M $3 M Racing
#16 Ndamukong Suh $38.6 M $38.2 M $400 K Football
#17 Fernando Alonso $35.5 M $34 M $1.5 M Racing
#18 Gareth Bale $35 M $25.5 M $9.5 M Soccer
#19 Jon Lester $34.1 M $33.7 M $400 K Baseball
#20 Derrick Rose $33.9 M $18.9 M $15 M Basketball

21-30
Rank Name-Pay Salary/Winnings -Endorsements Sport
#21 Sebastian Vettel $33 M $32 M $1 M Racing
#22 Rafael Nadal $32.5 M $4.5 M $28 M Tennis
#23 Mahendra Singh Dhoni $31 M $4 M $27 M Cricket
#23 Neymar $31 M $14 M $17 M Soccer
#25 Carmelo Anthony $30.5 M $22.5 M $8 M Basketball
#26 Maria Sharapova $29.7 M $6.7 M $23 M Tennis
#27 Carson Palmer $29 M $28.5 M $0.5 M Football
#27 James Rodriguez $29 M $24.5 M $4.5 M Soccer
#29 J.J. Watt $27.9 M $20.9 M $7 M Football
#30 Robinson Cano $27.6 M $24.1 M $3.5 M Baseball

31-40
Rank Name-Pay Salary/Winnings -Endorsements Sport
#31 Dwyane Wade $27.2 M $15.2 M $12 M Basketball
#32 Peyton Manning $27 M $15 M $12 M Football
#32 Kimi Raikkonen $27 M $25 M $2 M Racing
#34 Clayton Kershaw $26.9 M $25.7 M $1.2 M Baseball
#34 Wayne Rooney $26.9 M $19.9 M $7 M Soccer
#36 Gerald McCoy $26.7 M $26.5 M $150 K Football
#37 Chris Paul $26.1 M $20.1 M $6 M Basketball
#38 Radamel Falcao $25.9 M $21.9 M $4 M Soccer
#38 Albert Pujols $25.9 M $23.4 M $2.5 M Baseball
#40 Ryan Howard $25.6 M $25 M $0.6 M Baseball

41-50
Rank Name-Pay Salary/Winnings -Endorsements Sport
#41 Dwight Howard $25.5 M $21.5 M $4 M Basketball
#42 Cliff Lee $25.2 M $25 M $200 K Baseball
#43 Miguel Cabrera $25.1 M $22.1 M $3 M Baseball
#44 Amar'e Stoudemire $25 M $22 M $3 M Basketball
#45 Sergio Aguero $24.9 M $17.9 M $7 M Soccer
#46 Blake Griffin $24.7 M $17.7 M $7 M Basketball
#47 Serena Williams $24.6 M $11.6 M $13 M Tennis
#48 Prince Fielder $24.3 M $24 M $300 K Baseball
#49 Joe Johnson $24.2 M $23.2 M $1 M Basketball
#50 Joe Mauer $24 M $23 M $1 M Baseball

51-60
Rank Name-Pay Salary/Winnings -Endorsements Sport
#51 CC Sabathia $23.9 M $23 M $0.9 M Baseball
#52 Chris Bosh $23.8 M $20.8 M $3 M Basketball
#53 Zack Greinke $23.7 M $23.7 M $50 K Baseball
#53 Eli Manning $23.7 M $15.7 M $8 M Football
#55 Dale Earnhardt, Jr. $23.6 M $14.6 M $9 M Racing
#56 Justin Verlander $23.4 M $22.7 M $0.8 M Baseball
#57 Andy Dalton $23.3 M $22.3 M $1 M Football
#58 Masahiro Tanaka $23 M $22 M $1 M Baseball
#58 Mark Teixeira $23 M $22.5 M $0.5 M Baseball
#60 Felix Hernandez $22.9 M $22.7 M $200 K Baseball

61-70
Rank Name-Pay Salary/Winnings -Endorsements Sport
#61 Cole Hamels $22.7 M $22.5 M $200 K Baseball
#61 Jimmie Johnson $22.7 M $16.2 M $6.5 M Racing
#63 Wladimir Klitschko $22.5 M $19 M $3.5 M Boxing
#64 Andy Murray $22.3 M $6.3 M $16 M Tennis
#65 Matt Kemp $22.2 M $21 M $1.2 M Baseball
#66 LeSean McCoy $22.1 M $21.3 M $0.9 M Football
#67 Drew Brees $22 M $11 M $11 M Football
#67 Tony Romo $22 M $17 M $5 M Football
#69 Adrian Gonzalez $21.5 M $21.1 M $400 K Baseball
#70 Jacoby Ellsbury $21.4 M $21.1 M $300 K Baseball

70-79 (T)
Rank Name-Pay Salary/Winnings -Endorsements Sport
#70 Tyron Smith $21.4 M $21.1 M $250 K Football
#72 Deron Williams $21.3 M $19.8 M $1.5 M Basketball
#73 Usain Bolt $21 M $15 K $21 M Track
#73 Luis Suarez $21 M $16.5 M $4.5 M Soccer
#75 Matt Cain $20.8 M $20.4 M $400 K Baseball
#75 David Wright $20.8 M $20 M $0.8 M Baseball
#77 Carl Crawford $20.7 M $20.4 M $300 K Baseball
#78 Jayson Werth $20.6 M $20.4 M $200 K Baseball
#79 Cesc Fabregas $20.3 M $15.3 M $5 M Soccer
#79 Hanley Ramirez $20.3 M $20 M $300 K Baseball

79 (T)-90 (T)
Rank Name-Pay Salary/Winnings -Endorsements Sport
#79 Russell Westbrook $20.3 M $15.8 M $4.5 M Basketball
#82 Justin Rose $20.2 M $8.2 M $12 M Golf
#83 Yaya Touré $20 M $17 M $3 M Soccer
#84 Rudy Gay $19.9 M $19.3 M $0.6 M Basketball
#85 Jordan Spieth $19.8 M $8.8 M $11 M Golf
#85 Adam Wainwright $19.8 M $19.7 M $150 K Baseball
#87 Frank Lampard $19.7 M $15.7 M $4 M Soccer
#87 Kevin Love $19.7 M $15.7 M $4 M Basketball
#87 David Ortiz $19.7 M $15.7 M $4 M Baseball
#90 Eden Hazard $19.6 M $16.1 M $3.5 M Soccer

90 (T)-100
Rank Name-Pay Salary/Winnings -Endorsements Sport
#90 Alex Smith $19.6 M $19.1 M $0.5 M Football
#92 Kei Nishikori $19.5 M $4.5 M $15 M Tennis
#93 Devin McCourty $19.3 M $19.1 M $250 K Football
#93 Mesut Ozil $19.3 M $12.8 M $6.5 M Soccer
#95 Aaron Rodgers $19.1 M $11.6 M $7.5 M Football
#96 Billy Horschel $19 M $16 M $3 M Golf
#97 Jeremy Lin $18.9 M $14.9 M $4 M Basketball
#97 Maurkice Pouncey $18.9 M $18.8 M $100 K Football
#97 Max Scherzer $18.9 M $18.7 M $150 K Baseball
#100 James Harden $18.8 M $14.8 M $4 M Basketball