Tomorrow night (July 7, 2016) will mark the first of three consecutive UFC events as UFC Fight Night 90 is set to go down from Las Vegas, Nevada, and be presented live on UFC Fight Pass.
The card will be headlined by an intriguing lightweight title tilt as reigning champion Rafael dos Anjos looks to make the second defense of his 155-pound strap against former Bellator titleholder Eddie Alvarez.
The Brazilian champion has been on a tear as of late and is coming off of a 66-second demolition of Donald "Cowboy" Cerrone last December. Alvarez, on the other hand, has compiled back-to-back victories over former champions Gilbert Melendez and Anthony Pettis on his quest to a shot at UFC gold.
The Philadelphia-born challenger has been considered to be a top lightweight for years now, and will undoubtedly serve as a tough test for dos Anjos, but the Brazilian has looked to be on another level as of late.
With that being said, let's take a look at five reasons why the surging champion may very well just destroy Alvarez: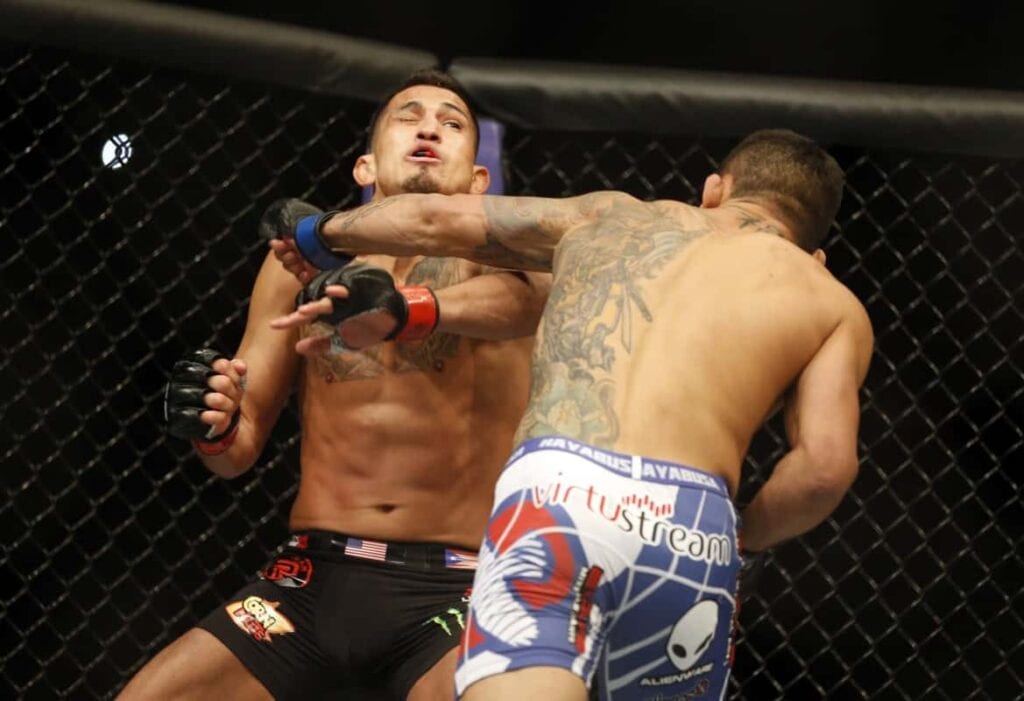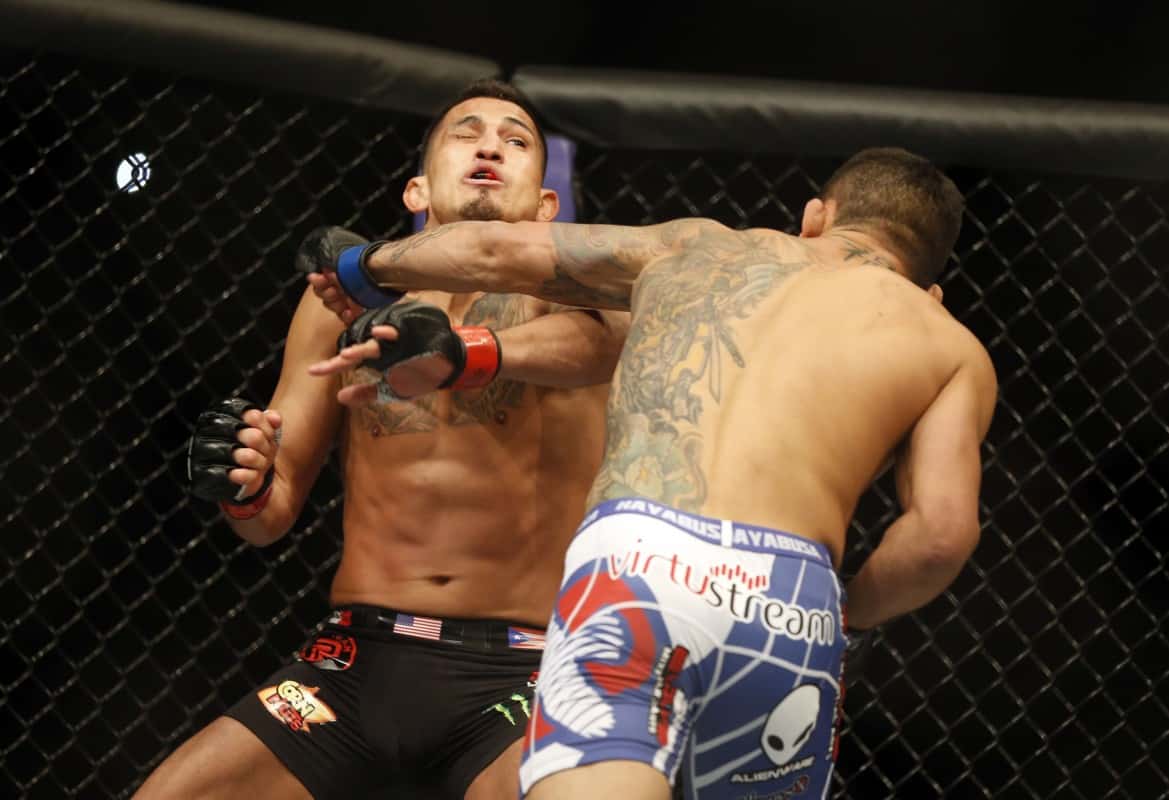 Pressure & Aggression
Eddie Alvarez is quite the well-rounded fighter, but he has been known to use his striking to his advantage. The former Bellator champion is a strong boxer who uses quick movements and crisp combinations to get the better of opponents.
That may not work too well in this fight, however, as Rafael dos Anjos is a highly aggressive fighter, who uses constant and heavy pressure to push his opponents back up against the cage. The Brazilian, who has solid endurance, typically looks to implement a pace that often breaks his opponents.
If dos Anjos can indeed continue this trend and pin Alvarez up in tight corners, it could make things very difficult for the challenger in terms of getting off effective strikes. This technique could also make landing takedowns, which is another key factor of Alvarez's game, an arduous task.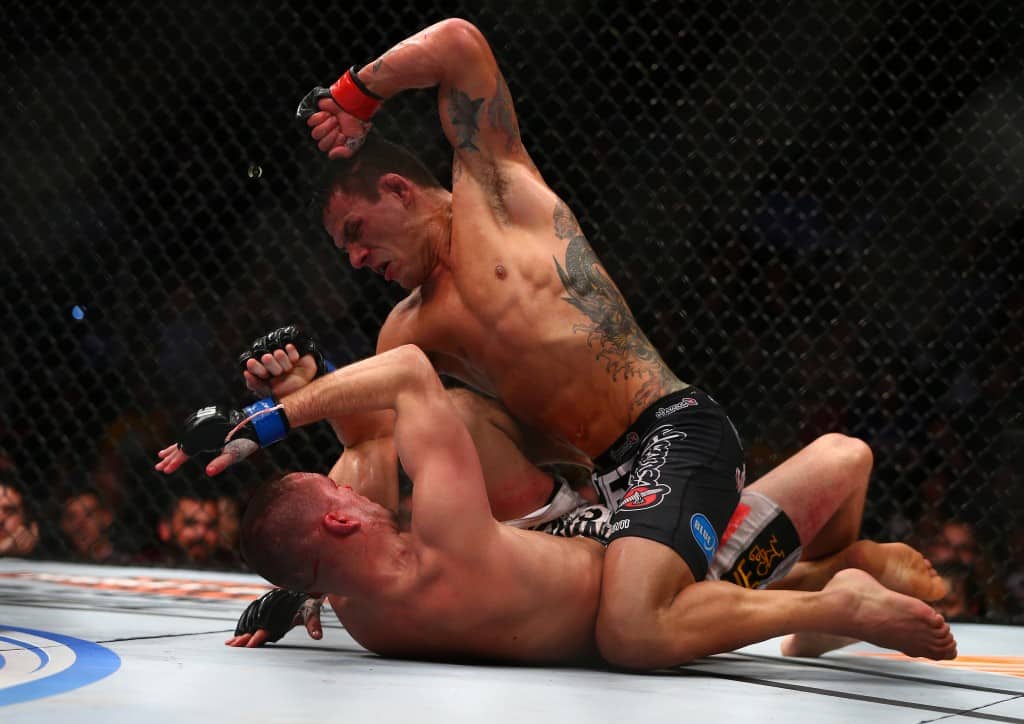 Top Game
While Alvarez is a well-versed wrestler, he may be in trouble if dos Anjos' pressure and aggression backs him up against the cage. In terms of pure wrestling, Alvarez may hold the advantage, but when it comes to stringing together punches, kicks, knees, and takedowns, there's few who do it better than dos Anjos.
If the champion indeed gets the fight up against the cage where he likely wants to take it, it wouldn't be surprising to see him throw combinations of strikes before ducking under for a takedown, and if he lands it, he'll be right where he wants to be.
The Brazilian possesses one of the best top games in the sport, having great success in not only holding opponents down, but also battering them with a barrage of dangerous strikes. If Alvarez gets put on his back, it may end up being a short night.
Also, any time the fight ends up on the canvas, dos Anjos will have another decorated skillset working in his favor…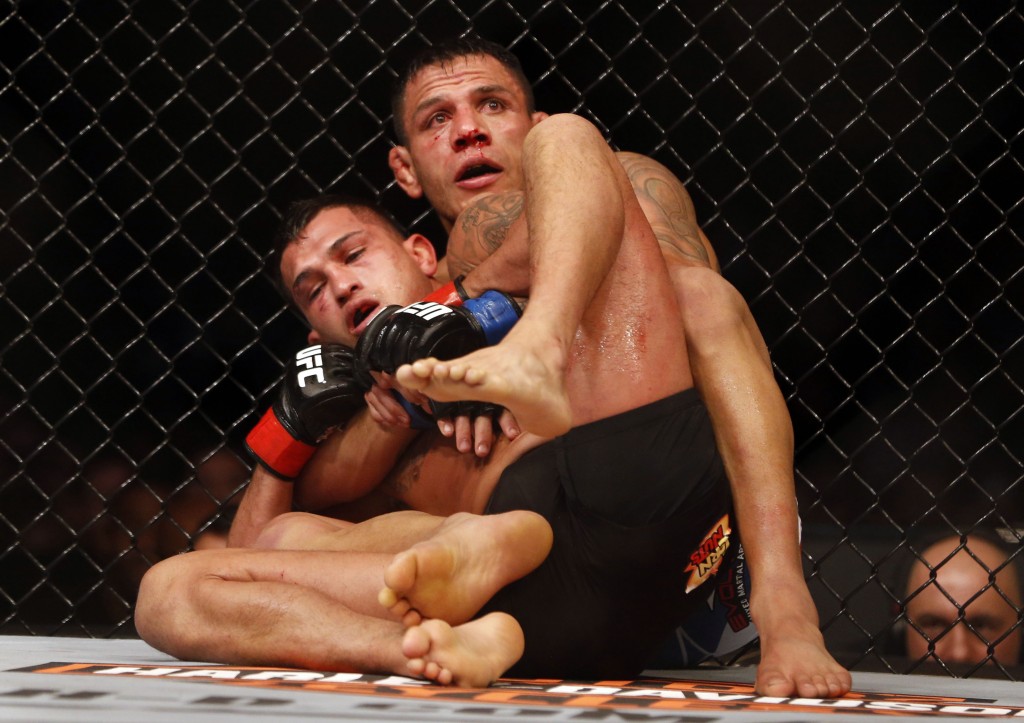 Jiu-Jitsu
While dos Anjos' elite level submission skills are more likely to come into play if he's put on his back, his bag of tricks must be noted no matter the position he's in. The champion is a third degree black belt in Brazilian jiu-jitsu (BJJ), owning eight submission victories to his credit with only one submission defeat.
On the contrary, it must also be noted that dos Anjos has struggled the most in his UFC tenure when controlled by strong wrestlers, a path to victory that Alvarez undoubtedly has the skills to take. RDA also hasn't secured a submission victory in quite some time, but a fighter with his level of experience in a specific art is dangerous in that area at all times.

Diverse Striking
If for some reason dos Anjos can't turn this fight into a tightly fought dog fight, he still may have the skills to put a serious hurting on the challenger.
When it comes to the striking department, Alvarez is in no way a slouch. The tough and gritty Philadelphia-born brawler has never shied away from a slugfest, and he's showed the boxing skillset, the chin, and the heart to succeed in these types of fights, but dos Anjos' more diverse striking arsenal could provide him with issues.
Alvarez, while often showing an iron chin, has been known to get hit quite a bit. With that being said, dos Anjos has become a polished striker over the years training under Kings MMA coach Rafael Cordeiro. The champion has added a wide array of kicks, knees, and elbows to his skillset, and his explosive power only adds to his lethalness.
If the two men decided to engage in a striking battle, dos Anjos has proven that he has the tools to get the job done.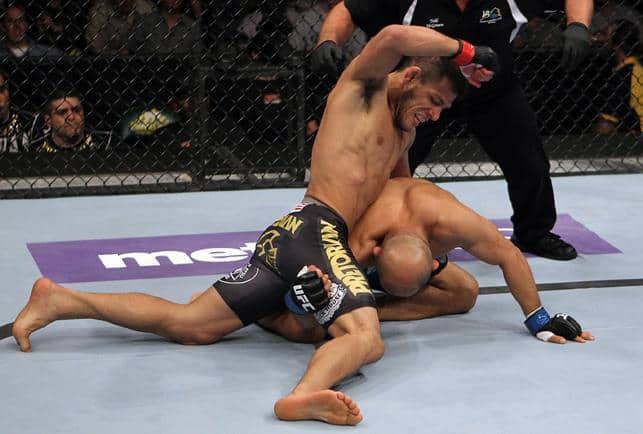 Finishing Ability
As previously mentioned, Alvarez has been known to get hit and to get hit often. He's always been willing to eat a shot to give one, and his chin has typically kept him in fights as he's rarely been finished.
However, dos Anjos is a different type of animal, and he has shown a true finishing ability over the past few years. For example, he started off his current win streak with a knockout over Jason High in June 2014. He then followed that up with a brutal stoppage victory over former champion Benson Henderson later that year, and is coming off of a 66-second finish of Donald Cerrone.
If dos Anjos can indeed get by the defense of Alvarez, which he is expected to do, he may just be able to shut the lights off.
Do you see these reasons leading dos Anjos to victory, or will the hard-nosed Philadelphia native rise to the occasion and steal the title in 'Sin City'?