It's become apparent that UFC women's bantamweight champion Ronda Rousey is now by far MMA's biggest-ever crossover star in terms of multimedia.
With countless appearances in movies, commercials, and on just about every popular television talk show, "Rowdy" is literally everywhere these days, and that's not even counting the media obligations for her upcoming UFC 193 main event against undefeated Holly Holm, a fight that is set to break the all-time attendance record for a UFC event at Melbourne's 70,000-seat Etihad Stadium.
That could push Rousey's popularity to all-new levels, but all of her attention and appearances as of late could also produce an unforeseen effect that we've experienced with past stars who have exploded into stardom and faded away just as quick.
It's called too much of a good thing, and while Rousey's star could just be starting to shine and could continue growing; the opposite could also come true, as well. Let's take a look at five reasons why Rousey's hype could potentially die down much faster than you might believe.

5.) She's running out of legitimate opponents:
After Rousey gets past Holm at UFC 193 as most are overwhelmingly predicting her to do, the UFC women's bantamweight division will be running very thin on serious contenders to her belt.
It could definitely be argued that Miesha Tate is the next-best contender, but she's already been finished off by Rousey twice. Of course the incredibly hyped bout with Invicta FC featherweight champ Cristiane "Cyborg" Justino looms large, but it doesn't appear all that close to actually happened.
It could certainly materialize at next July's UFC 200, but if it doesn't, it's anyone's guess as to whom Rousey will face next. No matter who it is, she probably won't be in any degree of danger of losing her championship.

4.) She wants to go to WWE and become champion there:
After appearing at WrestleMania 31 this year, Rousey has recently teased retiring from MMA and making her way to the WWE in order to become Diva's champion. A lifelong wresting fan, Rousey could appeal to an all-new and significant fanbase that could significantly raise her scope of attention.
On the other hand, it could also damage her reputation in the eyes of her MMA fans. That may not matter, but it would just be hard to buy her fighting scripted matches against actresses who obviously have absolutely no chance of hanging with her in any kind of combat sport.
She'd gain a bunch of fans, but it may come with a high price; a price that may not be worth the fame gained.

3.) The fame machine just might not be sustainable:
Seemingly on a nonstop whirlwind tour of media obligations, Rousey has become one of the most prominent stars in the world, let alone in fighting.
Her momentum was heightened to an all-new level after her 34-second win over Bethe Correia at August 1's UFC 190 pay-per-view (PPV), and it hasn't slowed down in any way since. But that doesn't mean that Rousey is actually enjoying it.
She goes back and forth with her future plans, waffling between retiring from MMA to pursue boxing, Brazilian jiu-jitsu, and WWE championships, to the exact opposite plan of retiring so "no one will ever hear from her again."
"Rowdy" also recently said that Holm's life would be better if she didn't become champion, signifying that she may not be enjoying all of her newfound fame and endless appearances all that much.
Her relationship with UFC heavyweight Travis Browne has also been dissected under a microscope in the media, and her mom's recent comments about her head coach Edmond Tarverdyan made more dramatic headlines.
Rousey is surrounded by nonstop stories and sensationalism. It's hard to think she can put up with that for the rest of her athletic prime.

2.) Her acting career might not be sustainable:
As she continues to transition into an acting career, Rousey will understandably undergo some growing pains as she becomes more of a Hollywood type of star.
While the action portions of her first few movies have understandably delivered, her acting chops have been criticized a bit as too stiff and robotic. True, she could definitely turn that around with acting classes or simply more experience, but if she doesn't, her career may suffer if she gets typecast as an athlete who can't do much in terms of dramatic or comedic range.
It happened to former Strikeforce champ Gina Carano, who paved the way for Rousey by leaving the cage behind for a potentially more lucrative movie career, but after a few action-based films, we just don't see her in much anymore, if at all. That doesn't mean Rousey will be the same, but if she gets typecast and doesn't improve, her movie career could certainly suffer as fans grow tired of the same thing day in and day out.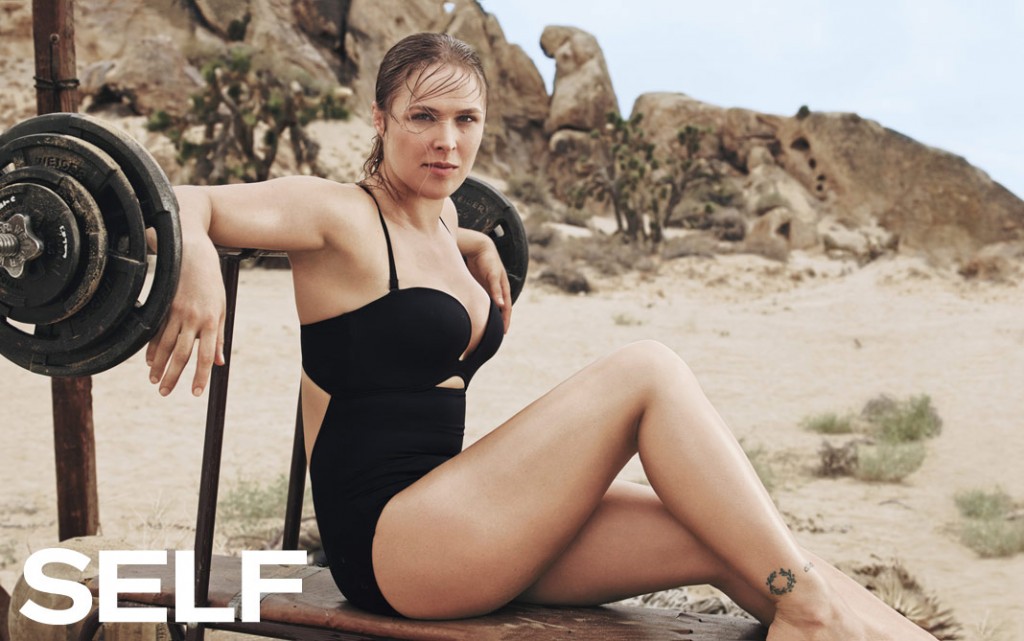 1.) Overexposure:
The fact that Rousey may simply be becoming overexposed lies at the core of the reasons her hype could calm down quickly.
As already mentioned, she's been making an insane amount of media appearances, more than any other UFC fighter has before by a monstrously wide margin. In addition to her numerous movies, TV spots, online videos, Instagram posts, and never-ending stream of MMA news articles, she has now even appeared on various random magazine covers on publications like Men's Health Australia and Ring Magazine.
It's obviously great exposure for Rousey, the UFC, MMA, and even female athletes as a whole, but you also have to wonder if it's too much of a good thing, and in a ridiculously short amount of time. The fact is that Rousey has become a media darling superstar faster than almost anyone else in history, and we've seen so many stars rise in similar fashion only to see their attention die down in equally rapid style.
She could continue breaking through the stratosphere and become one of the biggest stars ever; that is a distant possibility, yet the odds of that kind of sustained exposure and success continuing for many years are probably slim. Rousey's biggest day ever could soon be horizon, and her airtime is only going to increase in the near future, if that's even possible. If she gets any bigger than that, we'll just have to wait and see.