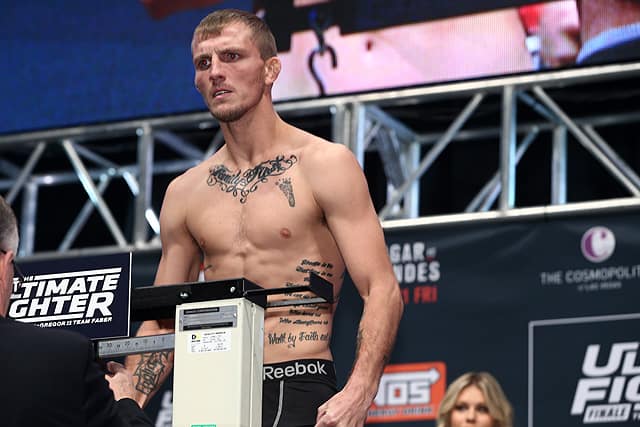 When the UFC hit the 'Windy City' of Chicago, Illinois back in July, the spotlight was fixed upon former UFC women's bantamweight champion Holly Holm and Valentina Shevchenko, however, when it was all said and done it was Mississippi native Jason 'The Kid' Knight who stole the show.
Knight currently fights in the UFC's featherweight division and has been catching the attention of many after his three-round war with Jim Alers on UFC Fight Pass, in which Knight took home the split decision win and Fight Of The Night honors.
'The Kid' recently joined me on the Right Hook Radio podcast to discuss his journey in MMA, noting that he started amateur fighting at the young age of just 14-years-old:
"I was fourteen that's when I started MMA, up until that point probably 10 years old or so I was getting in fights all the time just for any little thing," Knight said. "And always got in trouble and sh*t, and I had a buddy — he's actually my brother-in-law now. He was an older guy he's about 10 years older than me, he wanted to teach me how to box. He wanted to teach me how to throw straight punches and stuff.

"One night he went out to the bar and they where passing out flyers for a place called The Fight Club. That was out of Mobile, Alabama. He was like, "man I think you should try this." I called the number and I asked the guy, "hey man I'm fourteen, can I fight?" The guy says "I don't give a sh*t if you're 12, as long as your mom signs the form for us you can fight." I signed up that Monday, and I fought that Wednesday night, and it's a wrap from there I've been doing it ever since."
Knight currently works with former UFC featherweight Alan Belcher who has taken the young 145-pounder under his wing, something the 24-year-old prospect says has had a big influence on his fighting career:
"It's had a pretty big influence man, I started training with Alan when I was 16. From then on out he just slowly but surely started taking my skill level and my career to a completely different level, and the more that I get to work with him and the guys that he brings in, the better I get."
Knight's coming out party came in the form of the 15-minute throw-down with Alers on Fight Pass, but something that had fans even more invested in the bout was the animosity between the two in the days leading up to the bout:
"Man the whole week before the fight he was pretty cool, I was pretty cool with him. Then we got to weigh ins and we were doing our little stare down, I put my hands up and the next thing I knew I find that he's got his fist balled up touching my chin and — I don't know it kind of pissed me off. Say what you gotta say, put your hands up, look real mean or whatever but don't f*cking touch me. He touched my face and it really pissed me off, and from then on out it was game time.

"As far as the whole stare down goes before the fight, when me and the opponent are in the cage and it gets to the point where we can see each other, I'm starring in their eyes the whole time. I'm trying to get inside their head and let them know I'm ready. Once he came in the cage and stopped in front of me, it kind of pissed me off like 'what do you think I'm supposed to back down or something?' So I had to go ahead and get in his face too."
The biggest test of Knight's career comes in the form of Dan Hooker in his backyard of Melbourne, Australia in November, a match-up that the Mississippi kid feels will unleash some fireworks in the Octagon:
"Dan Hooker I think is gonna be a fun ass fight, a good ass fight. He's got really good stand-up, good ground game, decent wrestling. He's pretty well rounded, but he doesn't scare me anywhere. Stand-up wise I know that I can take punches from the best of em, and I know that I can throw punches with the best of em. On the ground I think I'll be a little better than him on the ground, but just because I think that I'm a little better than him doesn't mean that I'm gonna go in there and try and take him down.

"We're gonna go in there and we're gonna light off some fireworks, and give everybody something to talk about. I got that Fight Of The Night in my last fight, I don't see why I shouldn't shoot for another bonus. Maybe not Fight Of The Night but whatever the hell I can get, I'm gonna go out there and put on a show."
Knight and Hooker will meet on the preliminary bouts of UFC Fight Night 101 from the Rod Laver Arena in Melbourne, Australia, on November 27, 2016.
You can check out Knight's full interview, in which he discusses getting the late notice call to make his UFC debut, training with Alan Belcher, Conor McGregor's reluctance to defend the featherweight title, and much more in the video player below:
https://www.youtube.com/watch?v=js5uEM2Vy2M